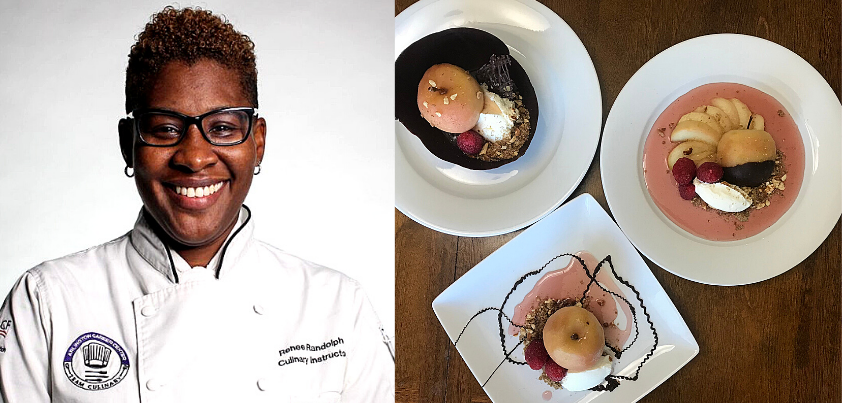 University of Maryland Global Campus alumna Renee Randolph has combined her love of cooking, her MBA degree and her passion for teaching to win the Arlington County, Virginia, 2020 Teacher of the Year award for her program that has sent graduating seniors to top culinary schools and won more than $100,000 in scholarships. She now serves as Arlington's nominee for the statewide 2021 Virginia Teacher of the Year award competition.
Randolph gives the credit to her students.
"What I know to be great about our program is the dedication of our students, the excellence of the work they do, the amount of certifications they've earned, and how they are flourishing in the culinary arts," Randolph said. "When I was recognized, it was a little hard for me to accept. I felt I was being rewarded because of the great work of the kids."
Arlington Interim School Superintendent Cintia Johnson was not about to accept that assessment. In making the award, she said Randolph is an amazing teacher who has genuine passion for what she does.
"Her commitment to her students and love of culinary arts is evident in each of her classes. She skillfully organizes her class routines to maximize instructional time and keep her students engaged in learning."
Randolph graduated with a Bachelor of Science degree in nutrition education, "what some would refer to as old-school Home Ec,"from the University of Maryland Eastern Shore.  She earned certification as a culinary essential educator from Johnson & Wales University, one of the nation's leading culinary arts schools.  And she is an American Culinary Federation Certified Chef.
She said she "kind of stumbled into" being a teacher. "I've always had the part-time job in this restaurant or at that fast-food establishment. So, I've always had my foot in the industry in one way or another . . .  I loved the food industry,"
Still, Randolph said she learned very early on that she didn't care for its irregular hours and work schedule. "But I loved to create. And teaching gave me the opportunity to develop kids who share the same passion as me."
In 2005, she earned her MBA from UMGC and launched her career as a teacher, first with the Prince Georges County Maryland Public Schools. She accepted a position at the Arlington County Public Schools Career Center in 2016.
Combining business and food production, she and her culinary arts students operate two enterprises—the "pop up" restaurant, Off the Pike, and a fully licensed food truck, Off the Pike Mobile—that provide students with valuable hands-on experience. Before the COVID-19 pandemic, both ventures were thriving.
"It's a full-service restaurant, and the students do everything," she said. "They plan the menus. They cook the food. They do the advertising. They are learning how to food cost. They are learning about break-even points . . . and then at what point are we starting to turn a profit."
Pre-pandemic, they would stage a restaurant night four times a year at their school that drew as many as 200 to 300 customers each time.  The proceeds helped pay for the food truck, which services high school football games and community events across the county. COVID-19 through a "monkey wrench" into the program, she said.
"We are super anxious to get back to those activities because that's the most enriching things our students get," Randolph said.  "They have to do real industry problem solving. Not only are we training our kids to be great cooks, but we want them to understand what it takes to be successful entrepreneurs in this industry."
The pandemic has offered a silver-lining of sorts, though, she said. "This year, I have been able to give the best feedback . . . because I am seeing far more of the individual student work than I'm able to see in class."
Students provide Randolph with photos and summaries of the work they produce during their now virtual weekly cooking lab, providing extra time for study and analysis. "I'm really able to take it in, to pick up on things that they can work on and improve."  And her students are even able to self-identify what they need to work on, what they would do differently next time, she said. It is a teaching component she plans to continue once classes resume in the building—"certainly sooner rather than later."
With the popularity of cooking shows on television, it is little wonder that Randolph has trained and motivated her students to excel at competitions.
"Two years ago, we had a student make it all the way to nationals in Kentucky," she said. "It's awesome to say that one of our kids from little Arlington finished fourth in the nation in the baking and pastry contest against students from all across the nation."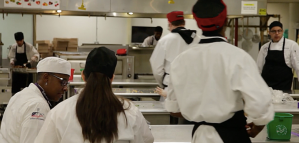 Students typically spend three of their four high school years working in the program, traveling to the Career Center from their home high schools for the opportunity. They learn everything from food safety and sanitation to how to know the difference between a julienne and a Brunoise knife cut. By the second and third years, they are moving into management, overseeing less experienced students as they cater county school events.
Successful students graduate from the program with their Serve Safe Managers Certificate, which allows them to get their Northern Virginia food handlers license. Some are even able to graduate as American Culinary Federation Certified Fundamental Cooks, which is the highest level of certification that the ACF awards to high school students.
"We're really proud of that. And what I'm most proud of is the number that we actually matriculate into post -secondary institutions to continue their studies in food service or hospitality management, or some related field."
The self-described lifelong learner will graduate in May from the Baking and Pastry program at Escoffier College of Culinary Arts, where she enrolled to enhance her knowledge of a segment of the industry that she said is "just blowing up in popularity."
Baking, Randolph added, requires a different set of skills from savory cooking.
"Savory cooking is a dash of this and a bit of that, and I like it," she said.  "But baking and pastry is chemistry. There is a clear right way and a clear wrong way, and the ingredients interact with each other very specifically. The slightest alteration can drastically change the final outcome."
Randolph's passion for creating in the kitchen, for her class, for teaching, is not lost on her students.
"Chef Randolph takes learning to the next level," said Mauricio Ventura-Jimenez, a high school senior when the award was given. "Chef gives us opportunities that some college students would beg for."