UMGC Grad Student, UMBC Alum, Team Up on Winning University System of Maryland Public Health Multimedia Challenge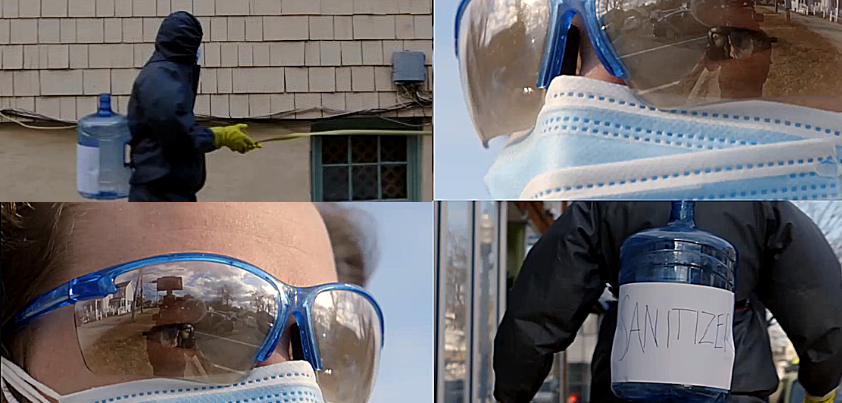 "3 W's" Video Is One of Six Creative Multimedia Presentations on Staying Safe, Healthy while Waiting for COVID Vaccination Recognized by USM Task Force and Corporate Sponsors
The duo of University of Maryland Global Campus graduate student Cory Wilkerson and collaborator Stephen Brouillette, a University of Maryland, Baltimore County alumnus, is one of six winning teams announced today by the University System of Maryland (USM) COVID Research & Innovation Task Force as part of its Public Health Challenge, undertaken with the generous support of several local organizations.
In mid-December, the Task Force invited members of the USM community to take part in this multimedia challenge, seeking creative ways to highlight how USM students, members of the broader university community, and all Marylanders can stay safe and healthy while waiting for a vaccine. Submissions were accepted in two categories—videos, and images—with the top three winners in each category receiving $3,000.
The winning Wilkerson- Brouillette live-action video addresses the serious issue of pandemic fatigue through a humorous parody of "extreme" action films. And it underscores the importance that the "3 W's"—wear a mask, wash your hands, watch your distance—can make in controlling the spread of COVID-19 while waiting to get vaccinated. View the video HERE.
"The task force and the competition judges are grateful to see the creativity and effort from all the entries," said Laurie Locascio, vice president for research at University of Maryland, College Park, and the University of Maryland, Baltimore, and chair of the COVID Task Force.
"These messages about overcoming pandemic fatigue are important. It is gratifying to see the range of participation in this endeavor, with entries from various USM institutions that include undergraduates, graduate students, and alumni," she added.
"This was an important competition and our COVID Research & Innovation Task Force thanks the many sponsors who made it possible," said Tom Sadowski, USM Vice Chancellor for Economic Development and member of the Task Force. "In the midst of a pandemic, it was amazing to see such creative minds, with limited resources, at work. The winners of this competition exemplify the type of leadership our community requires in these challenging times."
Sadowski singled out the challenge sponsors for their generous support, including: the Maryland Marketing Partnership; BioHealth Innovation, Inc.; the Economic Alliance of Greater Baltimore; the Maryland Technology Council; Connected DMV; the Baltimore Metropolitan Council; and the USM Foundation.
The Public Health Challenge follows a recently launched statement and video pledge from all USM presidents to encourage COVID-19 vaccinations across Maryland, which can be read and viewed here.
In developing the challenge, the USM sought effective and engaging messaging to promote continued vigilance and compliance with public health guidelines, while also encouraging people to get vaccinated once doses become widely available. While recent positive news regarding COVID-19 vaccines offers real hope for overcoming the coronavirus pandemic, it may be several months before there is enough vaccine supply to be widely available to the public. The USM launched the competition to encourage people and communities to avoid "pandemic fatigue" and recommit to sound public health practices.
The competition was open to undergraduate and graduate students, faculty, staff, and alumni from all USM institutions. Live action videos, animated videos, or a package of images/memes suitable for a social media campaign were eligible.
USM Chancellor Jay A. Perman announced the formation of the COVID Research & Innovation Task Force in April. The task force is leveraging and mobilizing systemwide research and innovations to engage policymakers, business leaders, and the entrepreneurial community in addressing the COVID-19 pandemic. Businesses and organizations seeking guidance or the ability to partner with USM institutions on specific initiatives can use the task force website to connect with system experts.
Winning teams come from several USM institutions: University of Maryland Global Campus (UMGC); University of Maryland, College Park (UMCP); University of Maryland, Baltimore (UMB); Towson University (TU); and University of Maryland Center for Environmental Science (UMCES).
All entries can be viewed HERE. Challenge winners include:
In addition to the Wilkerson- Brouillette entry, winners in the Live-action/ Animation category are:
Chris Edwards, Towson University
An undergraduate, Chris Edwards submitted an animated video encouraging Marylanders to do their part to keep everyone safe. The submission creatively uses motion graphics to outline the state's vaccination distribution plan and promote CDC-approved preventative health and safety measures such as hand hygiene and wearing masks.
Dyuti Basu; Disa Basu; Maxinne Ignacio; Dalya Kamil, University of Maryland, College Park
This team of UMCP undergraduates submitted a live-action video of a puppet show—presented in rhyme. "Puppet Pandemic Fatigue" demonstrates the importance of observing CDC health and safety guidelines even with the promise of a coming vaccine.
Winners in the Digital Images category are:        
Meghna Bhatt, University of Maryland, Baltimore (UMB)
Meghna Bhatt, a graduate student in the UMB School of Pharmacy, submitted a 3-image designed messaging campaign highlighting the safety and efficacy of vaccines and the importance of getting vaccinated.  The entry presents information on combating pandemic fatigue and the need to continue following public health guidelines.
Chelsea Fowler, University of Maryland Center for Environmental Science (UMCES)
Chelsea Fowler, a graduate student at UMCES, submitted a designed messaging campaign in which one of Maryland's favorite residents—a heroic Maryland Blue Crab—works to help Marylanders overcome pandemic fatigue, adhere to public health guidelines, and—as "The Vaccination Crustacean"—encourage vaccinations.
Vanessa Aguocha-Sam, University of Maryland, College Park (UMCP)
An undergraduate student at UMCP, Vanessa Aguocha-Sam submitted a designed messaging campaign to encourage individuals to take precautions to protect themselves and those around them—as well as emphasizing the importance of maintaining emotional health and getting vaccinated.  The entry notes these issues are especially important in communities of color, which have been disproportionally impacted by COVID.