Quick Pivot to Remote Learning Spurs Opportunity to Reimagine Academic Integrity Standards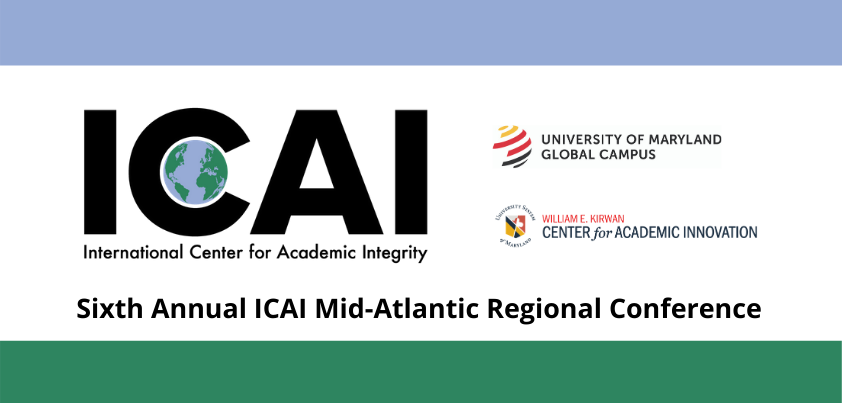 Two transformative forces―the influx of non-traditional students in higher education and the rapid shift to online learning during the coronavirus pandemic―have come together to expose significant shortfalls in outmoded academic integrity standards as well as to highlight the opportunity universities have to reimagine those standards.
As college administrators, faculty, and students gathered virtually for the Sixth Annual International Center for Academic Integrity Mid-Atlantic Regional Conference, Feb. 3-4, they grappled with how to make changes in a system that has been taken for granted for decades. The conference, "Reimagining Academic Integrity in a Moment of Rapid Change," was hosted by the University System of Maryland William E. Kirwan Center for Academic Innovation and the University of Maryland Global Campus.
In his keynote address, Douglas Harrison, UMGC's vice president and dean of the School of Cybersecurity and Information Technology and a member of the ICAI Board of Directors, said academic integrity standards need to be updated to avoid discouraging or confusing students seeking access to higher education online.
Those enrolling now, especially in online offerings proliferating during the pandemic, often are the first in their families to attend college, are racial minorities, are working full time while taking classes, and may be active-duty service members or returning veterans, he said.
Yet these students often are treated as though they intuitively understand decades of academic integrity standards or can absorb a brief presentation that tries to teach them what they need to know to stay out of trouble, Harrison said.
He cited the case of a middle manager who had enrolled in an MBA course to further his career ambitions and had been brought up on charges for failing to cite his sources―on a PowerPoint presentation.
The confused student said that he had completed dozens of PowerPoint presentations as he has advanced through his career. He had never once cited sources and no one had ever questioned him about it on the job. Why was he being penalized now?
"There was no evidence he cheated, only that he failed to cite―a problem, certainly, but not a reason to send him to integrity jail," Harrison said. "His question was one of the most powerful propulsive forces in clarifying for me the urgency of shifting the conversation about academic integrity and academic quality."
Too many faculty members think teaching about academic integrity is someone else's job, he said. Yet students are looking to the faculty to teach them about academic ethics. One of the "big blind spots" in a university's culture of integrity is assuming the "truths of academic integrity" are self-evident, and that students automatically understand them, according to Harrison,
He said he was not talking about the chronic cheater, but the "panic cheater," the person "under enormous pressure" as the first person in their family to complete college or the person who might have missed important information at the beginning of the semester. And, he added, institutions hold enormous power over these students.
"It will do us no good to admit and enroll greater numbers of more diverse students if we only then stigmatize them as cheaters for not knowing rules and standards [that] we aren't giving them the opportunity to learn and understand," he said.
In response, UMGC comprehensively rethought how it transforms and sustains a culture of academic integrity, which Harrison said has resulted in both the creation of more tutorials to teach students about academic integrity—and a consultative process that replaces "law-and-order" judgments about misconduct with teachable moments.
The goal was to "align our approach to academic misconduct with our values and mission," Harrison said. "It was designed to minimize the risk of purely punitive processes that stigmatize new students as cheaters when the circumstances and evidence do not support a finding of malicious cheating."
Following up on Harrison's theme, a panel of UMGC faculty and administrators shared key strategies for promoting academic integrity. They include high-quality online learning, instructor interaction with students to build social connections. and assessments that measure what is important to the class.
Studies have shown that cheating happens almost equally in online and face-to-face classes, said Jen Simonds, assistant vice president for Academic Integrity and Accountability.
Students start looking for shortcuts when they perceive that busy work is more important than mastery of the course; that instructional quality is poor, boring and unorganized; and that the instructor is disengaged and does not care about the students, Simonds said. If a teacher does not want students to Google the answers to their online tests, she added, then they should not ask questions that are "Google-able."
Designing a course is crucial, and a well-designed online class is something different from a face-to-face course that has been quickly put together online, said Brandi Shatto, program director for Educational Technology.
She called it "backward design," starting with what a teacher wants the students to know at the end of the course and working back to the beginning to design the steps to get the student there.
"Once we know that, we can start thinking about how they can show what they know, how can I assess that learning," Shatto said.  "Then we can think about those learning activities that prepare students to show their mastery."
One way to bring students along is to offer a series of manageable assignments rather than one big end-of-the term paper, Simonds said. Each step lets the student understand a particular academic process and allows the teacher to see which students need more help. Those steps come together in a final paper that builds on the previous one.
"Students always say they did more than they thought they could when it is broken down," Simonds said.  And it encourages students to do original work because they cannot find answers to these papers online.
Developing a personal touch with students also helps reduce cheating, said Rob Coyle, assistant vice president for Course Development.
"The more students feel like you know them, and they know you as a person, the more likely they are to act with integrity," he said.  "It's not just about the score they get on the paper or the test. It's about the comments that go along with that."
Caught up in this transformative process are the student-run honor code councils and student conduct offices that must find ways to adjudicate a growing number of academic integrity cases coming from the online classes.
At the University of Virginia, the number of such cases jumped from the typical 25 or 30 in an academic year to 90 reported by the end of the spring 2020 semester, said Isabelle Edwards, the vice-chair for Community Relations for UVA's Honor Committee. To handle the surge, the committee had to adopt a more informal process for hearing cases that reduced adjudication time from three weeks to an hour.
"Our dean of students and Provost gave us guidance to consider COVID-19 as a mitigating circumstance for all students during that spring semester," she said. "So, suspension was off the table for most students in our process."
"You recognize you will have to bend in certain cases just to make sure that your process is equitable," added Nina Burgess, president of the Honor Council at the University of Mary Washington, "Otherwise, you are going to penalize and traumatize people for something that is completely out of their control." She said her Council erred on the side of leniency.
Burgess said, too, that she gained more respect for government officials trying to communicate during the COVID-19 pandemic, underscoring the "importance of communication and allaying fears and setting expectations early … when you're trying to make sure that a process goes as smoothly as it can even when the world around you is sort of going to hell."
Student Honor Council members agreed that a university's faculty should bear more responsibility to create preventive measures to reduce the temptation for cheating.
"We really want to focus on helping educate faculty on how to run online classes to a point where cheating may not happen as much, or to include language in your syllabi that really makes the course policies clear," said Madeline Brown, co-chair of the College of William and Mary Honor Council.
James Orr, vice provost for Academic Affairs and Strategic Enrollment at the University of Memphis, agreed that many cases can be resolved in one-on-one sessions that are less adversarial than appearing before a full Honor Code panel.
Both students and faculty must be educated on what constitutes an Honor Code violation in the online world during the COVID-19 crisis, Orr said. More violations being reported does not necessarily mean there is more cheating.
"It just may be that we are more vigilant in the online environment," he said.  "This is a teachable moment for our students."
Azalea Hulbert, director of Academic Integrity at West Virginia University, said that in many cases she has adjudicated, she has seen the "pervasive stress" on students who would otherwise be unlikely to cheat.
"It seems that the stress, combined with the opportunity available in online testing environments has provided all-too-tempting a prospect for some of these students," said Hulbert.