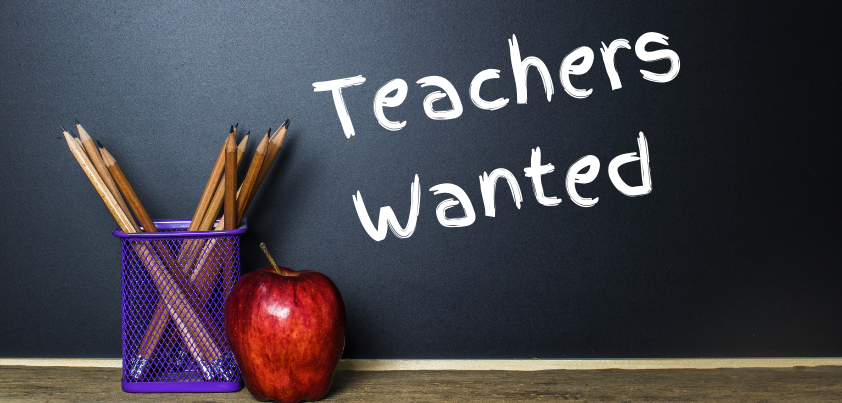 If more than 100,000 certified teachers joined the labor force tomorrow, it still would not be enough to meet the shortfall in schools across the country. University of Maryland Global Campus (UMGC) is addressing that workplace gap through an accelerated online program that not only carries participants through to a master's degree but saves them time and money along the way.
"With the critical teacher shortage here in Maryland and across the country, we need to create as many pathways to the classroom as possible," said Monica Simonsen, director of the Education Program at UMGC.
Traditionally, students who aspire to be teachers earn degrees in education. UMGC's Master of Arts in Teaching (MAT) offers undergraduates in the sciences, physics, English, history, social studies, computer science and foreign languages—who may also be interested in teaching—a way to harness their knowledge in a particular subject area, and then carry it to students in junior high and high school.
With the MAT, students get an undergraduate degree in a discipline they are passionate about, and then continue on to a master's degree in teaching, rather than a master's degree in education.
Although the distinction may sound small to those outside education, it brings deeper subject matter expertise to high school classrooms, according to UMGC faculty involved in the program.
Brian Hamm said he was thrilled to find the program. His wife has worked in the military education system for three years, and she had encouraged him to get a teaching certificate.
"When I was growing up, I thought the idea of being a teacher was cool. Then I was in the Marine Corps for four years and I had people under me that I had to teach," Hamm said. "My wife talked to me about her teaching experiences, and she—and even my parents—told me they thought I'd be good as a teacher."
Hamm had an associate degree and a semester at another university under his belt when he enrolled at UMGC to pursue a bachelor's degree in social studies and then a Master of Arts in Teaching. With his coursework completed, he is now doing an internship before he seeks certification to teach in Tennessee at Fort Campbell High School, an on-base school for children of service members.
"I got my master's degree in teaching in one year," he said. "If I hadn't been able to take the master's classes while an undergraduate—and have them count toward both degrees—it would have cost me another $12,000 or $13,000. I was on the GI bill for part of my education but my GI bill ran out."
Hamm is qualified to teach grades 7 through 12 and a range of subjects, including sociology, government and history.
MaryBeth Matthews, chair of the Department of Arts and Humanities, said a UMGC undergraduate degree in English also positions a student for success in the MAT and in a subsequent teaching career. The English curriculum is keeping up with calls in the field of education for more diverse perspectives, with a new course in global literature recently added.
"English majors love reading, they love writing, they love trying to understand people," Matthews said. "With the critical thinking and communication skills they are acquiring, they are building a really strong foundation for what educators need in the classroom."
The MAT also resonates with individuals like Justyn Kettel, who was torn between the idea of teaching and a bachelor's degree in history. He was delighted to discover he could leverage the MAT program to achieve both.
His decision to enter the program also enabled him to be hired—even before he completed his graduate degree in 2020— as a paid teaching intern in Baltimore.
"The teacher shortage is so severe that as long as you have a bachelor's degree in a relevant field, many schools will hire you provisionally while you get certified or get your master's," Kettel explained. "The internship helped me pay for my MAT classes, and then I received tuition reimbursement from Baltimore County, which almost made my master's degree free."
Kettel now teaches grades 10, 11 and 12 at Milford Mill Academy in Baltimore.
As increasing numbers of older teachers move toward retirement and school districts consider smaller class sizes amid the COVID-19 pandemic, the teacher shortage is intensifying. The demand for math teachers is especially dramatic. They are sought at every grade level across the country.
John Beyers, chair of the UMGC Math and Statistics Program, said the MAT not only opens a pipeline of talent for those jobs but it offers advantages for career changers with degrees in areas such as computer science, business administration or finance.
"Maybe they never entertained the idea of teaching. Or maybe they wanted to teach but thought it was unachievable because they didn't have an undergraduate degree in education," Beyers said. "We build on the knowledge they already have and the life experience they already have to help them become successful math teachers."
Although information about the MAT is found on the UMGC website, Simonsen said a push is underway to make more people aware of the program. Academic coaches are being encouraged to tell students about its advantages, and outreach is ongoing with student clubs. When Simonsen does public presentations to parents of high school students, she talks about UMGC programs focused on high-demand career areas, including teaching.
"We recognize we need to recruit more teachers and, specifically, we need to recruit more teachers of color. Through the MAT program, we are creating more flexible, affordable, personalized pathways for people who didn't necessarily see teaching as their future," Simonsen said.
The Master of Arts in Teaching is a 30-credit program that is fully online. Two of its master's level courses, worth 12 credits, can be taken when students are undergraduates—underscoring the importance of knowing about the program early in a student's academic career. To get into the program, an undergraduate degree with 30 credits in a subject area is required. UMGC staff help students find required teaching internships in their respective communities.
"If you walk out of UMGC with your master's degree in teaching, you're going to find a meaningful, stable job," Simonsen said. "Teaching is a growth industry, and we are preparing our students for the jobs of the future."