Frank J. Principe, Jr. Appointed Senior Vice President of Government Affairs and Strategic Partnerships at UMGC
Accomplished Government Relations Executive to Oversee Expanded Portfolio, Serve on University's Executive Committee
Adelphi, Md. (Feb. 8, 2021) –University of Maryland Global Campus (UMGC) President Gregory W. Fowler, has elevated Chief of Staff Frank Principe to senior vice president of Government Affairs and Strategic Partnerships. Principe will remain a key advisor to the president and serve on the university's Executive Committee.  He assumed his new responsibilities on Feb. 1 and will continue to serve as chief of staff until a replacement is named.
"Since joining UMGC in 2015, Frank has been key to the success of our strategic initiatives, including securing state approval for the university's name change in 2019," said Fowler in announcing the appointment. "He has a unique gift for building relationships with legislators and public sector executives and visualizing how those relationships can support our strategic goals."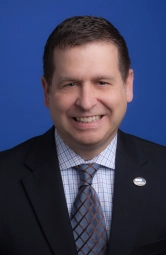 Principe will be responsible for leading UMGC's state and federal government relations and strategic corporate/industry partnerships, as well as managing the institution's relationships with key stakeholder organizations, including the University System of Maryland. He will oversee Institutional Advancement, Alumni Relations, and the university's Arts Program, which includes Maryland's largest public collection of art. Principe's portfolio also includes managing the university's relationship with the Maryland Cybersecurity Council, for which the university provides staffing and other strategic support.
"I am humbled and honored to take on this challenging opportunity and continue to work with professionals who are dedicated to our mission of serving adult students in Maryland and around the world," said Principe. "We will work together to represent and to advance this mission and the interests of UMGC and our community."
As chief of staff, Principe was instrumental in reimagining the internal communications function; shepherding the process that led to the creation of UMUC Ventures and HelioCampus, the highly successful for-profit spinoff of the university's analytics unit; overseeing the National Campaign for UMGC; partnering with the Washington County Museum of Fine Arts; and updating the university's strategic plan.
Previously, Principe served as special assistant to Maryland Senate President Thomas V. "Mike" Miller, Jr.; chief of staff in the Office of the Maryland Secretary of Transportation; and government affairs director for Baltimore County Executive James T. Smith, Jr. He also was executive director of government relations at Towson University.
Principe holds a master's degree in political communication from the George Washington University Graduate School of Political Management and a Bachelor of Arts in English (with honors) from University of Maryland, College Park.
About University of Maryland Global Campus
University of Maryland Global Campus (formerly University of Maryland University College) is a world leader in innovative educational models, with award-winning online programs in disciplines including biotechnology, cybersecurity, data analytics, and information technology that are in high demand in today's increasingly technical, global workplace.
With an enrollment of some 90,000 students, UMGC offers open access with a global footprint and a specific mission—to meet the learning needs of students whose responsibilities may include jobs, family, and military service. The university offers both undergraduate and graduate degree and certificate programs, including doctoral programs.
A pioneer in distance education since 1947, UMGC today is harnessing the power of learning science and technology to deliver high quality, low cost, accessible higher education.