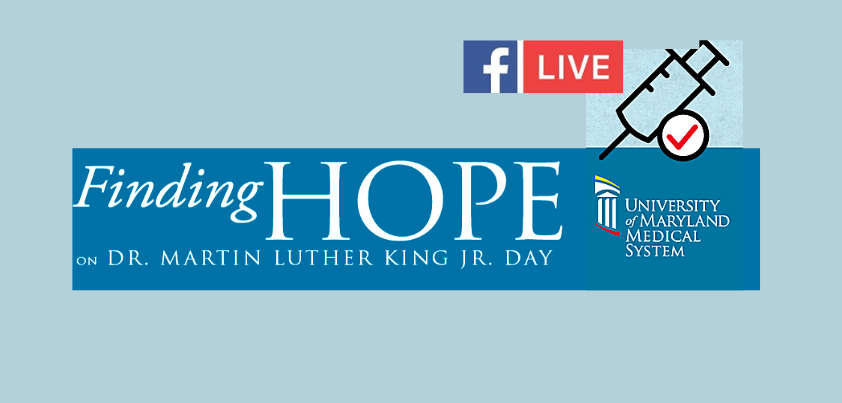 On Dr. Martin Luther King, Jr., Day learn more about the vaccine and get answers to commonly asked questions at this University of Maryland Medical System town hall event. Monday, Jan. 18 from 11 a.m. – 12 p.m.
Event to be streamed on FB Live.
With the coronavirus still raging globally a year into the pandemic, the University of Maryland Medical System (UMMS) is sponsoring "Finding Hope on Dr. Martin Luther King Jr., Day," a live-streamed town hall event to inform about the virus's continued harsh impact on health and economic wellbeing—and address questions and concerns about the COVID-19 vaccine, particularly for communities of color.
UMMS President and CEO Dr. Mohan Suntha, town hall emcee, and Freeman Hrabowski, president of University of Maryland Baltimore County and town hall moderator, will lead the discussion. They will be joined by panelists:
Fermin Barrueto, Jr., MD, MBA—sr. vice president and chief medical officer, UM Upper Chesapeake Health
Stacy Garrett-Ray, MD, MPH, MBA—vice president/medical director, UMMS Population Health Services Organization
Michelle A. Gourdine, MD—interim chief medical officer/senior vice president, Population Health and Primary Care, UMMS
David Marcozzi, MD, MHS-CL, FACEP—COVID-19 incident commander, UMMS
Joseph L. Wright, MD, MPH—senior vice president/chief medical officer, UM Capital Region Health
Participants are encouraged to visit www.umms.org/FindingHope to register, view videos of UMMS team members receiving and talking about getting the vaccine, get details on how to submit questions for the panelists, and learn how to attend via Zoom, Facebook, or by phone.
COVID-19 is real—and it is devastating. In the United States, more than 20 million people have been infected with the novel coronavirus and more than 375,000 have died. This much-needed discussion offers hope, clarity, and some practical steps forward, as together, we create pathways to end COVID-19.
What:    Finding Hope on Dr. Martin Luther King Jr. Day – A Town Hall on Understanding the COVID-19 Vaccine.
Date:     Monday, Jan. 18
Time:     11 a.m. – 12 p.m.
Learn more and register at http://umms.org/FindingHope.