New Collaboration with Amazon Web Services Preps Service Members for Post-military IT Careers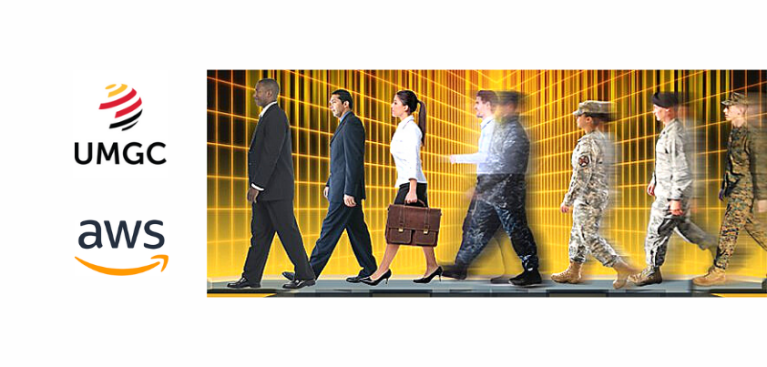 Under a new corporate collaboration with University of Maryland Global Campus (UMGC) and Amazon Web Services (AWS), a group of service members has been going through the Amazon Apprenticeship program since early November. The apprenticeship is a U.S. Department of Labor-certified program that offers a combination of paid immersive learning and on-the-job training with Amazon.
The initiative is part of the AWS and Amazon's continued commitment to provide skills training to employees, customers, and communities globally. The first cohort started last November with a unit focused on AWS Cloud Practitioner certification. Students will move on to units on scripting and solutions architecture in the AWS environment. The AWS-designed program is delivered by UMGC program directors and full-time faculty, with some assistance from adjunct faculty.
"The biggest fear you face after 20 years in the military is what you do when you get out," said Kelly Wilmeth, UMGC vice president for stateside military operations. "These micro-credentials we're providing allow people to move to the next level of their career."
Doug Harrison, vice president and dean of UMGC's School of Cybersecurity and Information Technology, said the 15 students who kicked off the Amazon Apprenticeship program are moving through a series of IT training units.
"This training is an immersive experience, eight hours a day for 15 weeks," said Harrison, noting that the program ends with a capstone project that brings the students together to work on a real-world business solution that they will present to AWS managers.
The AWS collaboration is UMGC's first non-credit training program.
"That is an important first for us," Harrison said. "In cyber and IT fields, in particular, there is a focus on up-skilling and re-skilling to match employment needs. These trainings don't bear credit, but they have unique structures that allow us to grant credit if students [later] want to apply it toward a degree program."
Those who might be interested in going on for a degree at UMGC can receive credit if they pass related certification exams. They can also pursue prior-learning credit.
The module-style learning program dovetails with the military's goal of reducing the unemployment rate for veterans, Wilmeth explained.
"In many areas of IT and cyber fields, an academic degree is not always the only credential employers are looking for anymore. They often are looking for certifications as ways for people to get a foot in the door of these fields," she said. "Among educational opportunities for transitioning service members, more and more are focused on providing skills in highly coveted certifications like cybersecurity, IT, health care and project management."
Wilmeth noted that the university also will begin non-credit certification programs for service members at Fort Gordon, Georgia, in spring 2021. That training, separate from the AWS collaboration, was originally scheduled to launch in early 2020 but was delayed by the COVID-19 pandemic.
The onsite classes at Fort Gordon qualify for funding under the military's new Credential Assistance Program which, unlike the Department of Defense's Tuition Assistance Program, covers tuition for non-credit educational programs. Wilmeth said the first wave of the Fort Gordon program will focus on three of the most in-demand IT and cyber certifications. Instruction will take the form of two-week academic boot camps for four hours each evening.
"We can develop as many of these certificates as needed," said Ed Bach, UMGC vice president for strategic partnerships. "There are tons of vendors seeking to compete in this area, but we're the ones with the proven track record with the military."
The AWS collaboration comes on the heels of last year's high-profile collaboration between UMGC and Amazon. UMGC joined Amazon's Career Choice program as an online IT provider, offering certificates and associate degrees in IT-related fields targeted specifically to hourly workers at Amazon. Amazon Career Choice prepares workers to move into higher-salaried careers outside of the company. Eligible employees for the program work in Amazon fulfillment centers, sort centers and delivery stations across the country.
Bach said certificate programs are an increasingly popular and competitive area of higher education, and UMGC is making inroads owing to its long and successful history of quality online education. He said the AWS program advances UMGC's longstanding commitment to career-relevant education.
"The future of education is moving toward a lifelong learner business model where people are forever being educated, often without degree-based learning," Bach said. "There are things you need to know for your job, and you need to know them now. We are responding to that through these new programs."