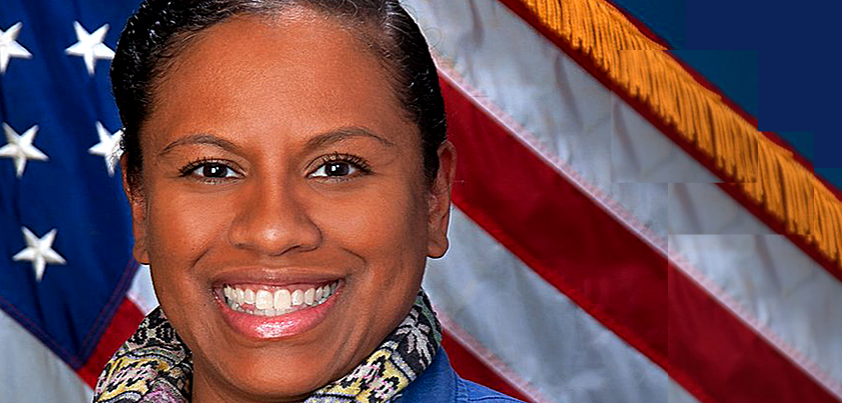 UMGC alumna Lachanda Garrison, who grew up attending DoDEA schools, wins high praise from the organization that inspired her to teach.
Lachanda Garrison '03 is a firm believer in the Department of Defense Education Activity's (DoDEA) mission to "educate, engage and empower military-connected students to succeed in a dynamic world." She should know. As the daughter of a U.S. Marine, she grew up in Okinawa, Japan, where she attended DoDEA schools and ultimately graduated from Kubasaki High School.
Today, she is the one at the front of the classroom teaching children of military personnel who are stationed abroad, and she has made her mark on the institution that helped mold her own mind. This year, she is being honored for her work with the 2021 DoDEA Teacher of the Year Award.
"Lachanda Garrison is a remarkable teacher in every regard, beloved by her students and held in high esteem by her peers," said DoDEA Director Tom Brady. "She consistently demonstrates teacher leadership and has an unparalleled commitment to student learning. We are fortunate to have Ms. Garrison as a DoDEA teacher and are proud to honor her as the 2021 DoDEA Teacher of the Year."
Pursuing a Career in Education
Garrison said it was her own education that inspired her to go into teaching. After high school, she was awarded academic scholarships from UMGC in recognition of her achievements, and those scholarships enabled her to pursue her dreams of higher education.
"This set the path for me to complete both my associate and bachelor's degrees through UMGC," said Garrison, who decided to study information systems management and education, eventually completing a student teaching opportunity at a local DoDEA school. DoDEA plans, directs, coordinates and manages prekindergarten through 12th-grade education programs on military bases to provide a high-quality public education for the school-aged children of Department of Defense personnel.
"I knew I wanted to be a teacher after my amazing [student teaching] experience at Kadena Middle School in partnership with UMGC," Garrison added.
A Teacher Is Born
She began her career at DoDEA schools 13 years ago, teaching first, third and multi-age grades and working as an instructional coach in elementary mathematics and literacy. Today Garrison is a second-grade teacher and teacher leader at Bahrain Elementary School. In her role, she partners with fellow educators and other community stakeholders to embolden her students along their academic journey. This work led to her recognition by the DoDEA Teacher of the Year Program, which honors exemplary Pre-K through high school teachers.
Teachers are nominated for the award by their peers, administrators, parents, students or community members. For 2021, eight teachers were named District Teacher of the Year, and each District Teacher of the Year is invited to apply for the DoDEA Teacher of the Year designation.
Along with public recognition, Garrison's DoDEA Teacher of the Year award gains her entry into the National Teacher of the Year application pool and recognition by the President (pending scheduling) at a future White House ceremony. She will also attend the National Teacher of the Year Conference and participate in Teacher of the Year events sponsored by the Council of Chief State School Officers.
"I am thankful for my UMGC degrees, the many doors that have been opened to me, and how those doors postured me for the success I am experiencing today," Garrison said.
A Commitment to Lifelong Learning
Garrison, who holds a Bachelor of Science in information systems management, a Master of Education in instructional technology and a Master of Arts in mathematics teaching, is the epitome of a lifelong learner. She participates in her own professional development, and she also facilitates sessions for others to learn within her school and district and at the national level.
This open-to-growth mindset helps her excel as an educator so she can better serve her students.
Supporting Others 
When she speaks with other UMGC graduates, Garrison said she shares lessons learned from her own education journey.
"My advice to my fellow alumni community and UMGC students who are still on their academic journey is to persevere," she said. "You may not know where you are heading, but you can prepare yourself for future success. Life is full of changes, challenges and adversity, but what you accomplish with UMGC can never be taken away. Years later, you will be glad you persevered."