University of Maryland Global Campus to Host Virtual Winter Commencement 2020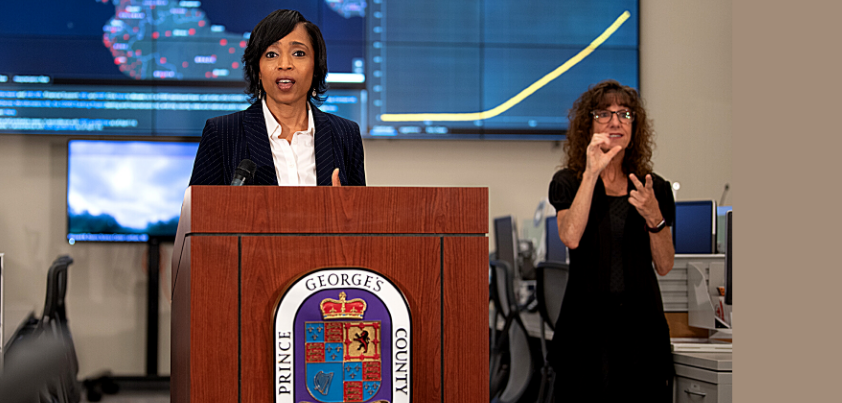 Online Ceremony to Include Keynote Address by Prince George's County Executive Angela Alsobrooks
Program to Go Live Beginning Saturday, Dec. 19, at 12 p.m. EST
Adelphi, Md. (Dec. 7) — University of Maryland Global Campus (UMGC), the nation's largest online public university will premiere its special 2020 Virtual Winter Commencement on Saturday, Dec. 19, beginning at 12 p.m. Eastern standard time. The approximately 25-minute program, which honors the more than 7,500 stateside graduates worldwide who completed their degree requirements in summer or fall 2020, will be available for on-demand viewing by graduates, their families and friends anytime—and from anywhere.
The virtual commencement features a keynote address by Prince George's County Executive Angela Alsobrooks, greetings and conferral of degrees by UMGC Interim President Lawrence E. Leak, remarks by student speaker Susie Hernandez, who will speak on behalf of the graduating class, and a performance of the Alma Mater by graduating student Robert Jenkens. The commencement program site also showcases remarks from academic leadership and video tributes from faculty and staff. Graduates' names will be read aloud and appear in a multimedia gallery.
In addition to Winter Commencement, UMGC holds ceremonies annually each spring in Maryland, to honor stateside graduates, and in Germany, Tokyo, Okinawa, South Korea and Guam for military personnel and their families who are serving overseas.
Here is a snapshot of UMGC's stateside 2020 Winter Commencement degree recipients:
Average Age: 35
Total No. of Graduates: 7,597
Cover Photo: County Executive Alsobrooks providing a COVID-19 update to the community at one of her regular press conferences.
About University of Maryland Global Campus
University of Maryland Global Campus (formerly University of Maryland University College) is a world leader in innovative educational models, with award-winning online programs in disciplines including biotechnology, cybersecurity, data analytics, and information technology that are in high demand in today's increasingly technical, global workplace.
With an enrollment of some 90,000 students, UMGC offers open access with a global footprint and a specific mission—to meet the learning needs of students whose responsibilities may include jobs, family, and military service. The university offers both undergraduate and graduate degree and certificate programs, including doctoral programs.
A pioneer in distance education since 1947, UMGC today is harnessing the power of learning science and technology to deliver high quality, low cost, accessible higher education.