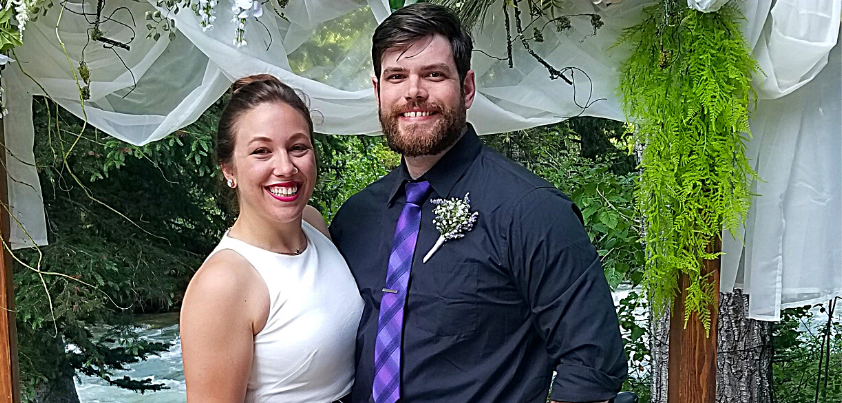 For Lauren Warner, the agony of the Coronavirus pandemic has had at least a couple of silver linings.
Warner, who cares for her wounded Army veteran husband, completed a UMGC Master of Science degree in management this semester with the financial help of a Pillars of Strength scholarship aimed at caregivers like her.
She is counting on that degree to give her the assurance that she can support her family on her own, if necessary.
"I could not have pursued this without the scholarship," Warner said during a break while transporting her husband, Seldon, to a doctor's appointment. "It gave me the opportunity to not have to stress about my financial situation."
Of the 38 Pillars of Strength scholarship recipients since the program launched in 2013, 11 completed degrees by the end of 2020, giving them an advantage of pursuing careers to support their families.
And working toward a degree can have other advantages.
While it might sound odd to some people, Warner said pursuing the master's degree gave her some needed "me time," amid the stresses of work and caring for her husband.
"Even though doing school work is a funny way to look at me-time," she said, "I was able to use school as my me-time and take that as something for myself."
Warner, who was an Army public affairs specialist at Fort Myer, Virginia, across the Potomac River from Washington, met Seldon shortly after he returned from a tour of duty in Afghanistan. He had been the victim of a recoilless rifle blast. Lauren began to observe that he had dissociative episodes that evolved into seizures.
When he was admitted into the Traumatic Brain Injury Clinic at nearby Fort Belvoir, she became responsible for getting him to and from appointments and eventually had to drop work and give up her Army career. His seizures happened two to five times a day, sometimes incapacitating him for most of the day. That put most of the burden for maintaining him and their home on her.
He was medically retired in December 2017, making her also their main income producer. When most of his treatment moved to Walter Reed National Military Medical Center, they had to leave base housing and move to Maryland to be closer.
While Warner had a bachelor's degree in English and journalism as well as a certificate in business management, she said she knew that if she were going to be competitive in the marketplace while working at home so she could care for her husband, she needed more advanced training.
She said that is why she applied for a Pillars of Strength Scholarship, which is made possible by The Blewitt Foundation and the National Military Family Association in alliance with UMGC, and was so pleased to be among the 2018 recipients.
With her education and professional background, she found she could handle the coursework and, for the most part, found her professors had sympathetic ears when she had emergencies at home if her husband developed seizures.
At first, the pandemic looked like it was going to be a disaster for her teleworking career; she had been handling marketing projects for Ragnar Relay, a company that organized relay runs across the United States and internationally for Reebok Shoes until that work disappeared.
She now works part-time as "wellness coordinator" with the Yellow Ribbon Fund, which helps families of wounded and ill service members in relationship with  Walter Reed National Military Medical Center. In that role, given the pandemic, Warner sets up safe events to give families of wounded service members some respite.
"It allows me as a caregiver to use my marketing skills to work for a non-profit that supports the caregiver and military community," she said.
She also is working with Organized Q, which is a virtual company run by a fellow military spouse.
Warner said one silver lining is that the pandemic has convinced many employers that people can work at home just as efficiently as they can at the office.
"Proving that military spouses could do this work at home was my whole fight before the pandemic," she said. "As much as the pandemic was terrible, it helped prove that point. That's a weird silver lining."
Warner has seen an improvement in Seldon's condition. The seizures have subsided, and he is even beginning to pursue his own college education, aiming at an engineering degree from the University of Maryland College Park.
She is working on getting him a service dog because being on campus with large crowds can be intense for him.
But she knows that with PTSD, she cannot count on his continued improvement—at any time his condition could deteriorate.  She said that is why she understands she will always have to have the flexibility of working at home.
"Going to school and pursuing that additional education is super important because you don't know what is going to happen to your husband," she said.
"He might be doing okay right now, but there's a possibility that down the road it could flip your world upside down. Having that extra cushion of a degree under your belt gives you something to fall back on."