Inspiring Messages Come Out on Top (Literally) at UMGC Winter Commencement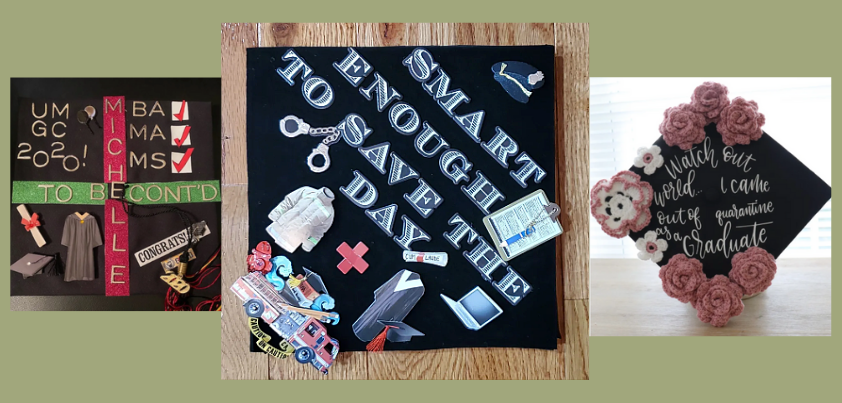 The University of Maryland Global Campus Class of 2020 winter graduates attended commencement virtually this year, but that did not stop them from celebrating. Each year, the mortarboards atop graduation caps are adorned by inspired grads, showing their creativity and telling the story of their individual educational journey. This year was not any different. Several weeks prior to the virtual commencement ceremony, graduates were invited to participate in a cap decorating challenge.
Invitations went out to UMGC winter graduates and voting opened on Nov. 18. Grads were able to share their entries on their social media channels to encourage their friends and family to vote for their cap. Voting was encouraged throughout the challenge period, which ended on Dec. 16. Anyone could vote once per cap in a 24-hour period and return to vote again after 24 hours. With 91 caps entered, these graduates collectively gathered 17,897 votes. 
The winner was announced on Dec. 19, the morning of virtual commencement, and was featured on the UMGC virtual commencement website. Marcus Johnson received 4,256 votes for his inspired cap featuring the phrase, "Smart Enough to Save the Day." Michelle Freeman's cap took second place with 3,181 votes and Christina Holt's cap gathered 2,560 votes to place third.
Freeman said the creation of her cap was a family effort; she got help from her niece and nephew to complete it. "I thought this was a great gesture on behalf of the university to get us excited about our ceremony. Although we could not have a formal ceremony due to the pandemic, this friendly competition built up momentum day by day to our virtual ceremony," she shared.
Holt, who encouraged people to vote for her through her social media channels, said she entered the competition to showcase her crochet artistry.  "I am amazed at how many people came forward to support me during this competition and I am appreciative of every vote I received!"
While Johnson has bragging rights and is featured at the virtual commencement ceremony, all participating graduates are winners, finishing 2020 with a milestone accomplishment.