Prince George's County Executive Alsobrooks Commends UMGC's New Class of Leaders at 2020 Winter Commencement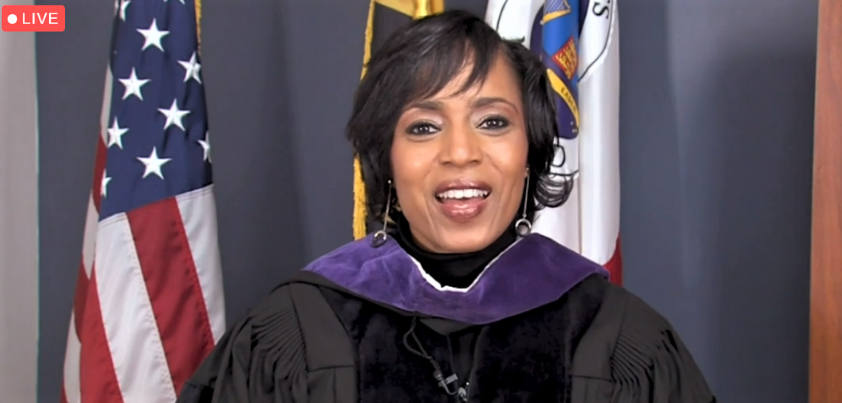 "I'm not just addressing graduates, I'm addressing a class of leaders," Prince George's County Executive Angela Alsobrooks told University of Maryland Global Campus degree recipients in a commencement address delivered via video during the university's 2020 virtual winter commencement program, which launched Saturday, Dec. 19.
Alsobrooks' keynote was a main feature of the virtual celebration, produced by UMGC due to the ongoing coronavirus pandemic to honor the university's 7,602 Winter 2020 stateside degree recipients, while keeping them—as well as their family members, friends, the UMGC faculty and staff community, and other well-wishers—safe.
"You all made a practical decision coming to UMGC, but practicality does not preclude excellence," said Alsobrooks, citing what she termed the university's reputation for creating bold and determined leaders before singling out a few notable examples.
For instance, she said alumna Syra Madad, senior director of the nation's largest municipal health care system, has led New York City throughout the coronavirus pandemic. Alumnus Gen. John William Vessey, Jr., served as the 10th chairman of the Joint Chiefs of Staff, making him the highest-ranking military officer in the United States Armed Forces. And Gen. Marcelite J. Harris, who became the first female General in the United States Airforce, studied business management "right here at UMGC."
"You, like so many graduates before you, overcame the rigors of higher education, succeeding at UMGC while juggling full lives. But unlike most graduates, you all have succeeded during a global pandemic," said Alsobrooks.
"As we begin to move beyond the hardships of this year, I look forward to hearing about the success of the bold and courageous leaders of the UMGC Class of 2020."
Graduates, their family members, friends and other well-wishers can "tune in" to the virtual ceremony to see and hear the keynote as well as remarks by Maryland Gov. Larry Hogan, tributes from UMGC's chief academic officer, deans, faculty and staff, student speaker Susie Hernandez—and the conferral of degrees by Interim President Lawrence Leak. The virtual commencement website also includes a gallery of graduates, searchable by degree and program.
In addition to offering a special salute to graduates who are veterans or active-duty members of the U.S. military, UMGC Sr. Vice President for Academic Affairs and Chief Academic Officer Blakely Pomietto singled out all those essential workers who are helping us weather the current public health crisis. "Whether you are a health care professional . . .  scientist . . . teacher . . . first responder . . . or one of the thousands who stock, prepare and deliver the food and other essentials on which we depend every day . . . we offer our heartfelt thanks," she said.
Pomietto told graduates that their nontraditional commencement ceremony is, perhaps, fitting because it symbolizes their nontraditional educational journey—one complicated by the added responsibilities of jobs, of family or military service.
"Whatever life has thrown at you, your grit, character and commitment ultimately delivered you . . . here . . . where not even a global pandemic can stand in the way of you earning your degree!" she said.
Maryland Secretary of Commerce Kelly Schulz brought greetings as a member of the University System of Maryland  Board of Regents. She told graduates that pursuing an education while also balancing a career, family responsibilities, or both—as many of them have done—is an amazing feat.
"No matter what direction your life now takes, no matter what challenges you will next confront," she said, "know that your education here has prepared you well."
STUDENT SPEAKER
Susie Hernandez '20, a member of the Alpha Sigma Lambda Tau Chapter Honor Society, graduated cum laude with a Bachelor of Science in business administration. The dreamer, who immigrated with her parents to the U.S. from Peru when she was five, told her fellow graduates that among the many lessons learned while pursuing her UMGC degree—how to communicate effectively, tenacity, patience, compassion, how to encourage others—it has opened her mind to possibilities and taught her that she never wants to stop learning.
"Graduating class, I hope you are all as proud as I am to be here . . . For me, this road has been long, arduous, but so worthwhile," Hernandez said. "I tell anybody who will listen that school is an incredibly rewarding experience."
The first-generation immigrant and first in her family to graduate college, said she developed a passion for environmental stewardship while drafting a paper for a UMGC writing class—a paper that she said has changed her daily life. Since learning about the negative impact of single-use plastic during her research, she said she strives to reduce her use of plastic and leave as green a footprint as possible on the world around her.
"If we want a better future, one we can be proud to leave to future generations, we need to educate ourselves," Hernandez said, urging fellow graduates to continue to strive to improve themselves and the global landscape. "It is because of my education that I can make this small impact on the world. Imagine the impact millions of us can make." View
DEGREE CONFERRAL
Prior to conferring degrees, UMGC Interim President Lawrence Leak praised graduates for meeting the unique challenges they faced as adult learners on the path to graduation.
"It has not been an easy road.  And we know that. On this day, you don't need role models. Today you are the role models for us and for everyone watching," Leak said. "It has been our honor to help you in the pursuit of your goals and your dreams." View interim President
ADDITIONAL TRIBUTES
In special congratulatory remarks on behalf of the citizens of Maryland, Gov. Larry Hogan told graduates that while Covid-19 has required everyone to make incredible sacrifices, he hopes that "this moment in our history serves as a reminder to . . . always expect the unexpected . . . things that will hit out of nowhere and test your strength, your will and your character."
It is inevitable that the unexpected will happen Hogan said. When it does, he urged graduates to "stay true" to who they are. "Keep people around you who make you a better person and keep you grounded. And always stay positive," Hogan said. View Gov. Hogan's remarks.
STUDENT SINGER
The UMGC alma mater is performed by Robert Jenkens '20, who earned a Bachelor of Science degree in computer science.
SNAPSHOT of UMGC 2020 WINTER COMMENCEMENT DEGREE RECIPIENTS
Average Age: 35
Total No. of Graduates: 7,602
Degrees conferred:

33 doctorates
1,013 associate degrees
4,412 bachelor's degrees
2,144 master's degrees

In addition to Winter Commencement, UMGC holds ceremonies annually each spring in Maryland, to honor stateside graduates, and in Germany, Tokyo, Okinawa, South Korea, and Guam for military personnel and their families who are serving overseas.

View the UMGC 2020 Virtual Winter Commencement program in its entirety and explore the commencement website HERE.