UMGC's Simonsen Tells Maryland House Panel of Ways to Combat "COVID Slide" in Schools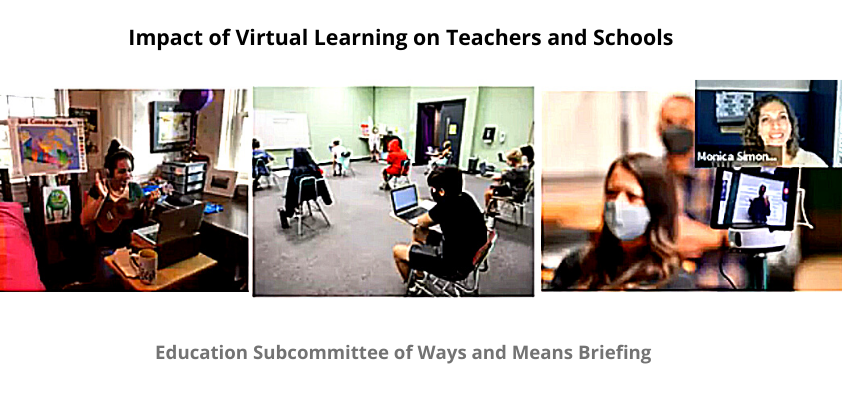 Closing schools during the coronavirus pandemic has exposed inequities in the education system that need to be fixed even after students return to the classrooms, University of Maryland Global Campus Education Program Director Monica Simonsen, Ph.D., told Maryland House Ways and Means subcommittee members at a Nov. 19 hearing.
"Rather than rush back to the way we have always done things, this is an important time to acknowledge that the status quo was not working for all of our learners," Simonsen told the Education Subcommittee.
"What we are seeing now is how the disparity of educational opportunity is impacting schools' abilities to respond to COVID and to transition back to in-person learning," she said.  "Returning to in-person learning is made more difficult when your community has run-down school buildings with poor air quality and overcrowded classrooms."
Subcommittee Chair Del. Alonzo T. Washington, D-Prince George's County, said the 900,000 Maryland public school students have been thrust into a "starkly different learning environment."  English as a second language students and special education students have been particularly hurt.
The hearing, he said, would look at the challenges and successes in online learning in Maryland with an eye toward legislation in the next General Assembly session.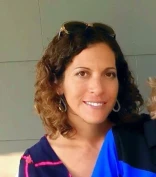 Monica Simonsen, Ph.D., UMGC Education Program Director
Simonsen was one of three education experts who testified on teaching preparation and best virtual learning practices. It was one of two panels addressing the committee. Joining her were Ebony Terrell Shockley, Ph.D., executive director/associate professor for the University of Maryland College Park Department of Teaching and Learning, Policy and Leadership; and Ryan Schaaf, a Ph.D. candidate and assistant professor at Notre Dame of Maryland University.
Simonsen told the delegates that pushing public education online has exposed "broadband deserts" where students—and even some teachers— cannot get access to the internet, even if they do have computers.
Nationwide, more than 30% of K-12 public school students—that is between 15 and 16 million of them—live in homes that do not have a laptop or other device, a stable internet connection, or both, according to Simonsen. That jumps to 42 % for students of color and to 50 % for low-income students, she added.
"We have teachers who are working from their cars outside of their school buildings in order to access reliable internet," said Simonsen.
At a minimum, she said the state should be investing in public-private partnerships to expand broadband access.
Students with learning disabilities, ADHD and executive functioning disorders "often struggle to toggle back and forth between tabs that allow them to take part in online schooling," Simonsen explained. Those with social, emotional or behavioral health needs are missing out on critical routines and interactions. Additionally, English language-learners are more isolated from people who are helping them learn the language.
To prepare students for their return to the regular classroom, Simonsen said Maryland should invest in school programming that will ensure those students who have suffered from "COVID-slide" get the help they need to make up for that loss. And schools should not wait until students return to the classroom to assess what they know and what they missed through remote learning.
"We should start collecting data now," she said. "We know which students are not attending classes. We know which students are failing their classes, not completing assignments and not performing well.  We can start developing some intermediate interventions now."
Then, when it is safe for students to go back to school, school systems should be ready with summer programs that are available to students who need help right away.
"We can have some targeted tutoring," she said. "Don't wait until the arbitrary after-Labor Day deadline."
In a usual school setting, teachers can monitor student progress, remind them to stay on track and pull small groups for extra support, she said. The online classes are forcing teachers to find new ways to do that interactively. The state needs to invest in professional learning to support educators in the design of these online lessons that will help in educating all students, Simonsen recommends.
Giving the analogy of required curb cuts to help people in wheelchairs navigate cities, Simonsen said online programs to help students with disabilities can be used to enhance everyone's learning.
People studying to be teachers also have had disrupted learning experiences because they are losing opportunities to observe classes and to complete their in-person student teaching experiences, Simonsen said. She also pointed out that remote learning and teaching due to the pandemic gives them an opportunity, as well, to advance their online teaching skills, which will still be valuable when students return to their classrooms.
When schools once again open their doors, Simonsen said new and returning teachers are going to need a lot of help in handling unanticipated challenges. She advocated for comprehensive new teacher support and coaching programs and suggested that schools consider co-teaching models so that teachers can work together to support learners.
"We can't just place and pray," she said. "That's not going to be enough."
To support preservice and new teachers, UMGC developed "mentoring circles" made up of recent graduates, current interns and other students and faculty that are becoming "professional learning communities" where educators across the state are "sharing practical solutions to just-in-time challenges," Simonsen said.
Teachers "will carry these skills with them and be prepared to use technology to enhance instruction, even when they are back in buildings," she said.