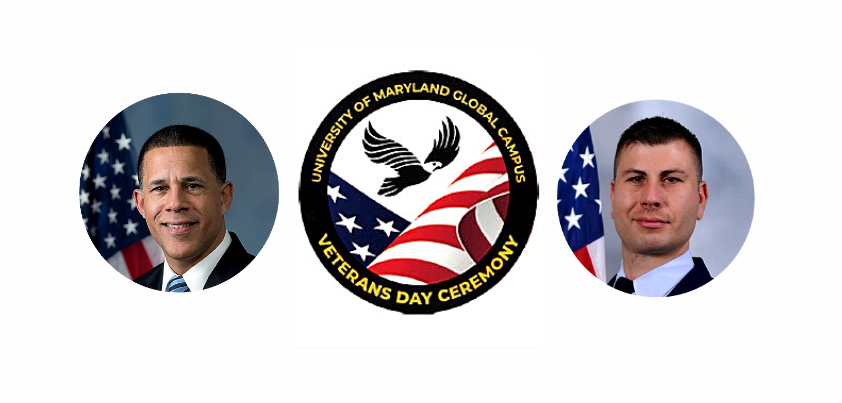 "This Veterans Day, whether you celebrate it solemnly or festively, please take a moment to remember those men and women who have worn the uniform of this nation throughout its history," said Major General Milo Miles (U.S. Army, Ret.), senior vice president of Global Military Operations at University of Maryland Global Campus (UMGC.) "It is a privilege to serve them and an honor to serve beside you."
Miles' remarks are a fitting conclusion to a compelling, personal reflection about his family's history of military service, including his father's service in three conflicts, beginning in Japan with the U.S. Army's occupation forces at the end of World War II.
Gen. Miles's letter is the centerpiece of UMGC's Veterans Day Ceremony to be held virtually through an interactive website on Wednesday, November 11. The event will commemorate the 75th Anniversary of the end of World War II and honor our nation's veterans, including UMGC students, faculty, and staff who have served in the United States Armed Forces.
U.S. Congressman Anthony G. Brown will provide the keynote address. Brown represents Maryland's 4th Congressional District, serves as vice chairman of the House Armed Services Committee and is a retired colonel in the United States Army Reserve.
His military career spanned more than a quarter-century as an aviator and JAG officer.  Brown graduated first in his flight class and received both Airborne and Air Assault qualifications. He was awarded the Legion of Merit for his distinguished military service. In 2004, he was deployed during Operation Iraqi Freedom, earned a Bronze Star, and became one of the nation's highest-ranking elected officials at that time to serve a tour of duty in Iraq.
At the ceremony, UMGC also will honor Master Sergeant Joseph Cabrera with its General John W. Vessey Jr. Student Veteran of the Year Award. Cabrera, who is serving in the U.S. Air Force in Okinawa, Japan, completed his bachelor's degree at UMGC in 2012. He is now pursuing his master's degree in management with a concentration in project management.
Cabrera is a Specialist Section Chief in the 67th Aircraft Maintenance Unit of the 18th Aircraft Maintenance Squadron at Kadena Air Base on Okinawa. He leads a team of 87 permanent party F-15C/D technicians and 231 senior enlisted leaders as the Maintenance Group's Top III President, and mentors Airmen across 12 Air Force Specialty Codes. Cabrera also advises the commander on maintenance production's short- and long-term fleet health concerns affecting assigned aircraft and works with mission partners and outside agencies to maximize the health and welfare of his personnel.
Visit umgc.edu/veteransday2020 to learn more and to view the event, scheduled for Nov. 11 at 11 a.m.