UMGC Honors Veterans, Marks 75 Years Since WWII's End, With Virtual Ceremony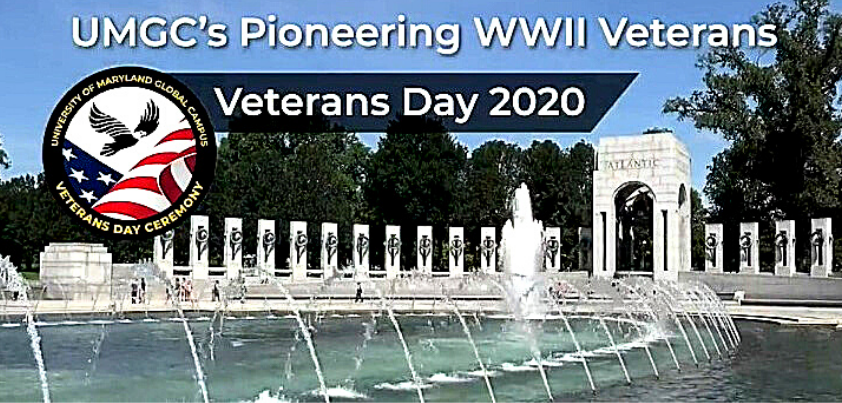 To mark the 75th anniversary of the end of World War II, the University of Maryland Global Campus annual Veterans Day ceremony saluted that generation of GIs—and those among their ranks who also were the originators of the university and its commitment to educating veterans and active duty personnel the world over.
In a ceremony conducted virtually, UMGC Interim President Dr. Lawrence Leak said he was a proud son of a U.S. Air Force sergeant who served in the Second World War, the Korean Conflict and the Vietnam War.
"I'm grateful for every opportunity to honor his memory and to thank all who have sacrificed so much to protect our freedoms," Leak said.  "On this Veterans Day 2020, as we commemorate the 75th anniversary of the end of World War II, we recognize the thousands of UMGC students, alumni, faculty and staff who have served our country then and now, and we honor all of our nation's veterans."
As a university founded in 1947 first to provide an education for returning World War II veterans and then to send professors around the world to provide classes for active military, UMGC has always considered service members to be its core constituency. For that reason, the Veterans Day ceremony takes on even greater reverence for the university community.
For this Veterans Day ceremony taking place amidst the Covid-19 pandemic, UMGC put together and posted online a video commemoration for the university's thousands of students, faculty, staff and alumni around the globe.
In a personal reflection posted to the UMGC Veterans Day website, retired U.S. Army Maj. Gen. Lloyd "Milo" Miles, the university's senior vice president for Global Operations, told of his father's wartime service.
Miles said his father was a "scared young soldier, who before the war started had never been beyond the borders of his state." He was preparing to take part in the invasion of Japan, forecast to be a terribly brutal battle, before the explosion of two atomic bombs forced the Japanese government to surrender. Instead, he became part of the U.S. occupation of Japan.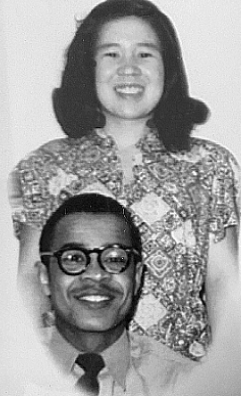 The woman who would become his mother was a teenage Japanese civilian, whose oldest brother was killed fighting Americans in the Philippines, and whose aunt and cousin were killed at Hiroshima and Nagasaki, respectively.
"Somehow, through the turmoil, heartache, and aftermath of war, my mother and father would find each other, fall in love, and eventually get married," Miles wrote. Her parents disowned her and when they came home to the United States, she endured hatred from Americans who had lost loved ones in the war.
"My father would fight for this nation again during the wars in Korea and Vietnam," Miles wrote.  "Back home in America, he would fight for his dignity as he confronted discrimination, everywhere he went."
Yet his mother believed that if her eight children studied hard and got an education life would be better for them.
"Likewise, my father never stopped believing in the potential and promise of America," he wrote "He believed America was worth fighting for, not for his sake but for the sake of his children . . . In many ways, they believed more in America than America believed in itself."
The keynote address was given by U.S. Rep. Anthony G. Brown, a retired Army Reserve colonel and veteran of Operation Iraqi Freedom, who now represents Maryland's 4th Congressional District.  Brown said the heroism of the World War II generation "echoes across the generations of men and women who take the oath to protect and defend the country."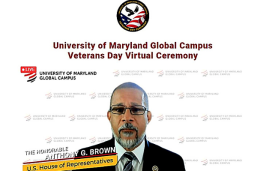 The story of World War II veterans did not end with the peace treaties ending the war, he added. They established roots in their communities, some going to college, some developing or applying their skills to build careers, start families and help build the county.
And the commitment to veterans must continue today, he said.
"It's our responsibility as a country, grateful for their service, to help veterans reach their full potential and tap into those talents," Brown said. "It is not enough to simply thank veterans for their service. We show our thanks by action, through access to higher education programs like those at the University of Maryland Global Campus."
Each year on Veterans Day, UMGC presents the General John W. Vessey Student Veteran of the Year award to a student who exhibits an extraordinary commitment to his education as well as to his service in the armed forces. The award is named for Gen. Vessey, a UMGC graduate, who used his education to be the only armed forces enlistee to rise through the ranks and become chairman of the Joint Chiefs of Staff.
This year's award was presented to Air Force Master Sgt. Joseph Cabrera, who earned his bachelor's degree in 2012 and now is back at UMGC working on his master's in project management.
Cabrera, a computer science and network security master sergeant, leads a team of 87 permanent party F-15C/D technicians and 231 senior enlisted leaders as the Maintenance Group's Top III President, where he mentors Airmen across 12 Air Force Specialty Codes.
When people ask what his job is, he says "I make dreams come true while managing expectations.  That is the essence of being a section chief in the United States Air Force. I take care of my people so that they can take care of their mission, which is to get these aircraft in the air."
None of his family had completed college. "So, that was always a dream of mine," said Cabrera, who enlisted in the Air Force right out of high school.
He said he found himself immediately drawn to the military life and has made it his career as he pursued his UMGC education. Now a Specialist Section Chief in the 67th Aircraft Maintenance Unit, 18th Aircraft Maintenance Squadron at Kadena Air Base in Okinawa, Japan, Cabrera has served for18 years.
"If I could give any advice to current or future students, it would be to have proper time management," he said. "Know what it is you need to do and how you want to get there. Set a roadmap so that you know what step you're going to be on today, tomorrow and the next day to make your goals come true."