$1 Million Bequest Will Help Today's, Tomorrow's UMGC Students Live Their Higher Education Dreams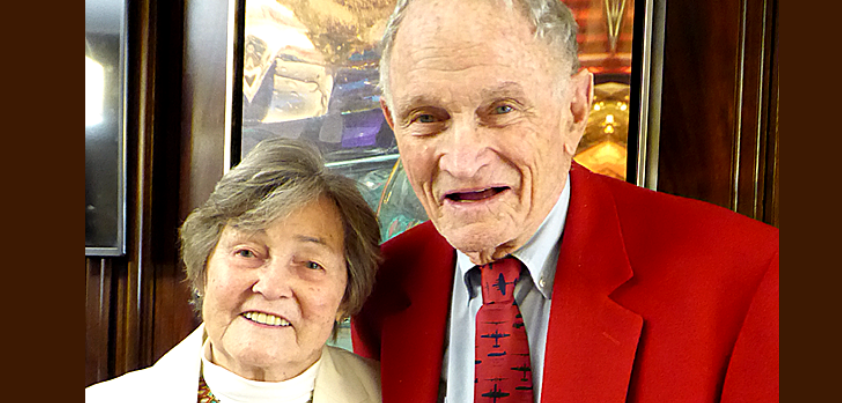 Even in the most enduringly trying of times, University of Maryland Global Campus Alumna Bonnie Broh-Kahn '77 believes that kindness shines through. In that spirit, amidst the ongoing challenges presented by the COVID-19 pandemic, she and her husband Jere recently established endowment funds through a $1 million bequest to the university.
The couple has a rich and well-established relationship with UMGC. Passionate about the arts, they have been long-time supporters of the university's Friends of the Arts Program, have donated artworks to the university—and never miss an Arts Program exhibit opening.
Broh-Kahn said that such programs, which have benefitted through the prior, generous support of the university's network of alumni and friends, have enhanced the pair's UMGC experience. Now that they are financially able, she said, they are grateful to support others who want to improve their lives through the power of education.
"This gift provides funding for scholarships, support for the Student Aid Fund for Emergency Relief to help students facing hardships . . . for the Pillars of Strength program, which provides support for military caregivers, and [for] other important needs that help our students reach their dream of a UMGC degree," Broh-Kahn said.
She dreamed her own dream of earning a college degree decades ago. While serving her country through the U.S. Foreign Service, she met and married her husband in Thailand where she was volunteering as an English teacher.
When the newlyweds returned to the United States, Broh-Kahn said she was ready to take her education to the next level. So, while her husband pursued a career at the State Department, she enrolled at UMGC. The university's great reputation, popularity among military students and its low cost compared with other schools in the area drove her decision to attend, she said.
"As a non-traditional student, I felt welcome at UMGC. The professors I had were wonderful! They knew exactly how to prepare us for life outside of the classroom and were always willing to go above and beyond for their students," she added.
The Broh-Khans said they are gratified to see that UMGC has continued to grow and prosper while maintaining its core values, which were created more than 70 years ago.
"The high caliber of teachers at UMGC and the quality of its Arts Program are some of the main reasons I chose to support the University," she said.
Honored for Ongoing Dedication and Generosity
Recently, the Broh-Kahns, along with two others, were welcomed into The Ehrensberger Legacy Society, an honor reserved for the university's most giving and far-sighted benefactors. The Society recognizes the generosity of all alumni and friends who have established planned gifts with the university or have provided for UMGC in their wills.
Other 2020 Ehrensberger Legacy Society honorees are:
David H. Wolotsky, who received his Bachelor of Arts in business and psychology from UMGC in 1979. He said that one thing stands out for him as he reflects on the past:  Throughout the course of his life, all the pieces have come together.
When he initially enrolled in college, Wolotsky said he was focused on pre-med studies. With the help, of a UMGC faculty member, though, he said he realized that he was a natural salesman.
In the decades that followed, Wolotsky worked his way up the ranks selling outdoor advertising in the nation's top media markets. Today, as a senior account executive with OUTFRONT Media, he is involved with the sale of traditional, digital and mobile assets on billboards and public transit systems in the top 50 U.S. markets and Canada.
Adjunct faculty member Francine Norflus began her career in research, has taught at a variety of universities but said she feels a deep and powerful connection to UMGC.
"UMGC helped me start my career," she said. Norflus added that the loyalty she feels for UMGC as a result inspired her to make a planned giving contribution so others may have the opportunity to experience the difference UMGC can make in their own lives.
"I know in these times that some people don't have the money to go to school, and then they can't advance in their careers and in their work life," Norflus said. She hopes her contribution will give students the opportunity to enjoy the life-changing gift of education.
About the Ehrensberger Society
The Ehrensberger Legacy Society recognizes the foresight and generosity of alumni and friends who have established planned gifts with the university in their wills. Through planned giving, donors establish personal legacies that can support any number of priorities and initiatives.
The Society is named for the university's first chancellor, William Raymond "Ray" Ehrensberger, recognized for his innovative and pioneering work in adult and continuing education. He understood the need for American service members overseas to gain access to higher education. With his guidance, University of Maryland Global Campus—then a school within the University of Maryland, College Park and later known as University of Maryland University College—became the first university to offer academic courses and degree programs taught on-site at U.S. military bases abroad, beginning in Europe in 1949.
It became, as well, the first to send its faculty to teach in a war zone, in Vietnam, and the first to confer bachelor's degrees at U.S. military installations overseas. Ehrensberger is widely recognized as being was responsible for these developments and their ultimate success.