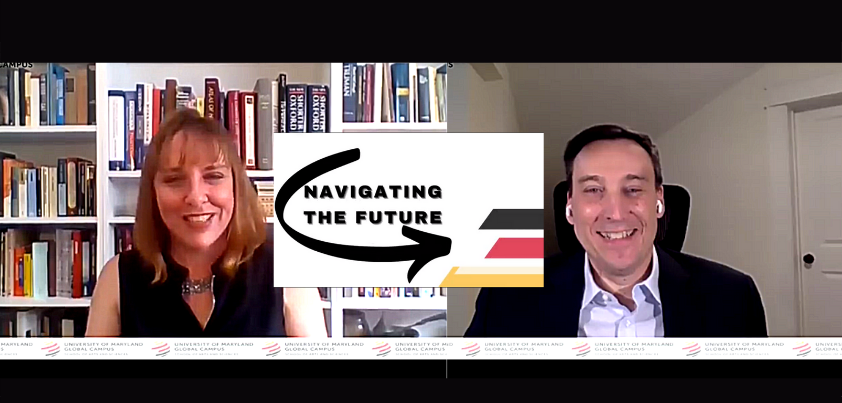 With some Americans questioning the safety of vaccines while others are demanding rapid deployment of them at this critical moment in fighting Covid-19, University of Maryland Global Campus School of Arts and Sciences Dean Kara Van Dam asked microbiologist Jim Coker, chair of UMGC's Science Department, to explain how the vaccine process works.
Speaking in the latest segment of a new webinar series "Navigating the Future" that features UMGC faculty expertise on subjects in the news, Coker said he believes a safe vaccine will be developed to counter Covid-19, but the process is complex and it could be well into 2021 before its use is widespread.
"I'm optimistic about us human beings," he said.  "We have been able to outsmart the worst diseases that we face this far. And I have every reason to believe that we're going to do it in the future."
Coker said the first vaccine was developed in the late 1700s to combat smallpox although experiments using a small dose of the disease to immunize people against a deadly attack go back a thousand years in China and India.
"Vaccines are important because they help build immunity against a certain disease," he said. "The more people that have immunity, the fewer people there will be to spread the disease."
But he added that developing a Covid-19 vaccine and ensuring it is safe and effective is not easy.
While the research starts with a pharmaceutical company, he said trials are overseen by the federal Food and Drug Administration. Tests are first done in laboratories before they can begin on people. Human tests are in three phases. The first is to prove the vaccine is safe, the second to prove it is effective. Phase three monitors safety and determines its effectiveness on a large group of people.
Four vaccines under development in the United States are in phase three trials which Coker said means that the companies involved are recruiting 30,000 people worldwide for each trial to test them.
As he explains it, If the vaccines pass phase three, FDA scientists and statisticians will independently review the data. Once they approve the vaccine to be marketed in the U.S., the information goes to the Centers for Disease Control and Prevention, where the Advisory Committee on Immunization Practices (ACIP), an independent committee which provides recommendations on the use of a vaccine in the civilian population, reexamines all of the data.  ACIP then makes a recommendation to the CDC for use of the vaccine.
With so much political pressure to produce a Covid-19 vaccine, Coker said the companies developing it have signed a pledge saying they will not market it until they are convinced that all safeguards have been followed.
Peter Marks, the director of the Center for Biologics Evaluation and Research within the FDA that oversees the vaccines, "has personally pledged to the American people that he will resign if he feels in any way that the vaccine has been rushed to market," Coker said.
But once the vaccine has been approved, he said that producing and distributing doses by the hundreds of millions will be a huge task.  
While it is reasonable to expect a vaccine will be approved by the end of this year, Coker said that having enough doses for distribution to everyone who wants one probably will not happen until the middle of 2021 or later. And, he added, even that will require the federal government to convince many biotech firms to put aside whatever else they are doing to produce it.
And that will lead to questions of who gets the vaccine first, he said.
"There's just a host of policy and logistical questions that need to be answered," he said.
About Jim Coker
Coker earned Bachelor of Science degrees in zoology and microbiology and molecular genetics, as well as a minor in philosophy, from Oklahoma State University. He received his Ph.D. in biochemistry, molecular biology, and microbiology from The Pennsylvania State University.
Watch the Episode
The entire "Navigating the Future" conversation:  Vaccines—What They Are, Why They Are Important, and How They Will Help the Fight Against COVID-19, can be found HERE.