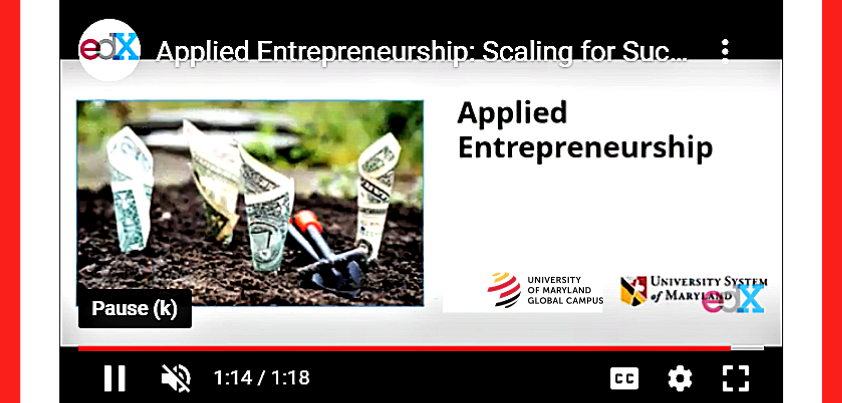 You have started your own business and consider yourself an up-and-coming entrepreneur.  But you have hit some snags. Your business is not growing, and you have questions about finance and logistics.
Where do you turn for answers?
University of Maryland Global Campus has MOOCs for that.
UMGC's professional certificate program, "Applied Entrepreneurship: Scaling a Business for Success," is a package of two, six-week courses—a series of modules each teaching a different skill—offered in MOOC or massive open online course format on the edX platform. Aimed at those who already have launched their own businesses, the program provides help to grow them.
When UMGC tested "Applied Entrepreneurship" in 2019, more than 700 participants from 143 countries signed up. Taking advantage of that record, the university relaunched the program on September 21 and hundreds of new entrepreneurs already have enrolled.  
"Starting a business is not always the hard part. More challenging is sustaining the business with a growth mindset and seeing opportunities to accelerate growth," said Anna Seferian, vice dean in UMGC's School of Business. "This program challenges you to think about where you want to go, what turning points await you and how to utilize resources to accelerate your plans."
With so many people in this age of Covid-19 seeking new ways to earn a living, the program also provides "multiple eyes from other entrepreneurs to give feedback," said Katherine Cardin, senior director of UMGC's Competency Based Education and Curriculum Design unit. "That's the biggest lift and supporting hand we can give."
The first of the two courses, "Design Thinking for Business Acceleration," introduces and applies design-thinking principles to business plans. Students create an updated business model that engages with current or prospective customers. In this "idea stage," they set goals and develop an advisory group that understands customers and customer relationships to test those ideas.
The second course, " Acceleration Plan Development and Evaluation," which starts November 9,  leverages work from the first course and takes students step-by-step through the process of creating and refining a plan to accelerate their businesses with a focus on marketing, operations and financials.
UMGC is a partner with edX, a consortium of major universities that offer MOOCs as a way of spreading knowledge around the world. As such, the Applied Entrepreneurship courses are free when taken through edX.  Enrollment is open and persons can join at any time.
An enhanced, verified version of the Applied Entrepreneurship Program is also available. Those wishing to receive the official instructor-signed professional certificate can opt in for a total cost of $298. The deadline for applying to the verified version is October 12.
Aside from the official certificate, the verified version of the programs offers participants additional content resources, weekly multimedia discussions and exercises with instructor critiques and personalized feedback and the opportunity to compete for a $1500 cash award for the best business model developed during the program.
At the conclusion of the second course, students develop a presentation illustrating how well they translated course content into plans to grow their businesses. A panel of judges made up of entrepreneurs and venture capitalists will assess presentations and select the winner.
Funding for the award was donated by Mark Grovic, a co-founder of New Markets Venture Partners and a UMGC senior advisor on corporate development and entrepreneurship. He envisioned the MOOC program and persuaded UMGC to develop it.
The Applied Entrepreneurship courses are taught by Michele Masterfano, who has decades of experience working with start-up companies and teaches entrepreneurship in UMGC's business school.
Apart from helping with her family's restaurant, her business career began at Bell Laboratories, which, at the time, was one of the largest companies in the world. And she always worked with segments of the company that were doing something innovative, giving her the knowledge and appreciation for what it took to launch a new enterprise.
Following her stint at Bell Labs, Masterfano joined a consulting firm where she advised start-up companies during the Dot.Com boom of the late 1990s and helped them write business plans. As she simultaneously launched an academic career, earning a doctorate in marketing, she wrote the book "Effective Business Planning: A Structured Approach," which lays out the basics in developing small businesses.
Masterfano, who first taught at Drexel University, has been with UMGC for five years, fulfilling her long-time dream to live in Hawaii while teaching online.
"Small businesses have become the engine of the whole world's economic growth," she said. While students in the Applied Entrepreneurship program come from every continent, Masterfano added that she is pleased with the large number of enrollees from Africa, which is developing a "booming entrepreneurial community."
Like Seferian, Grovic said he believes that providing this MOOC opportunity helps UMGC as an open-access university fulfill its commitment to supporting adult learners around the world.
Said Cardin, of the university's curriculum design unit, "We are aiming to provide hands-on experiential, career-relevant education where you can learn it today and put it to use tomorrow."