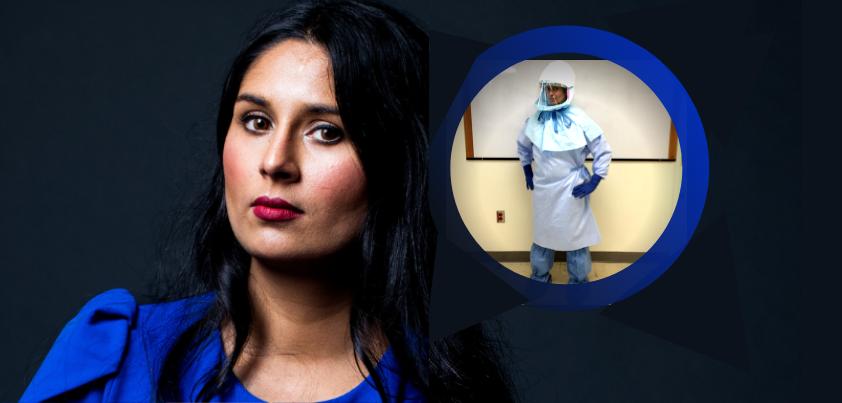 While powering through 17 hours of labor leading up to the birth of her daughter, Syra Madad was also on her cell phone, sending email messages, monitoring incoming public health reports, and keeping in touch with the leadership team at her workplace.
That is what happens when you are managing COVID-19 strategy at the U.S. epicenter of the pandemic.
Madad, an alumna of University of Maryland Global Campus (UMGC), is the senior director of the System-wide Special Pathogens Program for NYC Health + Hospitals, the nation's largest municipal health care system. She tracks contagious diseases, develops strategies to treat them, works to mitigate their spread, and follows the effectiveness of contract tracing for 11 public hospitals and a network of health centers.
Since early this year, Madad has been helping frontline workers and the public navigate COVID-19 in New York City, which saw an outbreak of such immense proportions that it became an epicenter of the pandemic. In March and April, New York City recorded several hundred COVID-19 deaths daily. On a single day, April 7, city health officials confirmed more than 800 COVID-related deaths.
City officials and public health officials pushed back with energy, pushing down the contagion curve with so much success that their response serves as a model for other metropolitan areas.
"It's not just responding to the pandemic that is important," said Madad. "For COVID-19, we had to develop clinical guidance as it relates to infectious disease and training for frontline staff. We had to set up quarantine hotels and do evaluations. Right now, we're in the mitigation phase … and leading one of the largest contract-tracing strategies in the country."
Madad said she long had envisioned working in bio-preparedness, which is why she enrolled at  UMGC, one of the few U.S. universities at the time with a degree program in biodefense. She ended up with both a Bachelor of Science in psychology with a minor in biology and a Master of Science in Biotechnology with a concentration in biodefense and biosecurity. In 2009, she started teaching as an adjunct faculty member at the university while doing research for the FBI.
Madad later earned a doctoral degree in health science with a concentration in global health from Nova Southeastern University.
Roza Selimyan, director of UMGC's Biotechnology Program, said that since the emergence of the novel coronavirus, there has been an uptick in the program's enrollment as well as a boost in the number of inquiries about its scope. The UMGC program consists of an undergraduate degree in biotechnology and graduate degrees in bioinformatics, biosecurity and biodefense, biotechnology management, and biotechnology regulatory affairs.
"We need to deepen our understanding about microbial organisms not only to satisfy our scientific curiosity but also for a number of practical aspects, helping physicians, epidemiologists, archaeologists, historians and more," Selimyan said. When it comes to biotechnology and infectious agents, the goal is to not only come up with best approaches to protect ourselves from naturally occurring infectious agents but also to build countermeasures against biological threats.
"It's about how we envision our responsibility," she added, "not only about prevention and response but also recovery."
Selimyan called Madad's professional trajectory "an inspiring one for our students."
"In the COVID-19 era, we see the relevance of programs like ours … that help us understand how we protect ourselves from biological agents, whether they occur naturally or as a biological threat from a foreign source," said Selimyan, who pointed to the range of COVID-19 strategies adopted by countries around the world—from Sweden, which remained open, to New Zealand, which went on an immediate and intense lockdown.
Public health recommendations around mask use and social distancing, whether countries had adequate stockpiles of personal protection equipment (PPE) for frontline workers, and the availability of COVID-19 diagnostic and antibody testing also have affected contagion and death rates around the world.
"People who enroll in our program might want to work in agencies involved in responding to these threats. They might want to be leaders who manage defense teams or preparedness and response systems," Selimyan said. "Or they might want to be involved with policy around that issue or in becoming a scholar focused on biosecurity and biodefense."
She added that faculty members in the program have been updating their courses "in real-time" to reflect what is being learned during the pandemic.
Like most UMGC students, Madad worked full-time while taking courses online. As an undergraduate, she was a transcriptionist at a doctor's office. While a graduate student, she worked as a visiting scientist at the U.S. Department of Agriculture.
"I want people to know from my experience that hard work pays off. It's difficult to work full time and go to school full time, but it's not impossible," said Madad, who is a champion of women's education. "People have ambitions that they sometimes put off because it's a lot of work, but you must need to keep chipping at it. It does pay off."
Madad during training at Bellevue
Only 33, Madad moved into the national spotlight in January 2020, just before the novel coronavirus outbreak in the United States, when she appeared in the Netflix documentary series Pandemic: How to Prevent an Outbreak. In the opening episode of the six-part program, Madad leads a simulation exercise focused on the unexpected spread of a new and deadly respiratory disease.
Although the documentary was filmed during the 2018-2019 flu season, today it looks uncannily like the COVID-19 response.
A month before the documentary was released, Madad and Robert Klein, an Ebola response coordinator in the Obama White House, wrote an op-ed piece in The Washington Post. They warned the country would be in dire trouble if funding for a national emergency response program was not renewed before its May 2020 expiration.
Since then, the pandemic has pushed Madad into the national spotlight repeatedly. In September, Fortune magazine declared her one of its "40 Under 40" in health care, putting her among the most influential leaders in her field, while Elemental, a science-backed wellness publication, listed her among the "50 experts to trust in a pandemic." She is an Emerging Leader in Biosecurity Fellow in the Center for Health Security at Johns Hopkins Bloomberg School of Public Health and an adjunct senior fellow of the Federation of American Scientists and a member of its COVID-19 expert taskforce.
"A lot of what I do is in bio-preparedness. I help prepare health care systems for epidemics," said Madad. "I handle the emergency management cycle, from preparedness to response to mitigation to recovery."
Madad has been interviewed about her work on television and radio, appears in a podcast series and, this fall, is self-publishing a children's book explaining infectious disease to youngsters ages 4 through 8.
"I have three kids, two sons 4 and 6 years old, and I'm taking their age group to focus on what they need to know and the terms they use," she said.
Madad's life is anchored by infectious disease, and the current pandemic was not her first. She has worked with Zika, Ebola and measles response teams. However, COVID-19 has been the most daunting, largely due to its magnitude—and its grim milestones. In the early days of the pandemic, hospitals in New York City were swamped with patients, short on masks and other personal protective equipment and challenged by the broad range of symptoms that accompanied the disease.
As COVID-19 spread through the city, Madad accelerated training for frontline workers and opened respiratory screening stations outside hospital entrances so patients could be checked before admission. Just months before the pandemic reached the United States, Madad had put together the "Frontline Hospital Planning Guide: Special Pathogens," designed to help health leaders customize their responses to life-threatening contagion.
Madad, heavily pregnant, had been managing the 2019 flu season in New York City in late November when she started to see strange pneumonia clusters being reported out of China. Those reports were the first inklings of what would become the novel coronavirus.
"I feel like years have passed since then. I can barely remember my life before COVID-19," Madad said. "At any given time now, I'm working on multiple projects, monitoring what's happening around the world while also making sure we have plans and processes ready at the local level."
Madad works from home whenever she can, and her children are doing online learning. Today, 10 months after she spotted the first coronavirus reports coming out of China, Madad worries about the impact of the seasonal flu while the pandemic continues.
"People think seasonal flu is something we see every year so it's not a big deal," she said. "but it is a big deal. Sixty-three thousand people died last year from flu-related complications. The burden of illness is quite strong."
With that risk at the forefront, she issued a stern warning.
"We cannot let down our guard. We must continue to protect our children, our community, our families," she said. "Everyone has pandemic fatigue. They don't want to wear masks anymore. And the holiday season is coming up.
"But this absolutely is not the time to let down our guard," she continued. "I know people want to go back to normal, but we can't go back to normal. We now live with a new normal."
Cover photo: Portrait by D. Freeman for New York Magazine