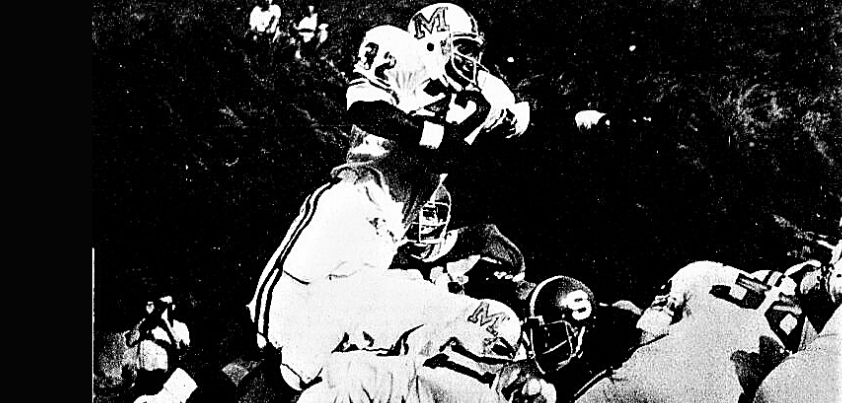 Louis Carter was a terrific conversationalist, an unofficial life coach, a solid singer who showed his range during a solo at his daughter's wedding and a daily morale-booster for University of Maryland Global Campus (UMGC) staff in Largo. He accomplished all this while also performing his official duties as a security coordinator at the university.
Carter's people-to-people skills were legendary. Lesser known to many at UMGC were his athletic achievements. Carter, who died Oct. 11 at age 67, played professional football in the 1970s, spending four seasons as a running back with the Oakland Raiders and the Tampa Bay Buccaneers. He threw the first-ever touchdown pass for the Buccaneers, a new NFL franchise at the time.
"I met Lou when I was 15 years old, back in 1978. We grew up in the same neighborhood, and my friends and I would meet up with him on the basketball courts near where we lived. He was a bit older than us and a real mentor," said George Trujillo, associate vice president for facilities at UMGC.
After Carter went off to play in the NFL, they lost touch. But they ran into one another 12 years ago at the Laurel, Maryland, car dealership where Carter worked. Trujillo learned that the dealership was closing and suggested that Carter join the security team at the university.
Sports may have been Carter's first vocation but, at UMGC, people-to-people interaction was his avocation. Conversation with him was so irresistible that some staff members arrived at work early just for a chance to chat. Kristin Byerly, director of Veterans Initiatives for UMGC Stateside Operations, intentionally parked and entered the Largo 1 Building through a door near Carter's security desk even though an entrance on the other side of the building was closer to her office.
"Sometimes you would get so engrossed in conversation that you'd be late for a meeting," Byerly said. "It was a standing joke. If you were late, you'd say, 'I was talking to Lou,' and everyone just knew."
Byerly and Carter spoke every day. She called the chat "an important part of my morning routine" and said she was crushed by the news of his death.
"He gave me life advice. He was such a good man. I'm glad we're not at Largo now," she said, referring to the pandemic shutdown that has staff working off-campus, "because I don't think I could handle entering the door and not seeing him there."
When Byerly discovered through serendipity that Carter had been in the NFL, she tracked down one of his sports trading cards on eBay and asked him to sign it.
 Carter's pro career was preceded by exceptional college and high school athletic records. He was an All-American football player at the University of Maryland leading the Terps in rushing from 1972 to 1974 and was named Most Valuable Player in the Peach Bowl in 1973. He was also the MVP of the Coaches All American all-star game during his senior year at Maryland.
In high school, the Laurel, Maryland, native excelled at baseball, football, and track and field. In 1993, he was inducted into the Anne Arundel County Sports Hall of Fame. He was named to the Maryland State Athletic Hall of Fame Class of 2016.
UMGC Director of Security Facilities Management Bill Brogan said he and Carter had been friends for some time before he realized that Carter had played at the University of Maryland when Dominic Montero was the assistant football coach. Brogan is married to Montero's daughter.
"The next day, Lou brought in this framed 8-by-10 photo of him and my father-in-law," Brogan said.
"Lou had a huge heart, and I'm going to miss our talks," he added. "He had a lot of struggles, including his wife's death from cancer and his own five-year struggle with leukemia, but he remained positive and upbeat about life. He also maintained a strong faith."
Louis Carter is pictured in a 1993 Baltimore Sun photo being inducted into the Anne ArundelCounty Sports Hall of Fame.
In many ways, Carter was a man of routines. Eye contact and a greeting to everyone who walked by. Tea, never coffee. Always soup for lunch. Words of encouragement. Those who were close to him said he was the quintessential family man, proud of his son, Dan Carter, a professional stuntman, and his daughter Kaila Thomas—and captivated by his infant granddaughter, Reign.
"I lost a close friend, a man who felt like my big brother," said UMGC Security Coordinator Reza Zubair, who welcomed Carter on his first day at the university and worked side-by-side with him for the next 11 years. "I remember the first time I met Lou, in the parking lot. We introduced ourselves and within a couple of minutes, I could tell this guy had the best people skills.
"He had this absolutely amazing ability to lift up people's spirits," Zubair said.
 Carter forged a friendship with Keith Hauk, associate vice president for Veterans Initiatives for UMGC Stateside Operations, after he heard Hauk's wife had been diagnosed with cancer.
"He sought me out in early December 2015. He went through the same journey with his wife—my wife had the same type of cancer—and he became a tremendous source of information and inspiration," said Hauk, who described Carter as "genuine, down to earth and generous."
"Lou, to me, is an example of the kind of person we all should strive to be, both personally and professionally. A place like UMGC is a large educational institution but, at the end of the day, everything we do is about people," Hauk said. "We're in the people business.
"Lou set the example for what people who work here should be like."
Condolence messages for the family can be posted on the Howell Funeral Home website.
View the memorial service, scheduled for Monday, Oct. 26, at 12 p.m., at the following live stream link: https://vimeo.com/event/378151/8cbb013e13
Cover photo: Louis Carter plunges over a pile of defenders for a Terp touchdown in October of 1973. (Eric Moseson/The Diamondback, University of Maryland)