His UMGC Cybersecurity Degree and Acceptance to the Cybersecurity Talent Initiative Led Alumnus Steve Muthomi to a Successful Career Transition
Cybersecurity Awareness Month

|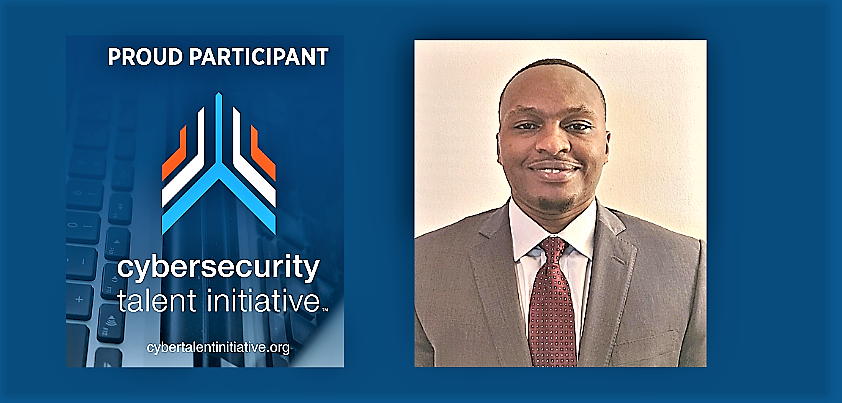 Steve Muthomi always wanted to work in information technology, so he began his career journey by pursuing a bachelor's degree in information systems management at the University of Central Oklahoma. But once he joined the U.S. Army in 2014, he found that juggling school and work was a bigger challenge than he anticipated.
"My job sometimes involved long hours of work and a lot of field activities, leaving little time for school," he said.
Realizing he needed a school flexible enough to accommodate his schedule while in the military, he looked to University of Maryland Global Campus (UMGC), completed his studies, earned his bachelor's degree in 2018—then decided to focus on cybersecurity. In 2020, after separating from the military, Muthomi also earned his master's in cybersecurity technology from UMGC—and found himself at a crossroads.
He discovered that his work experience did not match his educational background, which presented a potential hurdle in landing a position in his new career of choice. "I had been working at AT&T as a system engineer, so I knew it was going to be difficult to make the transition to cybersecurity," he said.
Soon it became apparent that getting a cybersecurity job with no experience in the field was going to be more difficult than he thought.
Enter the non-profit, non-partisan Partnership for Public Service, an organization dedicated to making the federal government more effective for citizens through a variety of efforts to transform the way the government operates.
At a Department of Homeland Security job fair last year, Muthomi learned by chance about the Partnership's inaugural Cybersecurity Talent Initiative, a first-of-its-kind public-private partnership aimed at recruiting and training a world-class cybersecurity workforce.
"I met a gentleman at the door of the event who insisted that I apply," said Muthomi. The man had handed him a flyer and after reading it over, Muthomi submitted his application. Several interviews later, he was recruited by the U. S. Environmental Protection Agency and was well on the road to his career transition.
At EPA, Muthomi supports the agency's mission to build and operate secure products through implementing and maintaining security controls in accordance with EPA policies. His UMGC education put him in the best possible position to benefit from this opportunity Muthomi said.
"My education, combined with a passion for the field, has given me an edge in the job market. It has armed me with knowledge and skills to be effective and successful in my current role," he said.  
"My job gives me exposure to professionals in the field and creates opportunities for me to constantly learn new things on the job and through organized training."
Muthomi said he envisions staying with the government and assuming greater responsibility at EPA. Also, he said he hopes to help bridge the awareness gap in cybersecurity.
"Today, many people lack awareness and education and must be sensitized to the importance of security." 
He said he plans as well to give back to his community. "Although I'm not yet, I hope to mentor boys and girls through my church who are interested in joining the IT industry."