UMGC President Javier Miyares Announces Retirement After Eight Years at the Helm of America's Largest Online Public University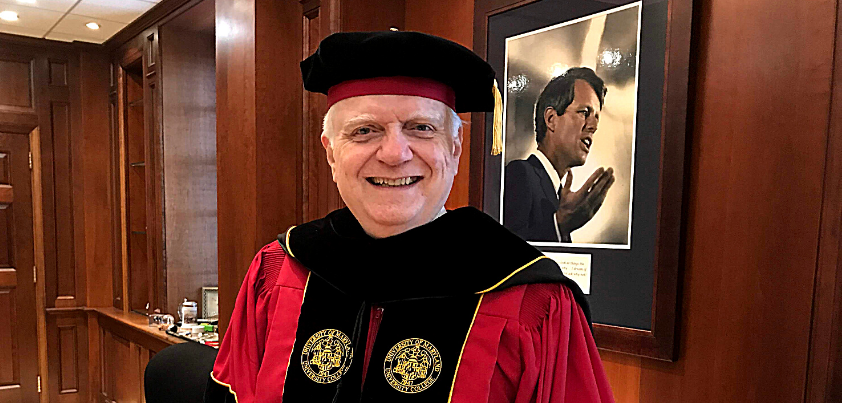 Miyares cited for recognizing power of big data, leveraging analytics, and unwavering focus on accessibility and affordability
Javier Miyares, who fled Castro's Cuba as a child and found his American dream in Maryland higher education, has announced his retirement after a 45-year career that has culminated in his transformative eight-year tenure as president of University of Maryland Global Campus (UMGC).
"Under Javier's leadership, the university's enrollment expanded, as did its academic programs, strategic partnerships, and collaborations with the university system's sister institutions," said University System of Maryland (USM) Chancellor Jay A. Perman, MD, in a message to the UMGC community.
"With a focus on access and affordability, Javier established pathway programs with Maryland's community colleges and high schools, reducing the cost of a four-year degree for the state's students.
"He understood earlier than most the power of 'big data,' and leveraged analytics to enhance marketing, enrollment, student services, and operations," said Perman. "He launched innovative business models—such as UMUC Ventures—to advance the university's strategic goals, attract new revenue streams, and promote student success."
Building a Legacy
Miyares was named president of UMGC in 2012 and led the university through several seismic operational and academic shifts to best navigate what had become a perfect storm of changing demographics, rising costs and declining enrollments that threatened all higher education. One of his first priorities was creating the Office of Analytics and using data for evidence-based decision making and driving operational efficiencies university-wide. As part of this effort, he championed a "One Global University" concept that streamlined the UMGC's operations across its major administrative centers in the United States, Europe and Asia.
Through a difficult period of retrenchment, Miyares was able to reverse enrollment trends while also putting the university on solid footing to weather future storms, including the current global health crisis that is threatening the financial positions of institutions around the country.
In 2013, Miyares built on existing community college articulation agreements, launching the Maryland Completion Scholarship, which enabled Maryland community college graduates to earn a bachelor's degree from UMGC for a total cost of $20,000—including their community college tuition.
He also established a partnership with Prince George's Community College and Prince George's County Public Schools to create the Prince George's 3D Scholarship program, which allows high-achieving students to earn college credit while still in high school and ultimately complete a bachelor's degree for $10,000 or less.
And in a groundbreaking initiative, he partnered with UMGC alumnus and benefactor Richard F. Blewitt, of the Blewitt Foundation, to establish the Pillars of Strength Scholarship Program, which awards full UMGC scholarships to the volunteer caregivers of wounded U.S. military service members. To date, the program has granted 38 scholarships; eight recipients have already graduated, and three more are slated to earn their degrees this year.
"In every case, our success has built on a foundation of flexibility and agility that dates to our inception in 1947. That foundation—along with our mission—has remained unchanged for more than 70 years, and it will be central to UMGC's success going forward," said Miyares. He added that a large part of UMGC's mission is serving the military and, as he has often said, serving the military is in the university's DNA.
UMGC was the first institution to send faculty overseas to teach military personnel on bases in Post-World War II Europe in 1949. Since that time, the university has continued this commitment, uninterrupted, through contracts with the U.S. Department of Defense, expanding to bases in Asia in 1956. Miyares' administration continued that success by winning those contracts again for Europe and Asia, as well as a subsequent contract for the Middle East and Africa.
In fall 2015, the university made national headlines when it replaced publisher textbooks with open educational resources in all undergraduate courses, a move that collectively saves students millions of dollars each year. The UMGC Graduate School followed suit in fall 2016.
Miyares worked closely with the USM Board of Regents—and received its unanimous approval—in creating a new business model that keeps tuition low and allows for innovative approaches to fulfilling the university's public mission. UMUC Ventures, a nonprofit supporting organization, was established and now serves as a holding company for commercial enterprises that will provide UMGC with additional revenue streams.
One of the companies under the Ventures umbrella, HelioCampus—a spinoff of the UMGC analytics unit—is a private company that serves other institutions around the country. A majority share in the company was recently sold, resulting in a four-fold return on the USM's initial investment and a doubling of the university's endowment.
A portion of this influx was used recently to support the emergency relief fund UMGC created to assist students during the global coronavirus pandemic. Funds also will go to help build UMGC's endowment and ultimately help to keep tuition costs low for Maryland residents.
In a historic 2019 initiative to better reflect UMGC's mission to serve adult students in Maryland and around the world, Miyares guided the university through the legislative process to change the institution's name from University of Maryland University College to University of Maryland Global Campus.  
These groundbreaking initiatives notwithstanding, Miyares said he takes the greatest pride in the shift that has taken place in UMGC's culture.
"When I accepted the presidency, I felt that the university was losing confidence in itself—questioning its mission and comparing itself unfavorably to more 'traditional' schools," Miyares said. "But the fact is, in our space, we rank highly. And I think it is fair to say that, today, we enjoy a deep institutional pride in what we do, and I count that among my greatest achievements."
Under Miyares's leadership and as a result of its flourishing reputation, the university has established innovative educational alliances with Amazon and other national corporations. 
And as the current coronavirus global pandemic forces some traditional, campus-based institutions to shift from face-to-face to virtual course offerings, Miyares has provided $2.6 million to the USM's OnTrack initiative, which supplies support both to USM institutions developing online classes and to faculty for instructional design.
During his tenure, UMGC was named 2015 Educator of the Year by the World Affairs Council of Washington, D.C., and was ranked No. 1 by Military Times among "Best Colleges: Online and Nontraditional Schools" for 2018. The university's competitive cybersecurity team won the 2014 Global CyberLympics in Barcelona, Spain; the 2013 and 2014 Maryland Cyber Challenge; and the inaugural Cyber DiploHack competition, organized by the prestigious Center for Strategic and International Studies, in 2015.
Miyares has served on the board of directors of the American Council on Education (ACE); as a commissioner with the Middle States Commission on Higher Education; on the board of directors of Achieving the Dream; and on the U.S. Department of Veterans Affairs Veterans Advisory Committee on Education.
Born in Havana, Cuba, Miyares has often cited higher education as his gateway to the American Dream. He was taken out of the country by his Jesuit teachers on July 4, 1961, at age 14, after his father was imprisoned by Fidel Castro following the Bay of Pigs invasion. He later joined Operation Pedro Pan, an initiative that from 1960 to 1962 spirited more than 14,000 unaccompanied Cuban minors to the United States. 
Miyares eventually moved to Maryland, where he attended the University of Maryland, College Park, earning bachelor's and master's degrees in sociology, and completed all the requirements but the dissertation for a doctorate in educational measurement and statistics.
Prior to joining UMGC in 2001 as vice president for institutional effectiveness, Miyares served the USM office as assistant vice chancellor for academic affairs. In that role, he was lead staff member for USM on issues related to strategic planning, accountability, student learning assessment, and institutional research.
Miyares' commitment to education was forged in his youth and has defined his life. In a recent interview slated for the upcoming issue of the university magazine, Achiever, he said, "We have to start with the fact that content has become free—period. The question becomes, 'How do we teach how to learn and how to assess content for validity?' That is not easy.
"From my perspective, it makes what we call critical thinking more important than ever. When you realize today what people are consuming uncritically, it is frightening, and it underscores the importance of nurturing critical minds that can access content, yes, but also assess it, evaluate it objectively, and incorporate it."
Miyares announced his plans to retire in an open letter to the UMGC global community, crediting their contributions to the university's achievements during the past eight years. It is the appropriate time to step down, he said. 
"With seasoned leaders in key positions across the university, now more than ever I am confident that our future is bright, our legacy secure, and the time is right to identify a new president who will continue our momentum and guide University of Maryland Global Campus forward in the 21st century." 
Chancellor Perman and the USM Board of Regents have launched a national search for his successor.
About University of Maryland Global Campus
University of Maryland Global Campus is a world leader in innovative educational models, with award-winning online programs in disciplines including biotechnology, cybersecurity, data analytics and information technology that are in high demand in today's increasingly technical, global workplace.
With an enrollment of some 90,000 students, UMGC offers open access with a global footprint and a specific mission—to meet the learning needs of students whose responsibilities may include jobs, family and military service. The university offers both undergraduate and graduate degree and certificate programs, including doctoral programs. A pioneer in distance education since 1947, UMGC today is harnessing the power of learning science and technology to deliver high quality, low cost, accessible higher education.