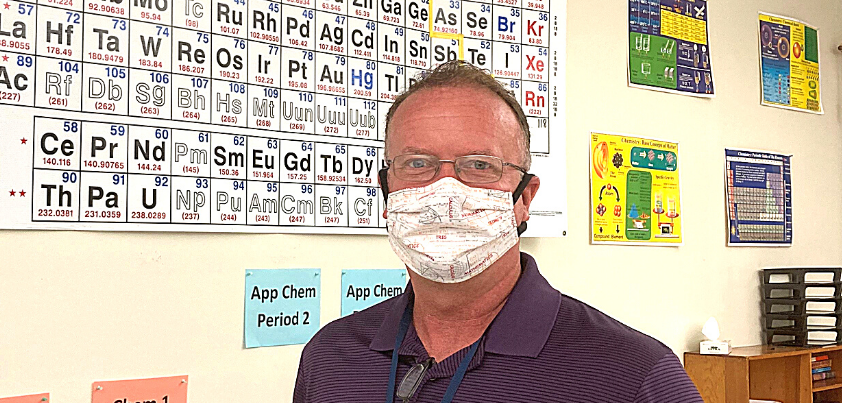 Dwayne Burbridge always knew what he would do when he retired from the military: teach high school chemistry and physics. To put himself on the path to that goal, he enrolled in the graduate program in teaching at University of Maryland Global Campus (UMGC).
Burbridge, now ready to leave the U.S. Navy after serving 31 years, is only one requirement away from completing his Master of Arts in Teaching (MAT) program. But that last task—a semester in a teaching internship—has been complicated by COVID-19.
"Internships are designed for full-time, in-person relationships. But we know most of the internships this fall will be virtual," said Monica Simonsen, director of UMGC's Education Program. "We've been working hard with the Maryland Department of Education to make sure our students will have enough interactive experience and are qualified through their internships. We're also looking at ways this experience can become an opportunity."
As school districts across the country rethink how students should learn during a pandemic, aspiring teachers are scrambling to acquire needed teaching-internship hours. To meet their certification requirements, UMGC students typically arrange their internships with a mentor-teacher in a middle or high school. Degree candidates on military bases may intern at schools on the base.
"If I could do a traditional internship, I would be meeting and chatting with other teachers and guidance counselors at the school," Burbridge said. "Even though my area is science, I'd have conversations with English-language learner instructors, the district's manager for students with learning disabilities, school administrators and the paraprofessionals.
Burbridge aboard USS Peleliu in the southern Pacific off the coast of Palau after the crew had just completed a memorial ceremony on the anniversary of the WWII battle fought there; USS Peleliu is named for that battle.
"Doing an internship virtually means you're not going to have conversations over coffee, and the relationships you build over coffee are important," he added. "In a traditional internship, I'd have the opportunity to go to the teachers' lounge and chat. Now I won't."
To strengthen the internship experience this fall, UMGC has set up Education Equity Mentoring and Coaching Circles (E=MC2) that Burbridge and other students must join. Simonsen described the circles as "small pods of people from diverse programs who come together to discuss and share resources." In late August, 80 education experts and professionals had signed up to take part in the circles.
"Some of our mentor teachers will be part of these coaching circles. Some of our spring interns who graduated and have started teaching, but don't have a lot of experience yet, will be in the circles," Simonsen said. "The goal here is to supplement the organic relationships and the networking that normally happens when you are inside a school building."
With COVID-19 still active in the United States, there is no nationwide formula for teaching in middle and high schools. In places where COVID-19 is under control, students meet face-to-face in classrooms, often complying with social distance protocols and face mask requirements. Remote learning is underway for students in other locations. And school districts elsewhere are employing hybrid models that combine remote learning with some in-classroom hours each week.
Simonsen said internships for UMGC teacher-candidates will be just as varied.
"Classroom teachers are working harder than ever. Our interns will be doing whatever the mentor teacher is doing," Simonsen explained. "That may be a half-day of synchronous teaching, work in small groups or even one-on-one coaching."
Simonsen noted that UMGC students, who take classes online, bring their virtual-learning experiences and knowledge to the internships. "We're looking at how to leverage that so that our interns have a really robust experience," she said, adding that the university is examining how its expertise in education technology might be dovetailed with its teaching program. UMGC's Education Technology Program could be a partner in that endeavor.
MAT is designed for students who hold a bachelor's degree and want to earn Maryland teaching certification in secondary education in subject areas including earth and space science, physics, English, mathematics, history, social studies, chemistry, biology, computer science, Spanish, French, German, or Mandarin Chinese. Those without a major in a content area can be admitted to the program once they earn 30 hours of course credit in the field they seek to teach.
Students in a UMGC bachelor's degree program in computer science, English, history or social science, as well as certain other students with appropriate coursework, can begin taking MAT coursework as an undergraduate. By doing this, they can reduce their required coursework by as many as 12 credits.
In addition to graduate coursework, the degree candidates must log hours observing classrooms to see teaching techniques and they must fulfill the internship requirement. UMGC's program matches teaching-certification requirements in Maryland, but many other states use the same criteria.
Many students complete the degree in two years. Burbridge took just more than three years to move through the program, which he began while he was stationed in Germany.
"Working with high school kids is something I enjoy doing," he said. "When I was in high school, I was in the Honor Society and we did after-school tutoring. I've enjoyed teaching ever since."
Burbridge launches an F/A-18 jet from the flight deck of an aircraft carrier in the eastern Mediterranean Sea during Operation Iraqi Freedom
After enlisting as a sailor, Burbridge worked on submarines, flew Navy operational missions, did long-term military defense planning in Belgium, was deployed to Central Command in the Middle East, served as deputy director for ballistic missile defense in Italy and oversaw tomahawk strike missions in Syria and Libya. He was also executive assistant for Vice Admiral James G. Foggo III, who commanded U.S. Naval Forces Europe-Africa and led the Allied Joint Force Command Naples before retiring in July 2020.
Burbridge's final military tour includes teaching in the Department of Distance Education at the Army War College. His strategic studies students learn on a virtual platform from their postings in Korea, Ukraine, Italy and various U.S. states. In addition to service members, his students have included congressional staffers on the Armed Services Committee, lawyers, Italian carabinieri (military police), officials from the Department of Agriculture, inspectors general, business owners and consultants.
Burbridge, whose daughter is a high school senior and son a freshman, said even with his War College experience, he has found teaching teenagers far different from teaching adults. He conceded, however, that his remote-teaching experience at the War College may help him on the technology front.
During his last two years at the War College, Burbidge had an after-school job—literally. He worked as a volunteer tutor at a local high school in Carlisle, Pennsylvania, where he lives. His internship this fall is in a Carlisle high school using a hybrid model for teaching. Students learn virtually on some days and are in the classroom for the rest of the week.
He said one of the biggest challenges may be the need to switch gears quickly.
"Not only are students going to need to be flexible, but teachers and administrators are, too," Burbridge said. "If we start off with the hybrid model and a case of COVID-19 is reported, there will be an announcement, students will be sent home and the next morning we'll have to shift to all-virtual lectures.
"That means we have to be prepared to teach both in person and virtually at any given time. Because of this, instructors and staff are doing a form of double work," he added.
As UMGC looks at how best to address the new challenges facing teachers, Simonsen said she hoped more people will be drawn to the field of education.
"So many industries have been upended. Our program offers a flexible pathway and is a nice option for people who have expertise in an area and want to do something with it," she said.
She emphasized that the current shortage of teachers is an opportunity for new people to move into the field. Nationally, the number of people training to become teachers has dropped by a third over the last 10 years, according to data from the Center for American Progress. That shortfall has been exacerbated by COVID-19.
The pandemic has also exposed education inequities.
 "We are moving forward and looking at the two major things that need to happen in teacher education. We need to embed technology and look at how we teach across modalities. And we need to examine how we address social justice issues in education," Simonsen said. "Those were my priorities before the pandemic, so they are issues we were already working on."
She said there may be ways to leverage technology to meet the needs of all learners more effectively. Simonsen also noted that the UMGC program is especially interested in boosting the number of teachers of color in secondary education and STEM fields. The master's program would like to bring more male teachers into secondary education as well.
"We're thinking about how to encourage people to enter the profession, including talented people who might not be thinking about education because they didn't have the best classroom experiences themselves," Simonsen said. "There is a lot of new energy out there. It is an exciting time to be in the field of education."