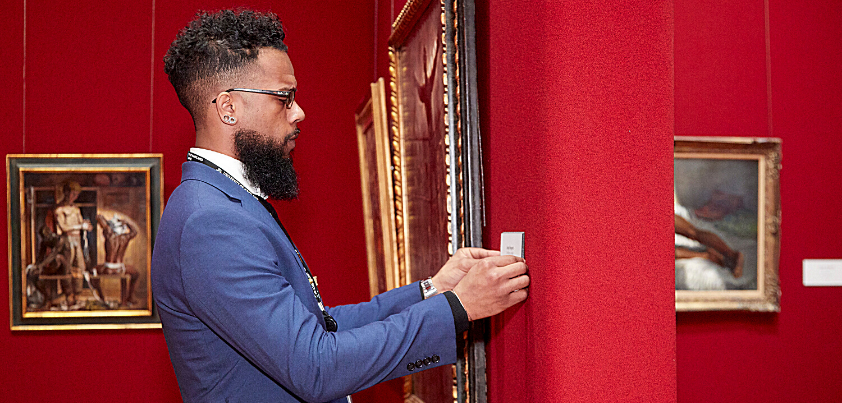 When he started studying nursing at North Carolina Agricultural and Technical State University in Greensboro, Treston Sanders figured he would be joining an occupation that was the family business for a great many of his relatives. Every woman on his mother's side—including his maternal great-great-grandmother—was or had been a nurse. "It made sense," he said.
Until it did not.
Soon enough, when time managing paperwork eclipsed hands-on care, Sanders started feeling as if the patients he was seeing were numbers in the system rather than people. And that defeated the whole reason he had wanted to work in hospitals in the first place.
So, during his sophomore year, he decided to double major in nursing and art, with the intention of becoming an art therapist. It helped that the nursing and art programs were in adjacent buildings he said. His mother did not take to his new major the way he had hoped.
But, as Sanders' academic focus gravitated toward studying art, it turned out that he was simply trading one family "business" for another. Aside from nurses, his ancestry included a long line of relatives—including aunts and uncles he had known well—who were artists. An uncle was a sculptor. Three aunts were painters, and another drew with pen-and-ink. "It's a family talent thing," he said.
Sanders, the new Arts Program curator at University of Maryland Global Campus (UMGC), had been drawing cartoons with ballpoint pens on lined notebook paper since he was 5 or 6. He took inspiration from the surrealist, cubist, and dada movements, and said he thought of becoming a book illustrator. Every one of his high school and college notebooks contained drawings in the middle of the pages. Still, he said he did not realize he had talent until later when some of his college classmates told him how impressed they were by his drawings.
"I wasn't really a fan of crayon or pencil. I don't know why," he said. "I've never been good with a pencil, but with a pen, the line was magically straight. It was magically a perfect circle. Ink just worked. I liked the commitment of the pen, and the fact that lines didn't feel like mistakes in ink."
A rare pencil drawing, a self-portrait that is 24 by 36 inches, hangs in his mother's office. "She literally paid me money to keep it," Sanders said.
In college, a professor kept pushing him to see where his art would lead him but he only took that to heart the summer before his senior year when his older brother recommended he volunteer at the International Civil Rights Center & Museum in Greensboro.
There, Sanders was drawn to the tour guides and the museum curator recommended that he give tours, too. "I thought that you would step right into being a tour guide, but apparently not. I literally had to come to a cubicle and read books— just strictly study for two months straight. I didn't talk to absolutely anybody on staff," he said. "He [the curator] would sit me in my cubicle every day and say, 'Here are the books that you're reading today.'"
Sanders figures he devoured 40 books during that two-month study foray. And each time he finished one he was handed another.
Initially, he did not realize that he was quickly developing a love for history—a subject he said he had not cared about before. Sanders said he also didn't realize at the time that being knowledgeable about history was a key skillset for museum work—and for helping museum visitors develop their curiosity and a passion for content that previously had not interested them.
"At one point, [books] managed to make me care about silt clogging up waterways!"
From 2010 to 2012, Sanders worked at the International Civil Rights Center & Museum as the curator's assistant, facilities technician and docent. Along the way, in 2011, and no longer a double major at North Carolina A&T State, he earned his Bachelor of Arts in visual arts design.
Before moving to the Washington area, he was an assistant art teacher and gallery coordinator at the African American Atelier gallery in the Greensboro Cultural Center.
Sanders reflected that all the time he spent on his grandparents' farm when he was a child—the change of scenery, the changing seasons, changing tractor tires, which is "no easy feat," helped make him comfortable with change. "By the time I got into college, I changed a lot of my career options," he said. "I didn't know that every one of [them] played into working in a museum. I just never thought about working in museums."
Though he had been told that "northern folk" are stand-offish and horrible in traffic—"they don't talk to each other"—he said the transition from North Carolina to Maryland was easy. "All of the artists up here have been nothing but welcoming and very friendly.
"I've been invited to everyone's studios, and I kind of turned into being more of an administrator over the last few years," said Sanders, who, prior to joining UMGC was the director of operations at the Prince George's African American Museum and Cultural Center in North Brentwood, Maryland, for seven-and-a-half years.
He only has gotten back to making art in the last two or three years, and his current work is different from the cartoons of his youth. He describes it as "mixed media pieces on unorthodox surfaces," and it involves transforming functional objects, including those around the house.
"How long would you sit at your dinner table if your dinner table was a giant mural? Would you sit at it for hours and stare at it, and would you clean it more efficiently?" he said. "Would it change how you interact with that object?"
Sanders' art also combines unusual elements, as work that draws from both Japanese landscapes and contemporary Nigerian graffiti. The idea he said is exploring how awkward it is to be from a completely different culture walking around in somebody else's space.
His combination of elements also almost suggests "trash polka," a style of tattoo created in Germany by artists Simone Plaff and Volko Merschkyt. "It [the combination] causes chaos to the eye but makes you want to stand here and almost read the piece," he said.
Understanding as an artist what is at stake in making artwork has served Sanders well in his prior museum jobs, and he brings that sensitivity to his new role at UMGC.
"A lot of people are afraid to pick up a pen and paper, not because they're terrible artists, but because they're afraid of what will happen after they're finished. What does it look like? Will people judge me about this? It just puts you in your own head," he said. "I got comfortable doing things that I had absolutely no comfort doing up front."
He aspired for so long to be an artist but said he was continually drawn to museum work because his bosses kept giving him more responsibilities—from tour guide to managing and scheduling tours to controlling building climate to artifact handler. Sanders said that is why he thinks he is the rare museum curator who feels so personally connected to the art he handles.
"I feel like every single person's artwork I touch belongs to me. Regardless of whether I'm in charge of it for three seconds, three minutes or three years, I am always as invested as you personally are in your own artwork. Making it from point A to point B safely. Getting it on the wall safely, and it not falling off the wall," he said.
Sanders eyed some of the works installed at UMGC while he talked. "Every single layer and every single stroke—when other people see it, they see the finished result. I know how long you took to make this without your having to tell me."
Editor's note: Treston Sanders joined the UMGC Arts Program staff in February 2020 and was interviewed for this article shortly before the university's facilities were closed due to the coronavirus pandemic. Learn more about him in the upcoming "Fall 2020 Art @ UMGC eMagazine," scheduled to publish September 30.
While the UMGC Arts Program galleries temporarily remain closed, virtual visitors can learn more about current and recent exhibits and artists on display and view images of their work in the "Spring 2020 Art @ UMGC eMagazine," and the following exhibition catalogs:
For more information and updates, visit the UMGC Arts Program webpage.