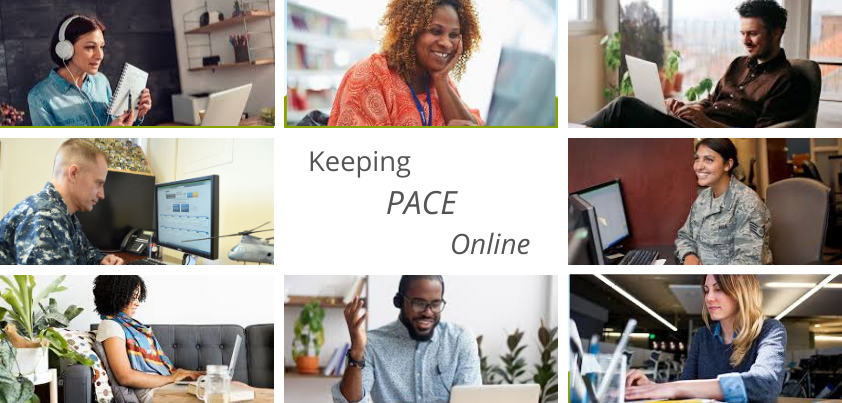 Around the world, since the advent of the Covid-19 pandemic, people are merging their home and work environments while scrambling to keep focused, to establish schedules and routines, to be productive and to keep distractions at bay.
It is a landscape that many University of Maryland Global Campus (UMGC) students already know how to navigate, thanks to a required undergraduate course introduced in the fall 2019 semester.
In the course titled Program and Career Exploration, or PACE, students lay out their academic and career roadmaps, connect to one another and their instructors, and build the habits they need for success in an online environment. Lessons from the course are designed to keep students from feeling overwhelmed.
"Planning and focusing your time can do wonders for people, making them more productive and in control of their day," said Martina Hansen, UMGC vice president for student affairs. "There are some things you are going to change about your life in order to be a student, and we want our students to develop a plan to meet their goals."
The millions of people driven inside and online by the novel coronavirus are seeing up close how challenging it can be to create structure and foster self-discipline when they are on their own at home. Add anxiety, distractions, financial tension and, in some cases, the challenge of learning new technological platforms, and it is easy to see why how-to guidance is ricocheting around the internet.
UMGC students and faculty said the lessons in PACE give them a leg up.
Among other things, PACE helps students connect virtually with one another—and with UMGC faculty—so they feel less isolated. This is the same benefit seen by millions of teleworkers using video-conferencing platforms for business meetings, long-distance visits with friends or virtual happy hours during the pandemic.
Students in PACE are placed, based on their degrees and majors, in one of six customized versions of the three-credit course. Technology students, for example, are assigned to PACE 111-T while those with business aspirations are in PACE 111-B. One PACE course is tailored for service members. Breaking the course into sections allows more fine-tuned class discussions about specific careers and encourages networking among students following the same paths.
A PACE course has also been developed as part of the university's alliance with Amazon and its Career Choice Program, which focuses on associate degrees in technology and cybersecurity at UMGC for the company's employees. University officials see PACE as a fundamental tool in helping Amazon employees' transition to new careers.  
Marsha Fortney teaches PACE courses. The UMGC faculty training specialist also trains other PACE instructors, whom she describes as "success coaches." These coaches come from the ranks of faculty and deans but also include UMGC staff and advisers chosen for their subject matter expertise and their mentoring skills. Each coach handles no more than 22 students at a time.
One of the responsibilities of these instructors is to make a video introducing themselves to students online. They also familiarize students with the spectrum of university resources that can help them stay on track and engaged, such as mentoring, clubs, career services, technology support, the library, the writing center, and prior-learning credit.
For students, each week of the eight-week course comes with a discussion question and a related assignment. Week One, for example, calls for students to think about the challenges they've overcome to enroll at UMGC and the forces that are driving them to achieve. They share their stories.
In a later week, students are required to interview someone in a career field that interests them. 
"The way I explain it to students is that it's a good way to expand your network and get more information about career options," Fortney said. Adjunct faculty and CareerQuest, UMGC's service that connects students to employers, are used as resources for the assignment.
PACE students are also required to have one-on-one conversations—usually via video-chats or phone—with their success coaches. Through student evaluations and phone interviews, UMGC's Academic Quality team found that the exercise makes PACE students more likely to engage with their professors in other classes, too.
"This helps faculty feel more connected," Fortney said. "We have amazing faculty who care deeply about their students. I'm sure a lot of faculty would say that one of their most satisfying things is meeting students." 
Early data analysis also found that compared with other students, a  much greater number of those who take PACE re-enroll for the next semester, boosting student retention.
Fortney said it is not unusual for her PACE course to include students who have not been in a classroom for 10 or 15 years. "They're smart and capable and sometimes just need to be reminded they have all the skills and motivation," she explained. "We want them to get in a space where they feel like success is imminent."
Petty Officer 1st Class Lucas Cicorski, a UMGC computer science student, had been out of school for a decade when he took PACE. He said every student carries away something different.
"If you don't have a really defined goal prior to taking that course, it might help you find that [goal] and keep you more consistent and on track," he explained. "If you're brand new to school and still on the fence about what you want to do when you grow up, you stand to gain a lot more."
Cicorski, assigned to Naval Base Coronado in San Diego, came to UMGC with a solid school and career plan. He found PACE "reinforced all the things you should have in order when setting goals."
"Pople with busy schedules like myself have to take [the time] and find a place to go and study. Learning how to make those small switches in life was useful," he said. "The course also got me to take a step back and ask myself what my contingency plans were in case things don't go the way I planned.
"I now feel like I won't be blindsided, that I'll be able to keep moving ahead," he added.
Student orientation classes are considered a best practice in higher education, and most universities offer some form of one. PACE marks UMGC's third time offering an introductory course. A previous version was part of a model tested for the Gates Foundation.
Two things distinguish PACE from previous iterations: Its focus is entirely on adult learners navigating an online environment, and it is a required course.
"There was an enhanced recognition that we needed to have a unifying orientation for our students, and it needed to be a course. We very intentionally named it 'Program and Career Exploration' to connect those dots for students," said Beth Mulherrin, assistant vice president for retention initiatives
Mulherrin, who worked with Hansen to design PACE, said it is inspiring to see the student projects that emerge from the course. One group of students, for example, created a humorous video with tips for dealing with distractions.
The course is tweaked each term to better serve students. The novel coronavirus drove some recent changes.
"The one thing we really reinforced with our faculty—and the faculty is going through some of the same things—is that we need to be even more flexible now, including with deadlines," said Mulherrin. "We are also encouraging faculty to try to meet with students more often. If we sense something wrong, if students aren't logging into class, we need to call and make sure they continue to feel connected."
The upheaval—financial, social, emotional—caused by the coronavirus has touched everyone in the UMGC community. Staff and faculty involved with PACE said they take inspiration from the positive moments that have emerged.
"We had a faculty member whose student told her that everything else in her life has been completely turned upside down," Hansen said. "UMGC is the only constant."