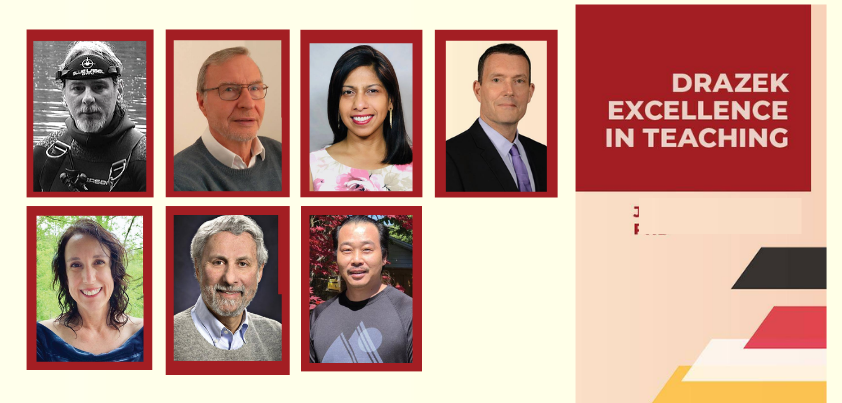 University of Maryland Global Campus (UMGC) recently conferred its highest faculty teaching honor—the Stanley J. Drazek Teaching Excellence Award—on seven of its most outstanding faculty members in Asia, Europe and the U.S., and recognized eight others for their noteworthy contributions to the scholarship and art of teaching.
Each year, UMGC issues the award recognizing effective and innovative teaching methods to members of the faculty who are nominated by their students and selected by their faculty colleagues for showing exceptional skill promoting student learning and meeting students' needs at every level. The faculty's efforts on behalf of students have always been critical to UMUC's success, said UMGC President Javier Miyares in congratulating winners.
The award is named for the University's second president who championed teaching excellence throughout his 30-year association with UMGC beginning in 1948, as well as a recognized leader in adult higher education at a time when such students were considered nontraditional. His work is largely credited with expanding opportunities for adult learners.
2020 Drazek Award Winners for Excellence in Teaching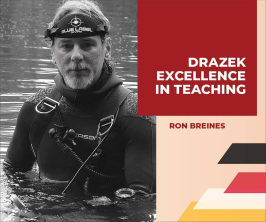 UMGC Asia Division Associate Professor Ron Breines teaches literature, creative writing and theater, and is a man of diverse talents and interests. He is a playwright, poet, novelist, musician, composer, technical dive instructor, re-breather cave diver, horsemanship trainer, karate and jujutsu sensei, sailor and boat captain, private pilot, and national team champion gymnast.
He grew up in what he describes as a blue-collar town in New York and said his "mediocrity" as a grade school student-driven by sheer boredom led him to seek different paths of learning. After many years of exploration, Breines said he has come to a simple understanding that he teaches to his students.
"The key to learning anything is to develop the curiosity to learn everything, then make it part of your own story. Anyone can do this."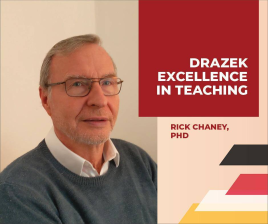 Collegiate Professor Rick Chaney, Ph.D., teaches mathematics, statistics and economics in UMGC's Europe Division and, for more than 30 years, has shared his expertise and encouragement with students around the globe in Bosnia, Colorado, Germany, Illinois, Italy, Jordan, Spain, and the United Arab Emirates among other locations.
He said one of his lifelong passions is helping students succeed. "The effective instructor is one who inspires and guides students to master concepts and think critically about them on their own," Cheney said.
He added that this philosophy is grounded in his view that students learn best when they teach themselves. "And they are motivated to teach themselves when they ask the right questions."
A recent student from Al Dhafra reached out to Cheney, summarizing her learning experience with him in this way:
"Thank you for being a wonderful professor! I am sad for this time to be over, but I am ready to continue with more math . . . never thought I would say that!  It's been a pleasure to have been your student. You will forever be someone who has impacted my military career for the better."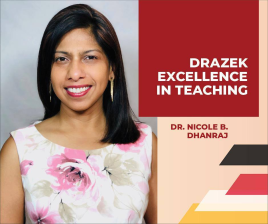 As an adjunct assistant professor and instructional designer, Nicole B. Dhanraj not only teaches business and management courses in UMGC's Asia Division, she also develops courses on a wide array of topics such as organizational development, human resource management, and business ethics.
She began her career in radiology as a diagnostic imaging and CT technologist in the U.S. Army. Now, in addition to teaching at UMGC, Dhanraj is an education and business consultant on competency-based learning, workforce development training, and provides business expertise to various industries.
"I am always seeking ways to increase engagement, learning and support for my students' success," said Dhanraj. "My purpose is to fill my students with as much knowledge as I can to equip them to be the best version of themselves for their team, and their organization."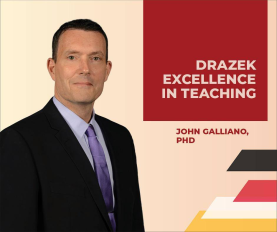 John Galliano, Ph.D., program director for UMGC Cybersecurity Technology, is a multi-certified cybersecurity expert with a passion for teaching and sharing insights gained in the cybersecurity field with his students. His expertise lies in insider threats, incident responses, and forensics as well as offensive cybersecurity.  His interests include cyber competitions, ethical hacking, and applications of research-based cybersecurity solutions to the enterprise.
Galliano spent 24 years in the U.S. Air Force as an SR-71 and U-2 avionics technician, meteorologist, and system administrator. Following his active duty service, he worked as a cybersecurity professional at the 561 Network Operations Squadron, the Defense Information Systems Agency, and the National Security Agency.
He completed his master's degree at UMGC while stationed in Germany, so said he is familiar with what many of UMGC's active-duty students experience when completing their education while serving in the military.
"I've centered my teaching at UMGC around three tenets: care, positivity, and success. Show that I care, create a positive learning environment, and facilitate each student's success," Galliano said. "If I can do these three things well then I've emulated the best professors I've encountered in my own past and hopefully, had a meaningful impact on my students."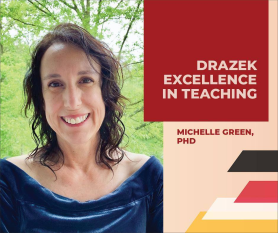 In addition to teaching at UMGC, Adjunct Professor of Psychology Michelle Green, Ph.D. works as a licensed clinical psychologist for the U.S. government. She has more than 20 years of teaching experience in higher education and is passionate about preparing the next generation for careers in the field of psychology.
"I am regularly amazed by the many responsibilities our UMGC students juggle while pursuing their education," Green said.
"Their determination and persistence are inspiring. They are bright, inquisitive, hard-working, and enthusiastic. It is a true joy and honor to work with them."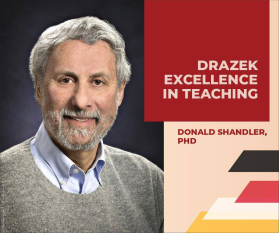 Adjunct Professor Donald Shandler, Ph.D., has taught online and hybrid courses in UMGC's MBA program for the past nine years. He previously received both UMGC's Teaching Recognition Award and Outstanding Faculty Designation Award.
A retired academic administrator, Shandler last served in that capacity as assistant vice president for Graduate Studies and Adult Learning at Marymount University. In addition to authoring four business books and numerous academic articles during his career, he recently published his personal memoir.
Reflecting on his teaching style Shandler suggested supportive communication is key to success in the classroom—and in life. "It's important to be generous with positive feedback to students, colleagues, and family," he said.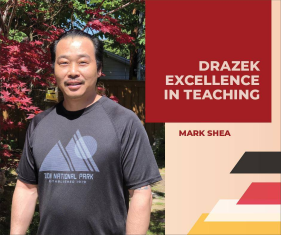 Cybersecurity Associate Adjunct Professor Mark Shea is a cybersecurity professional with more than 20 years' experience in military, civilian and academic environments. He is particularly adept at meeting the challenges of facilitating adult learners and is dedicated to establishing and nurturing student-centric class experiences.
"Seeing learners succeed in their academic and professional careers is one of the most rewarding feelings," Shea said. "We have to continually demonstrate compassion and devotion in teaching to show our learners that we are committed to helping them achieve their academic goals."
As a life-long learner, Shea said he enjoys discovering as much as possible about the ever-evolving field of cybersecurity operations and looks forward to adding to the body of knowledge on these subjects.
The UMGC Teaching Recognition Award
In addition to the Stanley J. Drazek Award recipients, eight additional faculty members were honored with the UMGC Teaching Recognition Award for their noteworthy academic achievement. It has been said that those who earn the honor possess the critical combination of high expectations and a caring, supportive presence—and nothing has a greater impact on student success.
The 2020 Teaching Recognition Award recipients 
School of Arts & Sciences
Kyung Gagum: adjunct associate professor, world languages
Sandra Sund: adjunct assistant professor, nursing
School of Business
Brandon Schweitzer: collegiate assistant professor, accounting
Simon Reese: adjunct assistant professor, graduate business education
School of Cybersecurity & Information Technology
Susan Kalis: adjunct assistant professor, information systems management
The Asia Division
Keith Graff: adjunct associate professor, Okinawa
Nanako Hoch: adjunct instructor, Japan
Robert Walsh: collegiate professor, Okinawa