UMGC Faculty Help Students Cope with Challenges, Solve Problems During Pandemic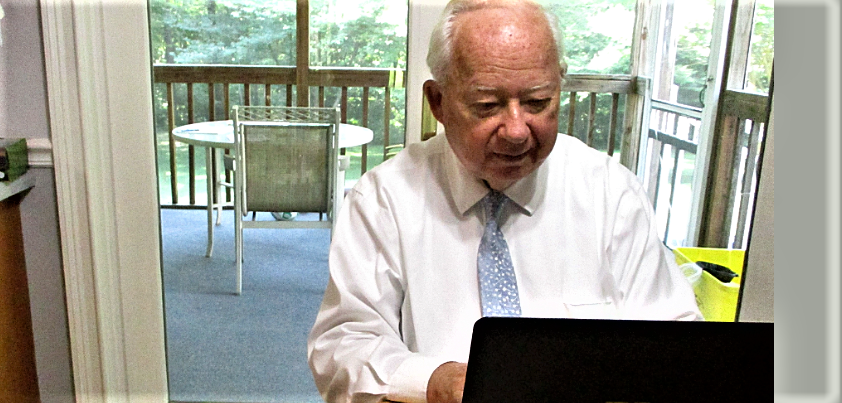 In many homes, a kitchen table is a place where families gather to eat, celebrate and sometimes work out solutions to problems. 
"A kitchen table is a strong symbol of comfort and a place where you don't have to be anyone but yourself," said Edwin Sapp, a 25-year UMGC adjunct professor and past winner of the Stanley J. Drazek Teaching Excellence Award.  That is why, during his spring business Decision-Making course, he created a virtual kitchen table—a safe place where students could share their concerns and support one another during the global pandemic.
The virtual kitchen table is just one of many ways that UMGC faculty members are supporting students during the pandemic, explained Martina Hansen, vice president for student affairs. "We are tag-teaming to solve many problems," she said.
The 1,572 discussion exchanges among 23 students in Sapp's online classroom provide a window into the pressures some UMGC students have been facing.
"I currently live with an anxiety disorder and the smallest of things can set it off, so to read everything about coronavirus has me constantly on edge," posted one student.
Another, a working parent, shared that she came into Professor Sapp's class expecting to maintain her 3.6 GPA. "Then our schools closed. I have a kindergartner and a third-grader and I run my own business out of my house," she wrote. "My husband is an essential employee, so my kids need me to hold together 'their normal' right now. I just can't do it all these days."
A third student, living in New York City, openly shared her grief with her classmates. "I lost a first cousin to COVID-19 last Sunday," she wrote. "The feeling I had all week was helplessness because I couldn't do anything for his wife and children. My entire family is heartbroken."
Sapp believes this outlet permits students to become "like family" as they share coping strategies, caring messages—and even his family's bread recipe.  It also has helped Sapp cope with the isolation of the stay-inside period.  
"We have eight children, 22 grandchildren and four great-grandchildren and I miss a close association with each of them," he added.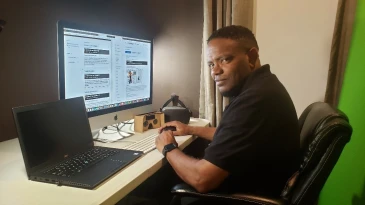 Digital Media & Web Technology Program Director David P. Johnson collaborated with colleagues from across UMGC to ensure a student had the required technical equipment to complete coursework.
The coronavirus pandemic has affected everyone—students, faculty, and administrators said Digital Media & Web Technology Program Director David P. Johnson.
"Some are working from home who weren't before and they have families sharing their space," he said, while others are working extra hours to accommodate the needs of students whose jobs are considered "essential." 
 "We are trying to be very flexible and sensitive to everyone's needs," he said.
Janet Zimmer, an adjunct professor, is teaching Concepts and Applications of Information Technology to Amazon's essential employees working around the clock in warehouses nationwide.  "I am really trying to be as engaged with each student as much as possible," said Zimmer. This includes scheduling Zoom open-ended sessions on weekends as needed.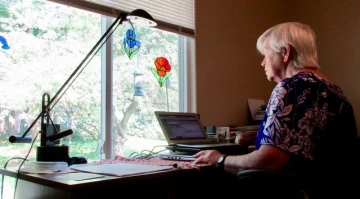 Adjunct faculty member Janet Zimmer has been scheduling open-ended Zoom sessions on weekends to provide flexibility for essential employees at Amazon.
For essential employees working extended hours, Zimmer explained, "this has been a bit more of a challenge than many thought they were facing." "I am confident that the majority will come out just fine in the end," she said. "But there is still some heavy lifting ahead."
Many students have expressed gratitude to UMGC for the extra effort faculty members are making on their behalf. One of Edwin Sapp's students said the "kitchen table" has helped her share her concerns and successfully complete the semester. "The entire episode of being on lockdown has been overwhelming," she wrote. "I really do not want this virus to mess with my academics."
The extra help has not been limited to just additional faculty availability online.
When a student in Adjunct Associate Professor Sandra Sharpe's Fundamentals of Electronic Publishing course found himself without the equipment required for the class, Johnson coordinated with Hansen, School of Cybersecurity and Information Technology Dean Doug Harrison, Financial Operations Vice President Eugene Lockett, and AccelerEd to help get the student the tools he needed.
Before the pandemic closed public libraries, the student had used a library computer to access the powerful software he needed for the course. His home computer just could not do the job and, to make matters worse, he lost his restaurant job during the shutdown.
"Despite all these challenges and with borrowed equipment, he earned a 'B' in the class," Johnson said.