University of Maryland Global Campus and Goodwin House Incorporated Establish Education Alliance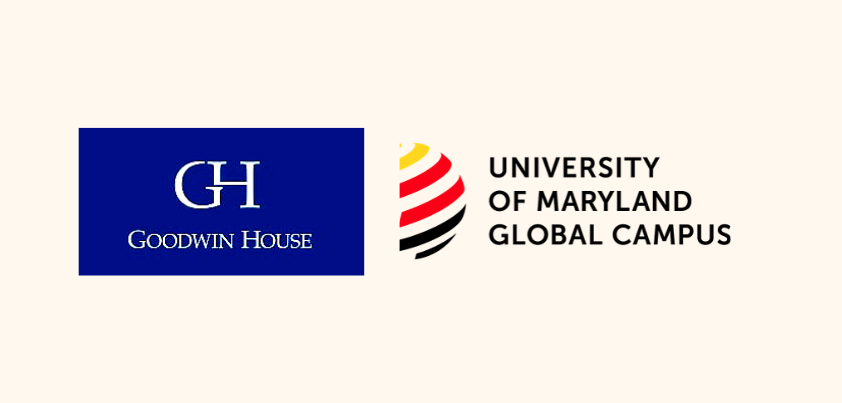 Alliance Expands Affordability of College Education for Goodwin House Employees
Adelphi, Md. And Alexandria, Va. (July 20, 2020)— University of Maryland Global Campus (UMGC) and Goodwin House Incorporated (GHI) announced today a new education alliance that expands the affordability of college degrees for nearly 1,000 senior living and health care employees in Northern Virginia. The alliance brings together UMGC's pioneering online degree programs and commitment to low cost, accessible higher education and GHI's commitment to expanding support for staff that want to grow their skills and credentials. Through its two Life Plan Communities, Goodwin House at Home "age in place" program and health services that support older adults across Northern Virginia, GHI serves 2,000 older adults annually.
"We are pleased to establish this educational alliance with an organization whose mission is to support and uplift the lives of older adults," said Blakely Pomietto, UMGC's senior vice president and chief academic officer. "Our own public mission has always focused on supporting and uplifting adult students who are often juggling full-time employment and families as they try to gain job-relevant skills and increase their value in the workforce."
"Goodwin House's mission focuses on older adults and also on those who support their success – our employees," said Rob Liebreich, President and CEO of GHI. "As part of our growing dedication to our staff to enhance their skills, we are ecstatic to align with the world renowned University of Maryland Global Campus and make online college education more affordable for our staff."
The agreement, which is UMGC's first alliance with a senior living and health care organization, enables the nearly 1,000 employees who work for Goodwin House—and their spouses and dependents ―to waive the university's application fee and take classes at discounted tuition rates.
Under the agreement, GHI employees, their spouses and dependents can take individual courses or enroll in any of UMGC's more than 90 undergraduate and graduate degree or certificate programs, all available fully online. In addition to the discounted tuition rates and waived application fee, UMGC also offers cost savings through its use of digital resources, which have replaced costly publisher text books in most courses.
Students enrolling in UMGC's undergraduate degree programs may be eligible to transfer credits from other institutions and/or earn credit for prior learning, thus shortening the path to a baccalaureate degree.
In addition to expanding the affordability of college education, the alliance also is a step forward for the field of senior living and health care. With 10,000 Baby Boomers turning 65 every day, America is projected to need an additional 7.8 million employees to care for older adults by 2026. Incentives and benefits that recruit more employees to the field will help bridge this gap.
About University of Maryland Global Campus
University of Maryland Global Campus (formerly University of Maryland University College) is a world leader in innovative educational models, with award-winning online programs in disciplines including biotechnology, cybersecurity, data analytics, and information technology that are in high demand in today's increasingly technical, global workplace.
With an enrollment of some 90,000 students, UMGC offers open access with a global footprint and a specific mission—to meet the learning needs of students whose responsibilities may include jobs, family, and military service. The university offers both undergraduate and graduate degree and certificate programs, including doctoral programs.
A pioneer in distance education since 1947, UMGC today is harnessing the power of learning science and technology to deliver high quality, low cost, accessible higher education.
About Goodwin House
About Goodwin House Incorporated: Celebrating more than 50 years of providing exceptional service to older adults, Goodwin House Incorporated (GHI) is a not-for-profit, Virginia-based corporation affiliated with the Episcopal Church. The growing family of GHI senior living and health care services owned and operated across Northern Virginia includes two Life Plan Communities—Goodwin House Alexandria and Goodwin House Bailey's Crossroads; an innovative continuing care at-home program—Goodwin House at Home; and a portfolio of health care services and partnerships delivering Palliative Care, Home Health, Primary Care and Hospice. GHI also is the management agent for The Lewinsville Retirement Residences, Inc. serving low-income older adults in McLean and Great Falls, Virginia.
GHI also advances its mission through the Goodwin House Foundation, a 501(c)(3) supporting foundation that provides financial support to current and future residents in need and to fund programs dedicated to promoting growth and education of staff as well as overall well-being and vibrant living as we age.
Contacts:
Lindsay Hutter Chief Strategy & Marketing Officer Goodwin House Incorporated 4800 Fillmore Avenue │ Alexandria, VA 22311 Office:  +1.703.824.1109 Mobile:  +1.703.346.8699
Bob Ludwig Assistant Vice President for Media Relations University of Maryland Global Campus Mobile: +1. 301-887-7614 robert.ludwig@umgc.edu