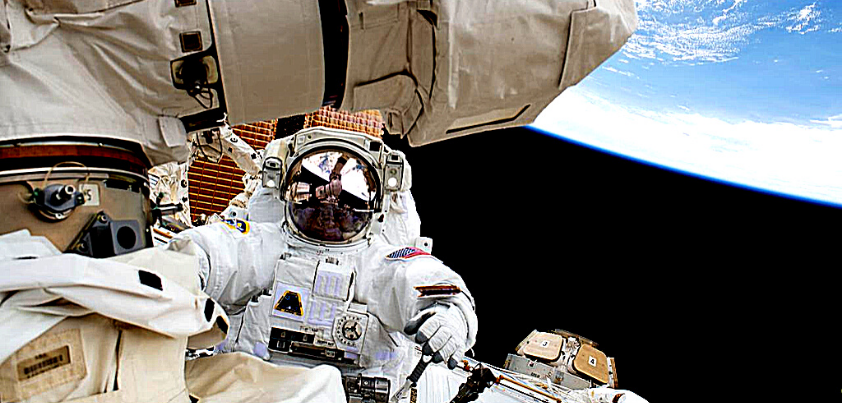 On NASA spacewalks next year, astronauts could be guided on their step-by-step tasks by a software program built by University of Maryland Global Campus (UMGC) students.
Since the fall 2017 semester, a relay of UMGC graduate student teams in SWEN 670—a software engineering capstone course—have worked on a program to streamline the to-do list that guides astronauts' extravehicular activity (EVA.)
The student project focuses on the virtual checklist that directs astronauts' every action outside a spacecraft. It is among the multiple projects UMGC students have undertaken for NASA's consideration.
"The students looked at developing software to help the astronauts as they plan their day or their time. It could be a host of different things, including experiments or just making sure the craft is working properly," said Michael Brown, program director of UMGC's Computer Science and Information Technology Department.
Brown taught the students in the capstone course and served as the liaison with NASA's Johnson Space Center.
James Montalvo, EVA Mission Systems software project manager, said the students built the NASA platform known as Maestro. If the space program moves ahead on scheduled spacewalk efforts, Maestro—with UMGC's contribution—will be used in spacewalk simulations this fall and by astronauts in an actual spacewalk next year.
At the beginning of March, before NASA employees went into Covid-19 lockdown, Montalvo said Maestro had been used in a training event in the neutral buoyancy lab, the giant swimming pool with a full-size replica of the International Space Station. The buoyancy lab is where astronauts train while experiencing microgravity.
Montalvo, who prepares astronauts for spacewalks, said every task in space is guided by an extremely detailed list of instructions. Although astronauts undergo months of practice before they fly, the instructions they must follow shift and change right up until the time of the spacewalk. Each action—from the number of turns on a screwdriver when tightening something to the order in which tasks are completed—is mapped out in advance.
"These are complex plans, often with 300 steps and two crew members working together, coordinating with each other," said Montalvo. The orchestration of the actions must take into consideration everything from the temperature or radiation levels in the affected area of the space station to distinctive features of the tools that might be used in a task.
 One small change can create a cascade of modifications in the to-do sequence. Montalvo said it is currently unwieldy to update the platform that manages the astronaut's instructions, which form part of the country's historical record of space flight.
The goals of the UMGC student project were to bring greater agility in revising and streamlining the astronauts' checklists.
After the UMGC students' first semester of work, Montalvo reviewed the results. He felt they had moved "a step in the right direction" and told Brown he would like to see the baton passed to another team in the next semester of SWEN 670.
"They took the product and improved it and fixed the code a lot," Montalvo said. "The overall project was a lot stronger." The project continued to move from student team to student team for more than two years.
Maestro is not the only UMGC student project that has made its way to the space program. In a different EVA coding project for SWEN 670, students were involved with the NASA Optimal Pathfinder. Their assignment was to create a GPS-style system to steer astronauts along the most efficient pathways when working in and out of the spacecraft. Brown described the effort as akin to "Google Maps for astronauts."
Brittany Ofori was a member of the UMGC student team tackling that project in the 2018 spring semester. It was her final class before graduation.
"Not having a software background, trying to understand how to code, was challenging for me initially," said Ofori, who had experience in music technology and was working in the audio-visual department at the National Cancer Institute when she enrolled at UMGC. She joined the graduate degree program in software engineering with an eye on eventually developing her own apps.
"Three other people on my five-member team were software strong and I would talk to them outside of class and find out what I needed to know," said Ofori, an ensign in the U.S. Navy Reserve. She was deployed most of the time she was in the graduate program and worked on the NASA project while stationed in Djibouti in East Africa.
"I was focused on the software so the magnitude of what we were working on and who we were working for didn't really hit until afterward," she said, crediting the project for helping her to land a job as a software engineer with BAE Systems just two months after graduation.
"The experience from the project helped," she said. "I had the degree and, from the project, I could show I had the capability to learn."
NASA does a lot of work with universities, but Montalvo said he is not aware of the Flight Operations Directorate, where he works, interacting with students to create initial prototype software.
"I think it was really good for both parties," Montalvo said. "It was a huge benefit to me and a fun project."
In teaching SWEN 670, Brown made it a priority to match student teams with projects for real-life clients, often through referrals from alumni. Past projects have included a sports team-ranking program piloted by the "Washington Post." Students in the capstone course have also done extensive work on the open-source software tool Cytoscape, which is used for biological modeling, including DNA and protein modeling.
"Most of our clients walk in with a certain level of expectations, and most are blown away with what our graduate students can do," Brown said.
###
Cover Image: (Jan. 23, 2018)–Astronaut Scott Tingle is pictured during a spacewalk to swap out a degraded robotic hand, or Latching End Effector, on the Canadarm2. Courtesy of NASA.