Overcoming 'Dark Times' to Earn a Degree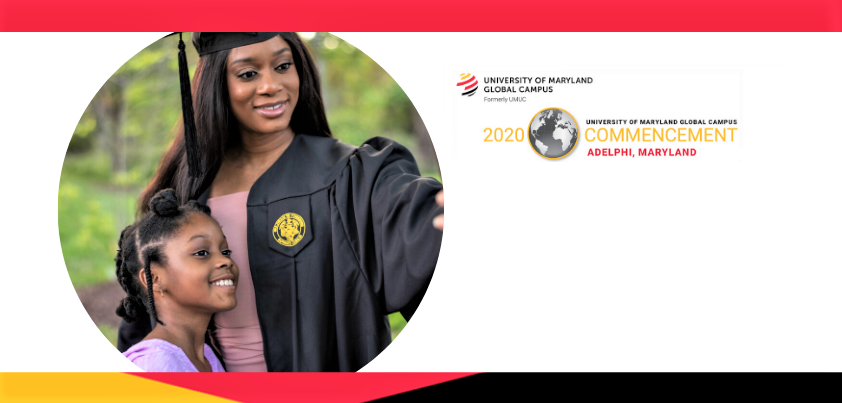 Like many students at University of Maryland Global Campus (UMGC), Nneka Nzegwu completed her studies while working at a full-time job and taking care of a child. When she talks about the obstacles she faced while earning her degree, however, she is referring to something far more complicated.
Nzegwu had to push herself out of a paralyzing depression that followed the violent death of a cousin and her own frightening experience of being locked in the same building as a mass shooter.
"Those were dark times and the most challenging aspect of my academic journey," she said. "I withdrew and put little effort into anything. I couldn't focus. Some days I couldn't bear to open my laptop."
She eventually sought counseling for depression and trauma, but she also credits the UMGC professors who encouraged her to persevere and complete a Bachelor of Arts in human resources management with a minor in diversity awareness.
"When I was trying my best to just push through, my teachers really worked with me," she explained.
Nzegwu—more than halfway through her degree program at the time—was at work as an administrative assistant at Kaiser Permanente in Annapolis on June 28, 2018, when a gunman opened fire next door in the office of The Capital Gazette newspaper, killing five people and injuring two others.
"Our office and the newspaper occupied the ground floor of the same building. I was assisting a patient and had to go to the other side of our office. What I found was chaos—everyone running and hiding," she recalled. "They told me there was a shooter, but we didn't know where he was. We didn't know then that he was next door."
Nzegwu, the single mother of a 9-year-old, described the multi-hour ordeal as terrifying. "We were trapped, not knowing what was going on. There were helicopters overhead and SWAT teams," she said. "All I could think of was who would pick up my daughter."
The Gazette shooting came just months after Nzegwu was traumatized by the brutal death of a cousin in Nigeria. She learned that he had been tortured and murdered after she unexpectedly saw images on social media.
"That really messed me up, mentally," she said. "And then the shooting in Annapolis happened, and that made it even worse."
What followed she said was a debilitating stretch, unlike anything she had experienced before. Still, she was determined to stick to her academic aspirations. Looking back, she recognizes what a powerful achievement it was to complete her degree.
"If I had to give any advice to students who find themselves struggling, I'd have to say, 'No matter how long it takes you, keep on going.'"
After a graduation celebration—"a Zoom party, maybe"—Nzegwu hopes to use her new academic credentials to move into human resources work, perhaps within Kaiser Permanente or with the government. She acknowledged that the novel coronavirus has made the job market tougher but pointed out that she is used to challenges.
Now that her coursework is completed, Nzegwu also looks forward to abandoning a habit she adopted to keep focused on her online studies.
"Whenever the semester began, I deactivated all my social media accounts because they are so distracting and I knew I'd have spent time scrolling through them when I should have been studying or writing," she said. "As soon as August came around, I'd remind myself: 'Deactivate.' Then when I'd have a break between courses, it would be 'activate.' Then came January and it was 'deactivate.' . . .
"I'm glad that's no longer necessary!"