Experts on UMGC Webinar Say Restoring Trust, Increasing Safety Measures Are Key to Opening the Economy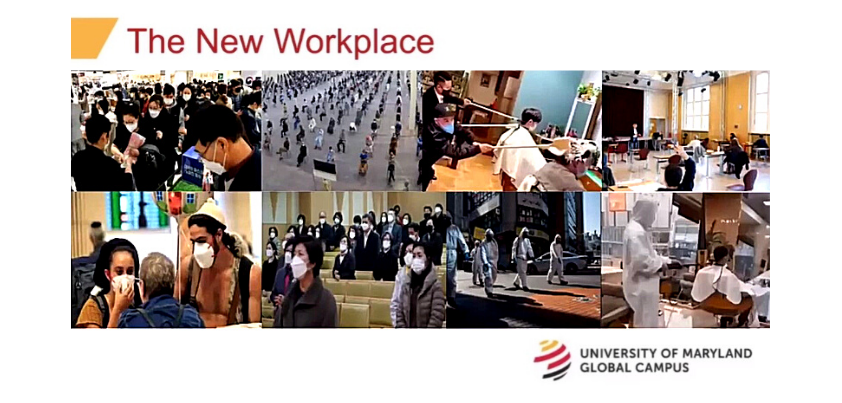 Returning to the workforce while opening the economy as the Covid-19 pandemic wanes will be difficult and require skilled leaders to assure the public that it is safe to engage again.
That was the main lesson from the webinar, "Beyond Isolation: Returning to an Un-distanced Workplace during Covid-19," produced by the University of Maryland Global Campus and airing May 6.
The presenters—four leading professors with experience in crisis management and public health—outlined what will be needed to make the economy work again.
"The psychological issues are enormous," said Ford Rowan, who created a public relations firm that advised on health and safety issues and co-authored "Weathering the Storm, Leading Your Organization Through a Pandemic."
"They are aggravated by political partisanship, complicated by scientific uncertainty, and fueled by the fear of the unknown," he added. "The public wants answers, and they hear false assumptions and misinformation."
Such a landscape makes people feel that returning to work and taking part in the economy are risky, and Rowan said that is why open and caring leadership in corporations, government, academia and not-for-profit organizations must be a priority.
In an era of instant communication, conspiracy theories and authorities who are held in low regard, simply conveying information is not enough, said Donald Donohue, a professor of health care administration and global health at both UMGC and the University of Maryland, Baltimore.
In many professions, workers will undertake extraordinary risks if they believe the leadership is looking out for them, he said.  But building that kind of loyalty depends on the leader's ability to hear and acknowledge workers' voices.
A leader who requires everyone to wear a face mask and does not wear one himself sends a conflicting message said Donohue, who emphasized that the post-Covid-19 workplace will be different than before.
Arrival times may be staggered. Temperatures may be checked. Breaks and lunch periods will be distributed. Windows will be opened for more air circulated.
In the past absenteeism has been discouraged, forcing workers to come to work sick, he said. That will have to change to discourage "presenteeism" so that in the future, workers who feel ill will stay home.
But new rules and procedures must apply to all companies, said Paul Barach, clinical professor at the Wayne State University School of Medicine.
"One workplace alone cannot change things," he said.  "We have to be thinking about all workplaces; how to make it easy for them to comply."
Images from around the world showing people violating the rules indicate how much more needs to be done, he said. And, he asserted, unless the public feels safe, people will not engage in the economy at the level needed to revive it.
Barach prescribes the following: All workplaces must establish rules for wearing facemasks and gloves. Workers need to know what the rules are and why they are necessary. Much more testing is needed so workers know who is infected.
"Leaders have to be explicit in talking with employees. They will only change their behavior if they trust the guidance they are given, and if that guidance is consistent and prudent and not panic based," he said.
Organizations must be transparent about what they are doing so that employees and customers know exactly what is being done in testing and sanitizing, the experts agreed.
Nevertheless, this pandemic is going to have lasting psychological impact on everyone, said Jeanne M. LeBlanc, a rehabilitation neuropsychologist and an expert in disaster-related mental health.
"The uncertainty about risk is the largest stressor, and it will be ongoing as things change," she said.
During this pandemic, so many people have been separated from family, have lost their jobs, may be experiencing a shortage of food . . . or have lost a loved one. "We don't know how long this will last, and it's difficult to see the other side," LeBlanc said.
While a few people may suffer from Post-Traumatic Stress Disorder, many people will need calming psychological first aid, she said, and people will need to be reminded to stop, breathe, center, focus on themselves—to do what they can that they can control.
"Look for social connectedness and spiritual connectedness. Maintain a work-life balance. Give yourself time off. Look for meaning in your work and set obtainable daily goals," LeBlanc said.
Returning to work will have its own set of psychological problems because of all of the unknowns, she said. For instance, working together may be more difficult and leaders and workers will have to avoid being confrontational. Management will have to provide a model of self-care for themselves that employees can follow.
It all comes down to trust, which is becoming a rare commodity, Donohue said.  Can leaders overcome the enormous distrust surrounding the pandemic?
He displayed the movie poster for the Marx Brothers film, "Duck Soup," and recalled the now-famous line delivered by Chico. "Who are you going to believe, me or your own eyes?"