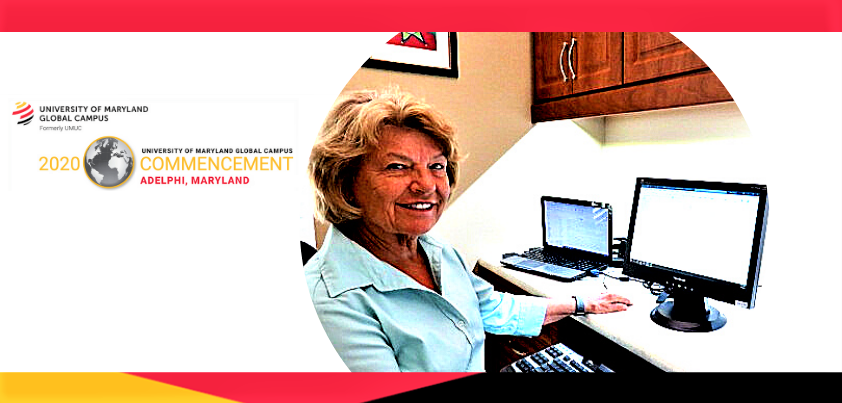 For Nancy Malson, the dream began in elementary school. She would sit under the weeping willow tree in the front yard of her Baltimore home and write books.  She would get cardboard and, for each one, draw a cover.
But life had a way of getting in the way of her dreams.  As one of six children, and a girl at that, there was no money available for her to go to college.
A year after graduating from high school in 1967, she married her high school sweetheart and launched her career developing secretarial skills and raising two boys.
But she always had a goal of completing college.
"With the children coming, I needed to put the focus on them and not on me," she said.  "I didn't need a degree. My skill sets led me to higher levels."
By 1991, she was working at the University of Maryland School of Medicine, which connected her with the university system.  With a few community college courses under her belt, couldn't she take advantage of tuition remission to restart her college career while balancing work and family?
Still, it was slow going.  By the late 1990s, she discovered the University of Maryland University College (now University of Maryland Global Campus) and became an early adapter of its online education, taking one class a semester. Online classes were so much more convenient for a working mom.
Her goal was to be an English major and concentrate on creative writing—the aspiration of that little girl in Baltimore.
In 2010, when she and her husband retired, she still had not finished, though.  With a condo in Ft. Myers, Florida, and a house in Baltimore, they became "snowbirds" traveling south each winter. Over the years, the time in Florida grew longer until they finally became permanent residents.
Malson said the great thing about UMGC online courses was that they could be done anywhere she could find a good internet connection.
"Part of the fun of taking classes online allowed me to meet students from all over the world, especially members of the armed forces. I would read their stories and let them know how much I appreciated what they were doing.
"Every semester when you introduce yourself, I always started with this line: I am living proof you are never too old to learn," she said. "A lot of students would reply back, 'gosh, I have been trying to encourage my mom or dad to start taking classes in retirement. I am going to tell them about you.'"
Her advice for younger students is—to persevere.
"Keep going forward," she said. "As soon as you stop taking classes, you find yourself skipping one semester after another. It's hard to get back into it once you have gotten away from it."
While she knows that many people her age may not be comfortable with computers, social media and online classes, her career with the university system prepared her well.
One creative writing class has had the biggest influence on her.  The professor praised one of her short stories and encouraged her to expand it into a novel.
By the fall of 2019, she was down to her last class. Malson had an aversion to math and had put off that requirement for years. But she could see a goal ahead, and if she could finish that last class by the end of December, she would graduate from college by her 70th birthday.
With her customary thoroughness, she worked her way through it and got an A, allowing her to graduate summa cum laude.
And that novel? Yes, it's going strong.  It is based on the true story of the folks who live in the same condominium complex in Florida—snowbirds who arrive each winter from different parts of the country. But they don't just sit on the beach and play golf.  Each has a fascinating backstory.
She is working away on it even as she and her husband are hunkered down against coronavirus, and there may be a virus that ends up in the story, she said.
"Here we are all different, but we end up as a family," she said.
Malson calls it "The Flock."