A Degree, a Law and a Book: One Graduate's Roster of Achievements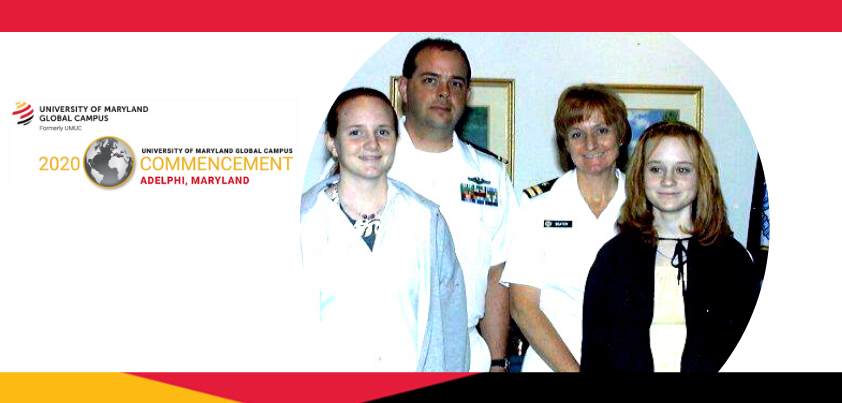 When Gale Seaton takes part in virtual commencement at University of Maryland Global Campus (UMGC), she will acquire a long-sought bachelor's degree in criminal justice. Even more, she will re-celebrate her successful quest to change a Maryland murder-for-hire law.
During research in a required UMGC course, Seaton discovered that solicitation for murder was a misdemeanor in Maryland. She launched a persistent lobbying effort to make the crime a felony, and new legislation was signed into law by Maryland Gov. Larry Hogan a year ago.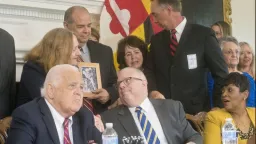 Photo of the signing of Stacey's Law on April 30, 2019, taken by the Capital Gazette; present, in addition to Gov. Hogan, are Senate President Thomas (Mike) Miller and House Speaker Adrienne Jones
Not only did the measure, known as Stacey's Law, advance Seaton's aspiration to help crime victims, but it was also a meaningful personal victory. Her daughter Stacey, for whom the law is named, was the victim of a contract killing in 2005.
"I was in my Criminal Law in Action course doing research, looking up laws. I was looking at violent offenses, one felony after another, then I noticed two offenses that were not felonies: solicitation for murder and solicitation for arson," Seaton said. "Suddenly it all meshed for me, why things went the way they did with my daughter's case."
The discovery helped Seaton understand why the man who said he paid to have her daughter killed was not charged with murder. Stacey Seaton died in a shooting related to a drug robbery. Her parents believe she was mistakenly identified as one of the robbers.
Seaton's class research and her daughter's case also provided the material for Getting Away with Murder for Hire, a book Seaton plans to self-publish late this summer, even while taking courses toward a Master of Science in criminal justice management.  
When she began her UMGC studies, Seaton had her eye on becoming a crime- victim lawyer. The  Criminal Law in Action course, in addition to setting Stacey's Law in motion, prompted Seaton to shift her career goals. "I found out that writing briefs on cases was not my strength," she explained.
She now aspires to work as a consultant helping victims and their families navigate the criminal justice system.
"I would never go through the courtroom experience again without a victim lawyer," she said. "It helps ensure that the system is fair and impartial. The Maryland Crime Victims Resource Center did so much for my family."
Seaton currently is employed by Tricare, the military health care program through Johns Hopkins Medicine, teaching service members and their families about health benefits. She previously served 21 years in the U.S. Navy, working in military intelligence and investigations at duty stations in Puerto Rico, Hawaii and Maryland.
"I worked, specifically, in cryptology," she said, adding that research was a big part of that job, too.
Seaton enrolled at UMGC after hearing about the good experiences of Navy friends who had taken courses. She is quick to sing the praises of her criminal justice professors. "All of them are top-notch," she said. "I would recommend them to anybody."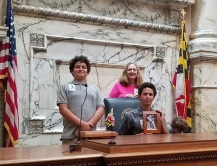 Seaton with her grandsons during the summer of 2019 in Maryland's Senate Chamber; the oldest, Diego, holds a photo of his cherished Aunt Stacey holding him when he was a year old. The photo was taken six weeks before her death.
Seaton's lobbying for Stacey's Law embodied a grassroots effort that included petitions, social media and face-to-face meetings with lawmakers. After the Maryland legislature passed the bill on a unanimous vote, the lawmakers rose to give Seaton a standing ovation.
Seaton and her husband were also present when Hogan signed the bill into law.
Seaton and the governor will be together again at the UMCG commencement, albeit virtually The governor is scheduled to deliver the keynote address at the ceremony.
Cover Photo: Gale Seaton at her Navy retirement in 2001, with her husband Mike, and daughters Allison (Left), and Stacey.