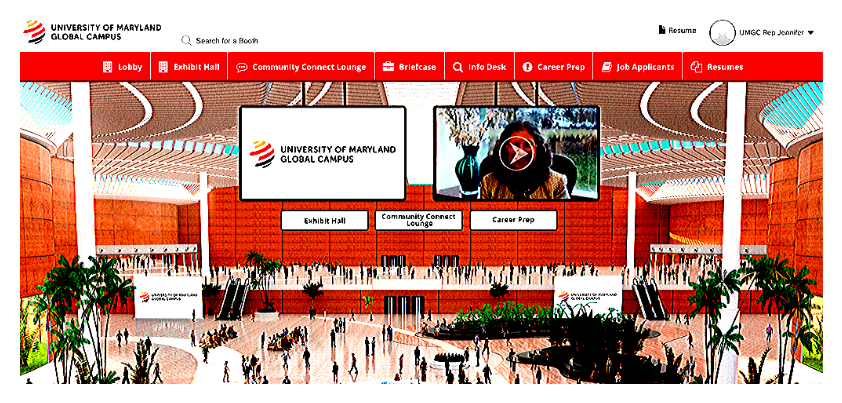 It's amazing what some people can accomplish in less than a week.
University of Maryland Global Campus has been conducting large in-person and virtual career fairs for the last five years—along with an ongoing comprehensive slate of programming to cultivate top-notch job-seeking skills—to better serve the needs of its global alumni and student communities and provide them with opportunities that are more convenient for their schedules. The in-person career fair scheduled for March 19 was to be the biggest in-person fair of the year, with preparations moving along as normal.
And then . . .  things weren't so normal. When the decision was made on March 6 to cancel UMGC's in-person career fair due to the spreading coronavirus pandemic, the university's Career Services team and a contingent of volunteers sprang into action. Six days later, the canceled fair, which more than 500 job seekers and 60 employers had planned to attend, was handily incorporated into its companion spring virtual career fair that would take place as scheduled on March 12.  How they made it happen is itself a story.
UMGC's global reach had placed the looming coronavirus threat on the university's radar earlier, perhaps, than it had seeped into the consciousness of a great many other U.S. based organizations. By the end of February, Career Services staff members had already been fielding inquiries from participants about whether the in-person career fair would still be held.
All involved knew the potential for cancellation was real. But there was never a question that the students, alumni and recruiters signed up to attend would be abandoned in the process. Instead, the team geared up for business as usual amid unusual circumstances, said Nikki Sandoval, UMGC associate vice president for Alumni Relations & Career Services in UMGC's Office of Institutional Advancement.
"From the beginning, our goals and strategy remained the same. Even in times of change, we are still here to serve our greater community," Sandoval said.  "The only difference . . . we changed the execution to keep our community safe, and I am proud of the way everybody on the team came together to make it happen."
"The beauty of what we do is that we can adapt very quickly to the environment in order to serve our students and alumni community the best we can," said Francine Blume, UMGC assistant vice president for Career Development.
Blume oversees the university's career fair planning. She said that pairing virtual and in-person fairs together throughout the year allows employers, recruiters and job seekers to register and attend either one or both, and that helps ensure that the ongoing needs of the university's global student and alumni community are best being met.
Coincidentally, about one-third of the employers scheduled to attend the March 19 in-person fair were also signed up to attend the virtual fair on March 12. That fact and the built-in flexibility of Career Services programming—along with a lot of quick thinking, hard work and 'can-do' attitude—turned what could have been a major disappointment into a major success.
Friday, March 6—a Pivotal Day
Once it became official on March 6 that the in-person fair slated for March 19 wasn't going to happen, the decision was made to incorporate as many in-person registrants as possible into the March 12 virtual fair. It was "all- hands on deck and full steam ahead," said Jennifer Tomasovic, the director of communications for Institutional Advancement.
The first outreach went to those employers who had only registered for the in-person fair to let them know they could still attend the virtual fair if they chose to do so. In that way, the virtual fair grew from about 64 to 78 employers.
In rapid sequence, staff members at vFairs, the platform that Career Services employs to host its job fairs, jumped right in, contacted the new employer participants, and built their virtual recruiter booths. Trainings were held to familiarize newcomers with how to use the platform.
The next correspondences, right on the heels of the first, let employers signed up for both fairs know that the in-person version had been canceled—and got the word out to students and alumni as well, to help those now choosing to attend the virtual fair get ready for it via the prep session scheduled for March 9.
Even under the most ideal circumstances, volunteers lend to career-fair success.  This time, volunteers were more important than ever. The team solicited assistance from the alumni community and fellow UMGC departments. "We asked our in-person staff volunteers if they were interested in working the virtual fair. And, of course, people raised their hand," Blume said. "It really does take an entire village to put this on."  In all, 41 staff, faculty and alumni volunteered.
For a measure of UMGC Spring 2020 Virtual Career Fair success, look no further than the data. In all, 145 recruiters representing 78 employers participated. That number includes 18 who shifted from the in-person to the virtual fair within two business days of being notified that the in-person fair had been canceled.
More than 66,000 jobs were represented in all 50 states and abroad! And attendance, too, was robust. There were 1,332 total job seekers at the virtual fair, with 609 real-time virtual fair attendees.
Internationally, there were 17 real-time virtual career fair participants from Asia and 26 from Europe as well as job seekers from Canada, Puerto Rico, Southern Africa, Trinidad and Tobago, and Zambia.
Already, within the first days after the fair, 210 participants and job seekers are moving forward in the hiring process— up from the number who were moving forward after the UMGC Spring Career Fairs last year.
"We were able to come together as a team and, in a given time, put on the best career fair we could for our community while keeping everybody safe in the process," said Sandoval.
Said Blume, "At the end of the day we got it done. We do these career fairs to help our community of students and alumni around the world . . . to help them get jobs." She added, "Even today, employers are still following up. They're still interviewing people by video and over the phone. We're still here to help. For us, it's business as usual. The work doesn't stop because of the coronavirus."