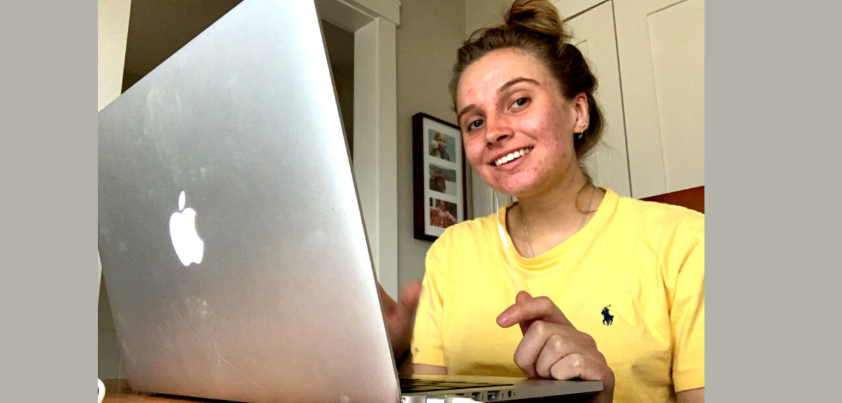 For Julia Shanley, the University of Maryland Global Campus became an academic lifesaver when the new coronavirus turned her education plans upside down.
Shanley, who grew up in Ellicott City, Maryland, is a communications major at Towson University planning on a career in public relations.
When growing up, she was greatly influenced by her grandparents who had worked in Germany for the National Security Agency and instilled in her a love of the German culture.  She began studying the German language and wanted to spend a semester there.
"By studying in Germany, I would be experiencing something not only out of my comfort zone, but gaining a different cultural experience," Shanley said. "And pairing a language with my communications degree would be beneficial to my career goals."
Through Towson, she arranged to spend the spring semester at Freie Universität in Berlin, staying with a host family that required her to speak mostly German.
"It was very cool and very rewarding," she said.  "It's nice to feel good about something you can do like speaking another language."
Everything was on course until the new coronavirus struck. Shanley said she saw German Chancellor Angela Merkel on television predicting that 70% of the country could be hit with the virus. And she saw President Trump talking about a travel ban for Europeans coming to the United States.
"Everything happened in just a few days, and I was whisked home," she said.
But arriving home, she found her academic timeline was in jeopardy.  Freie Universität would not give her credit for her work in Germany—and neither would Towson. It looked like an entire semester would be lost.
That's when Towson offered her the option of taking courses with the University of Maryland Global Campus, which has a communications major and offers eight-week courses.
"I have never taken online classes before
. This is my first time," she said.
But Shanley dove right in, signing up for four journalism and communications courses. She said she found that she could not only work with the new format. She also enjoyed it.
"I feel as I've adjusted pretty well," Shanley said.  "I like how we must make at least two comments on two different student's discussion posts to influence us all to communicate among ourselves."
She said she found that her biggest challenge in taking so many courses online, especially in UMGC's concentrated eight-week format, is time management.
"I need to make sure I am not cramming everything into the last minute," Shanley said. "It's hard for me to stay focused, so I take large breaks doing a puzzle or cleaning. I end up having to rush a few assignments."
But one of her professors, Lee Callaway, said Shanley seemed to adjust to the new learning format with few problems that he could see. She is performing top level work in her class.
While Towson became more understanding about transferring credits, Shanley said she would always thank UMGC for saving the day when everything looked bleak for her.
"I appreciate that the UMGC courses started shortly after I arrived back in the States, wasting no time to get me back on track," she said. "Now I can graduate from Towson in the spring of 2021, just as I had planned."