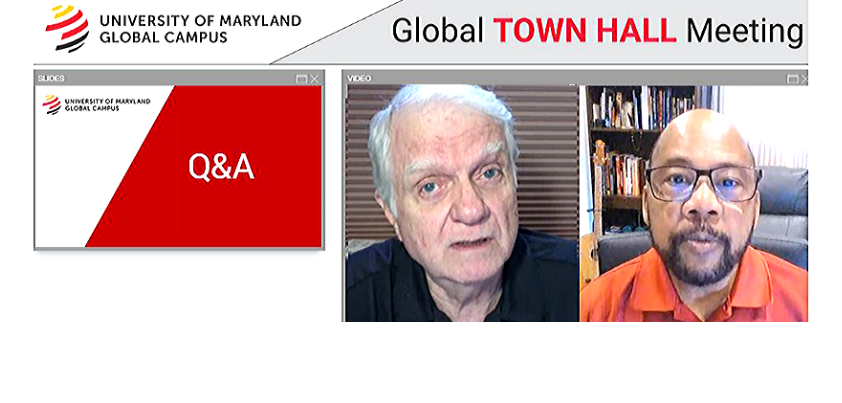 In an unprecedented Town Hall meeting March 31 during the Covid-19 emergency, University of Maryland Global Campus President Javier Miyares said the university "is in better shape than almost any traditional university."
With the university offices closed and everyone sheltering in place, Miyares spoke from his home in Washington, D .C., and took questions remotely through moderator Rudy Watson, a department chair in the School of Business, who was in his home in Silver Spring, Maryland.
The virtual meeting reached more than 1,700 participants worldwide, an unparalleled number of viewers for a Town Hall meeting.
As the leader in online education since the 1990s, UMGC does not face the same challenges that confront traditional universities, Miyares said.
"The pandemic has brought to the fore how important online education is in the modern economy," he said, as other universities struggled to quickly shift to offering their classes remotely.
The university's faculty and staff have offered guidance and support to other institutions in the University System of Maryland on how to negotiate their transitions to telework and online instruction.
"Unlike so many around us, our jobs are secure," he said. "We and our families continue to have access to excellent health benefits, and for that we can be supremely grateful."
Even so, he acknowledged that the emergency has added new levels of stress for UMGC faculty, staff and students as they cope with sheltering and educating young children, caring for elderly and sick family members and spouses who may be out of work.
"We want our students to succeed and we want our faculty and staff to be healthy," he said.  The key word in this extraordinary time is "flexibility."
Even in Europe, where UMGC offers face-to-face instruction to U.S. military personnel, staff and faculty were able to replace instruction at the abruptly closed Education Centers by shifting more than 260 on-site classes to a livestreamed format that allows faculty to interact with students in their homes and living quarters.
In 2019, the university saw a slight decline in enrollments for the first time in six years, Miyares said, but still reached 93,000 students in 19 countries, surpassing 1 million credit hours for the second year in a row.
Having completed the rebranding campaign to change the name of the university to the University of Maryland Global Campus, he said, UMGC is receiving a record number of inquiries and applicants.  A new ad campaign, "Made for you, here for you," will emphasize the university's stability and capacity to support students even in times of crisis.
While in-person stateside commencement ceremonies have been cancelled this spring, Miyares said they will be replaced first by a virtual program on May 16 and 17 and, in response to feedback from students, by an in-person event sometime in the future as safety permits when graduates will get the opportunity to cross the stage and be individually recognized for their achievements.
More financial aid money is coming to the university through its HelioCampus, part of UMGC Ventures. Of the funds provided by a new majority investor, Pamlico Capital, $16 million went directly to the university's endowment.
"We are exploring how best to allocate the initial proceeds to an emergency fund for our students who are facing particular economic hardships as a result of the coronavirus crisis," he said.
In answer to a question, Miyares said he had to be careful about sounding too optimistic about the conditions at UMGC as the tragedy of the Covid-19 virus envelops the world.
But he said compared to the struggles of his fellow Maryland university presidents, his job in seeing UMGC through the crisis is relatively easier because of the university's efforts in recent years to maintain operational stability and the dedication of faculty and staff.
"I have never been more proud to be part of University of Maryland Global Campus and part of our worldwide community of faculty and staff," Miyares said. "UMGC has maintained its operational stability even as it has adapted to the coronavirus pandemic, thanks to steps taken during the past several years to create a more agile, flexible and resilient organization.
The university completed the stateside transition to telework more than two weeks ago, while overseas, the institution's administration had already dealt with similar adjustments, including transitioning hybrid classes to online-only.
"I believe our future is assured," he said. "Not only will we be okay, we will do well going forward."