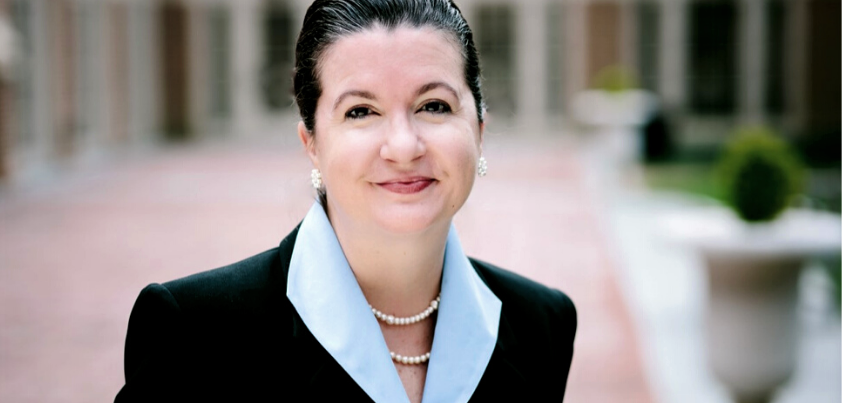 Twenty years ago, Dawn Edmiston's professional trajectory was on the rise. She had a solid job at IBM, which she had joined after working at PwC and a stint trotting around the globe with the Discovery Channel. But Edmiston found herself looking for something new. She wanted to be an educator.
That aspiration is what prompted her in 2000 to become one of the first students to enroll in a new—and bold—Doctor of Management (DM) program at the University of Maryland Global Campus (UMGC), then known as University of Maryland University College.
"At the time, you really needed to have a doctorate to teach," said Edmiston, who graduated from the program in 2007 and has built an impressive track record in academia. Currently, she is the clinical professor of marketing at the Raymond A. Mason School of Business at William & Mary.
Unlike a traditional doctoral program, which would have been full time and focused on research, the DM was designed to apply research findings to real-world challenges. It also was part-time, which was heretical for post-graduate studies at the time.
"The doctorate of management program was ahead of its time relative to interdisciplinary studies. It brought education to a multitude of careers," Edmiston explained. "There are now many other doctoral programs that are not traditional Ph.D. academic-oriented programs and that is powerful.
"The DM was one of the first programs in the nation that opened the door for me and for so many others to pursue advanced education at the doctoral level," she said.   
Some of the classes Edmiston took were face-to-face. Others were hybrid, with both online and in-classroom components. UMGC's program also acknowledged that not all post-graduate students want to become faculty members. Several of the first applicants to the program planned to use their newfound knowledge at their corporate jobs.
"Many of the students in this program were really locked out of a traditional doctoral program because there was an idea then that a program had to be full time to be high quality," said Theresa Marron-Grodsky, who sat on the admissions committee for the DM and taught some of its business courses, including management. "In 2000, this was a very unusual program."
The degree evolved into one of the flagship programs at the university.
Grodsky, who eventually served as chair of the university's Department of Management, Accounting and Finance before retiring in 2018, described Edmiston as a smart and committed student with a special interest in marketing and international business. She recalled that Edmiston won a national award for her doctoral dissertation. Grodsky also called her a risk-taker, like everyone else involved in the DM program.
Initially, the new doctoral program looked like a long shot. UMGC did not have a proven track record in post-graduate education. And the DM was little known within the business world. Edmiston was unfazed. "For me, it's not the credentials that you have but what you do with your education," she said.
When it launched, the DM offered several focus areas. Edmiston and her husband, Chris Strasser, enrolled in the fledgling DM program at the same time and took some of the same courses, but his degree carried a concentration in informational technology.   
Edmiston and her husband had met as undergraduates at Rensselaer Polytechnic Institute, where she studied management. He joined the U.S. Navy and the couple's first duty station was Guam.
"That's where I was introduced to [University of Maryland University College], the one institution serving our military men and women," Edmiston said. After the couple returned stateside, she earned an MBA from Columbia University and began working in marketing at Discovery, PwC and then IBM. 
"I had started to think about where I might have opportunities to continue my education, and the University of Maryland was in the back of my mind when we moved to Washington, D.C.," Edmiston said. During her studies, she also served as an adjunct faculty member at UMGC.
She said PwC supported her decision to go for the DM.
"The consulting-services world can feel like an academic environment at times," she said. "At PwC, we were looking at digital technologies from an educational perspective. I was fascinated with the concept of distance education and I had this belief that it would democratize the world.
"At that point, distance education was limited by the technology … but it was still a powerful learning experience," she said.
Grodsky suggested that Edmiston's workplace was a good training ground for the rigor of a doctoral program. "Consulting companies are very tough. You do something one day and, when another client comes in, you move to that," Grodsky said. "Dawn excels at researching things in depth. The Doctor of Management was a wonderful foundation for her."
Last year, after two decades, UMGC phased out the DM and replaced it with a Doctor of Business Administration designed for individuals interested in leadership roles at for-profit, nonprofit, government, and nongovernmental organizations, including higher education.  The decision reflected UMGC's aim to be responsive to both changing market needs and student demand. 
At the time Edmiston earned her DM, it may have been untested but the gamble paid off. She was hired to teach business at a broad range of institutions, including Howard University, Johns Hopkins University and Trinity Washington University. At William & Mary, she became the first clinical faculty member promoted to full professor.
She currently teaches undergraduate and graduate courses in marketing. Three years ago, she also launched a hybrid summer course for students pursuing a minor in global business. The program involves a week of study at William & Mary, three weeks of online learning and eight weeks of coursework in Ireland at University College of Dublin.  
Although her passion is teaching, Edmiston has not lost her zeal for learning. She is on track to complete a second doctorate in May, this one in educational policy, planning and leadership at William & Mary. She also hopes to do research in Estonia in the fall as a Fulbright Scholar.
"Estonia is the first digital republic so you can become an e-citizen. I'm fascinated by what we can learn from this country," she said. E-residency enables entrepreneurs, digital freelancers and others to launch and build companies from anywhere in the world. The unusual program, launched in 2014, gives Estonia's virtual residents access to the European Market.
Her current pursuits continue a journey that started with the DM.
"It's an opportunity to take what I had started 20 years ago—to think about how we can use technology—and to [look at] international opportunities," she said.
Grodsky takes an even bigger view. "The DM students took a big risk coming into that doctoral program. And for most of them, the decision was the right one."
Now, as she looks back on her time at UMGC, Edmiston credits her conversations with Grodsky and Grodsky's husband, Milton, as being pivotal to her success in the DM program and inspiring her career aspirations. And in recognition of the positive role those conversations played in her life, she and her husband made a major gift to UMGC last year to establish an operating fund, with proceeds distributed over the next four years, to aid master's and doctoral students in their higher education pursuits.
Named the Dr. Milton Grodsky and Theresa Marron-Grodsky Scholarship Fund, the gift seeks to assist students who wish to attend UMGC but who may be experiencing financial challenges even though they are receiving income through their employment. "I understand how difficult those kinds of financial choices can be," said Edmiston, "and we wanted to encourage others in their pursuit of higher education."
Further details about the Dr. Milton Grodsky and Theresa Marron-Grodsky Scholarship Fund can be accessed here."