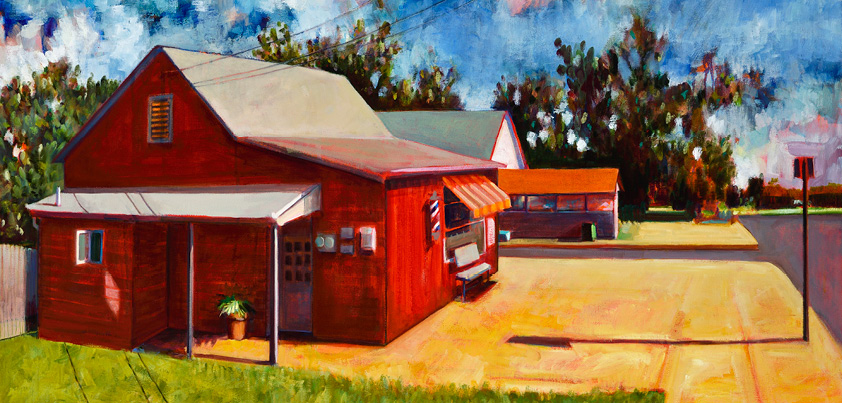 The exhibition Sharon Wolpoff: Wherever I Turn I See Light and its opening reception have been postponed until further notice.
UMGC Galleries and Exhibitions Temporarily Closed
To protect the health of the University of Maryland Global Campus community and visitors, the Arts Program galleries and exhibitions are temporarily closed to support the university's efforts to contain the spread of coronavirus disease. Updates will be posted on the UMGC Arts Program webpage as they become available.
 Realist painter Sharon Wolpoff experiments with illumination to accentuate her oil paintings, giving them a geometrical quality.  In the upcoming University of Maryland Global Campus Arts program exhibition "Wherever I Turn I see Light," viewers can explore for themselves the effect of light on the world around us and gain a better understanding of the artist who has traveled the world to take advantage of the sun's magnificent rays in the execution of her work.
"It is my desire to find a way of being in this world that illuminates others," Wolpoff wrote in the artist's statement she composed for the Maryland Art Council's official online site, msac.org.  Illumination, she explained, is a concept that can reveal itself in many ways, and that's why she focuses her investigation by painting people or her surroundings when they're lit by natural light.
Afternoon Men by Sharon Wolpoff
"There are moments when light seems to take hold of whoever or whatever it touches, moments when it appears to grip, stroke or charge anything in its path. The resulting interplay of light and shadow can ignite the most ordinary setting, revealing its inherent beauty. This effect of the light, rather than its source, is what I'm interested in exploring."
About the Artist
Wolpoff, who began her art training at age five, received a bachelor's in fine arts and an MFA in painting from American University, took additional coursework in Italy and Mexico and expanded her understanding of color through studies of tapestry and bead weaving. She has employed her artistic talents as a jewelry designer, printmaker, and painter.
Among her many honors, Wolpoff has received three Maryland State Arts Council Individual Artist Awards, a fellowship from the Arts and Humanities Council of Montgomery County and American University's David Lloyd Kreeger Purchase Award.
Cover Image: Dom's Barbershop by Sharon Wolpoff
Sharon Wolpoff: Wherever I Turn I See Light
Exhibition Dates: Postponed