GenCyber Campgoers Take Their Training to the Classroom
Cybersecurity Awareness Month

|

Events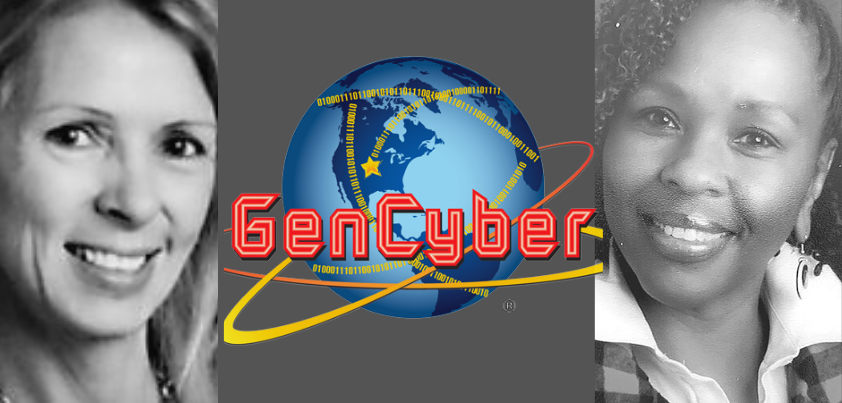 . . . and It's Paying Dividends
For Washington, D.C., area high school teachers Helene Johnson and Lorraine Lloyd, the GenCyber Teacher Camp they attended has been a real game-changer.
Johnson, a computer and cybersecurity teacher at Suitland Senior High School in District Heights, Maryland, and Lloyd, a cybersecurity teacher at Loudoun Valley High School in Purcellville, Virginia, were among the 25 educators who participated last July in GenCyber Teacher Camp 2019, sponsored by the National Security Agency (NSA) and the National Science Foundation and hosted by University of Maryland Global Campus.
The intensive week-long program, which provides an array of skills, games, labs, and other supporting tools and technologies to take back to the classroom, is designed to help K-12 teachers train the cybersecurity workforce of the future by promoting best practices in cybersecurity teaching methodology and curriculum development and providing lesson plans that infuse cybersecurity principles across many subject areas.
Johnson and Lloyd told UMGC that attending the camp helped them better respond to greater interest in cybersecurity, make a real difference in the lives of their students and grow professionally.
Lloyd, who said she has seen the number of students taking her cybersecurity class double in one year, described her students as eager to get involved outside of the classroom, adding they are especially interested in participating in capture the flag competitions. Some have competed in CyberPatriot contests and Girls Go CyberStart, she said. Her students are also interested in learning material toward certification tests such as CompTIA A+, Network+, and Security+.
"I love it when I can show students new skills and information and build on their existing knowledge so that they are able to solve complex problems," Lloyd said.
Through the camp, Lloyd learned about an NSA-UMGC co-funded scholarship opportunity for a graduate certificate in cybersecurity, and was selected as one of the five scholarship winners. She is about to complete her program in Cybersecurity Management and Policy.
 "I would not have been able to afford the classes if not for the scholarship and I am a vastly better teacher for doing it," she said.
Recently, a colleague from the Loudon County school system nominated Lloyd for the Presidential Cybersecurity Education Award. Bestowed by the U.S. Secretary of Education, the award is presented annually to two educators—one at the elementary level and one at the secondary level—who demonstrate superior achievement in instilling skills, knowledge, and passion with respect to cybersecurity and cybersecurity-related subjects. Lloyd said she is honored to have been nominated and is  realistic about her chances of winning. "I'm happy to be a part of such a critical mission."
Specifically, Johnson said the GenCyber camp helped her gain a more in-depth understanding of cryptography and how to offer a better-guided practice of the topic to her students. "I continue to seek ways to present cyber material so it is relatable to today's students and the GenCyber camp provided fun lesson plans students can enjoy," she said.
Although it's too early to tell if Johnson's cybersecurity students will end up working in the field, one of her recent graduates is enrolled at the University of Maryland, College Park, where he has declared a major in management information systems.
"He is a born leader who has aspirations to work for Google and then own his own IT firm," Johnson said.