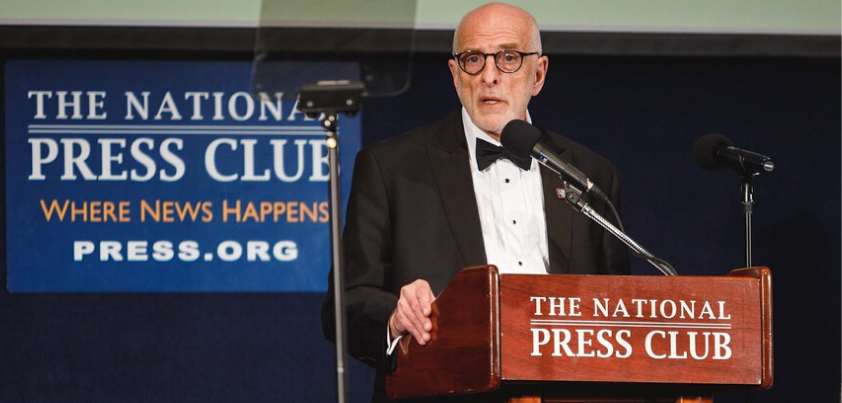 Michael Freedman, University of Maryland Global Campus senior vice president and journalist in residence, was sworn in Jan. 15 as president of the National Press Club, the leading professional organization for journalists.
Since its founding in 1908, the National Press Club, located two blocks from the White House, has been the center for journalism in Washington.  Every U.S. president since Theodore Roosevelt has visited there either before, during or after his time in office.
The National Press Club's historic Luncheon Speakers Series has attracted kings and queens, politicians and Cabinet secretaries of all stripes, as well as movie stars, business moguls, authors, athletes, and explorers—anyone in the public eye who wants to make his or her case to their audiences through the news media. In short, the National Press Club has featured a Who's Who of national and world history-makers of the 20th and 21st centuries.
Begun as an informal club where reporters could relax after a full day of gathering news, the National Press Club is now a staunch defender of the First Amendment and freedom of information around the world. As it adapts to the evolving dynamics of the news business, it  is helping journalists prepare for changes in reporting and distributing news.
In a Q&A with Global Media Center staff as he takes the reigns of the 3,000-member organization, Freedman spoke about his life as a working journalist and educator, the National Press Club's legacy and his goals during his one-year term in office.
I landed my first professional job in radio when I was 18—I worked my way through college as a sportscaster—and then spent a total of 15 years as a reporter and news director in Detroit. From there,  I joined United Press International in Washington, D.C., and served, first, as director of the UPI Radio Network and later as managing editor for the global wire service's broadcast division.

Ultimately, I realized my teenage dream when I joined CBS Radio Network as general manager and had the honor of working with Walter Cronkite . . .  with the legendary Murrow Boys of World War II . . . and with a team of current correspondents, anchors and producers who set and then perfected the modern standard for broadcast news.
The opportunity to teach journalism came from George Washington University President Stephen Joel Trachtenberg. I consider him a mentor in higher education, and thanks to him, I have been teaching—and learning from my students for 19 years.
He was also responsible for funding the launch of The Kalb Report public broadcasting series on journalism. The program is in its 26th season. Partnering with journalist Marvin Kalb and serving as executive producer has been an ongoing highlight of my career.

I owe a deep debt of gratitude to UMGC President Javier Miyares as well. He fully supports my role as president  of the National Press Club. He cares deeply about the role of the press in our democracy, and he has made it possible for me to take on the responsibilities of this office.     
At your inaugural gala, you emphasized Edward R. Murrow's role in shaping broadcast news and invited Murrow's son, Casey, as a speaker.  What do you see as the Murrow legacy?

Today, we think of Ed Murrow as the standard-bearer of the great traditions of broadcast journalism.  But in his time, he was an innovator. He literally invented broadcast news with his real-time radio accounts of the battles—and the human-interest stories—of World War II.
After the war, he went on to create the television documentary with the "See It Now" series. In his time, Murrow harnessed the power of the two cutting-edge media—radio and television—and he used them to teach, and illuminate and inspire.
Above all, Murrow had the courage of his convictions and he worked to make a positive difference. That, to me, is his legacy.
Why were you interested in being National Press Club president, and what do you hope to accomplish in your year at the helm?

Freedom of the Press. It's a cornerstone of our democracy, and for more than a century the National Press Club has served as a beacon . . . not only for journalists, but also for everyone who seeks to protect and defend the First Amendment. It serves as an indispensable platform to educate, inspire, empower and protect. I'm asking the leadership and membership to join with me to ensure we are using it to those ends.

And I believe we can accomplish this in several important ways . . . by standing as a powerful, positive voice for reporters and news organizations at work, by providing professional development for current and aspiring journalists, by upholding ethics and excellence in the profession, and by engaging in news literacy for the general public.
If we are successful, we will help protect the profession for current and future generations of journalists, for the American people and for those around the world who look to us as the standard-bearers of press freedom.
As a journalism educator, what do you tell your students about where the profession is heading and how they should prepare for it?

Aspiring journalists first need to learn the fundamentals of the profession, which have not changed.  Richard C. Hottelet, one of the vaunted Murrow Boys, often told my students: "Don't tell people what you think, don't tell them what you feel, just tell them what you know." I would add that they should always be curious and sometimes skeptical, but never cynical.
Today's journalism is no longer just 'print and broadcast.' So all aspiring journalists should learn to function on multiple media platforms. We have people today who listen to the New York Times and read CNN!

It's a new and exciting world for journalists but it's also a time of challenge—a time in which journalists face verbal and physical attacks . . . and not just in other countries, but here at home as well. So, security has become a greater factor in covering news.
And then there's the business side of the profession. Print editions of newspapers are in a steep decline and while many digital opportunities are emerging, it's tougher to find full-time employment with benefits. That means more free-lancing and entrepreneurialism, at least for some time during one's career.

So, one of the biggest challenges facing aspiring journalists is building a career that will sustain them financially. As a result we're losing a number of good young journalists. And that's another reason to remain vigilant in supporting news organizations.      
You have a great affinity for journalism history as well as a remarkable collection of both print and broadcast artifacts. What has attracted you to collecting and what are your favorite items?

My interest in American history has led to some unusual artifacts turning up in our home. My wife Renee and I have two sons, and they know how to use telephones with separate components for listening and speaking, wind-up phonographs that play wax cylinder records, and crystal, AM and shortwave radios . . . and, yes, we have some newspapers that date back to the American Revolution.

In the end, two of my favorite pieces are the gift from my mom—that little Bell Futura three-transistor radio that opened up the world to me when I put it under my pillow—and the letter of encouragement from Detroit Tiger broadcaster Ernie Harwell.
And I am very thankful for Renee's love and patience and for my very understanding family who allow that little boy in me to continue to exist today.
Photo Credits: Cover image courtesy of Nathan Mitchell, National press Club; transistor radio and Harwell letter, Mike Freedman