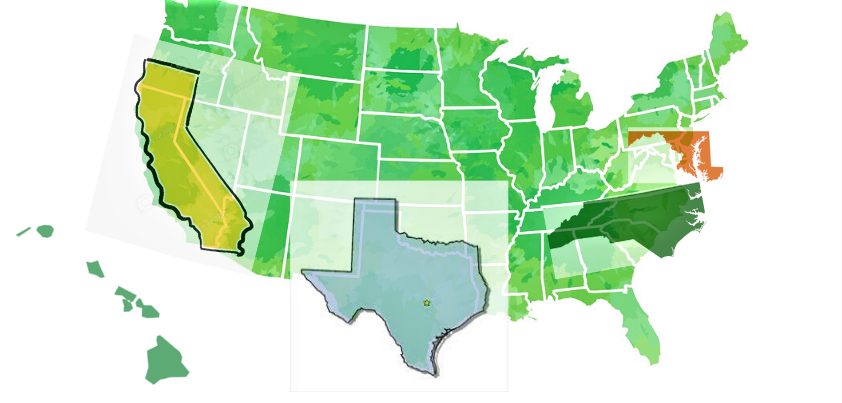 In U.S. cities with strong military populations, University of Maryland Global Campus (UMGC) is dropping anchor. It is doing so through stand-alone education centers offering classes and in-person advisory services focused on veterans, servicemembers and their families.
The strategy stretches UMGC's servicemember opportunities beyond classrooms in overseas military facilities.
UMGC officials said returning servicemembers and veterans can feel left out when they look for stateside options for continuing their education. The university is responding with a growing collection of facilities close to bases or in cities with large veteran populations. Students at the centers take hybrid courses that combine in-person and online instruction. The courses usually dovetail with maximizing their GI education benefits, including housing allowances.
"We started this mission of serving military members all the way back to our founding in 1947," said Keith Hauk, associate vice president of UMGC's Department of Stateside Military Operations. "If you think about that, you've got to meet servicemembers and veterans and their families wherever they are. And they're always in close proximity to military installations because that's where they work."
The new expansion started quietly in 2011 when an education center opened in Fayetteville, North Carolina. In late 2019, Hawaii became the fourth state where UMGC has planted roots.
"It is important for our servicemembers and veterans—and everyone—to  know that when [military] students relocate back to the United States from Europe and Asia, we actually have a fairly good presence across the United States—not just in the D.C. metropolitan area," said Kelly Wilmeth, UMGC's vice president for Stateside Military Operations.
In April, UMGC's new brick-and-mortar facility in Hawaii will launch a master's degree in transformational leadership. That complements the menu of classes that have been available since the facility opened in October, joining the roster of off-base classrooms in California, North Carolina and Texas.
"These are civilian locations near major military installations or multiple military installations," Wilmeth explained. "In some cases, these are places where we do not offer hybrid instruction on the surrounding military installations."
This new expansion push has been steady, although slowed by higher education licensing and approval regulations, which vary widely from state to state. When the first center opened in Fayetteville, it was projected that it would serve a student base of 700. The center in Pearl City, Hawaii, is estimated to have close to 2,000 potential students.
Fayetteville was followed by San Diego, California; Killeen, Texas, near Fort Hood.; and in January 2018, Odenton, Maryland, near Fort Meade, home to the National Security Agency, Central Security Service, United States Cyber Command and the Defense Information Systems Agency, These small facilities are often commercial storefronts or office space in malls, and they have evening classes as well as on-site academic advisory services.
In Texas, a second classroom facility is now in the works for San Antonio.
The Hawaii education center—nicknamed UMGC@Pearl City—offers undergraduate and graduate courses that combine online and in-class learning components. As in the other UMGC locations, the facility provides Hawaii-based students with hybrid instruction that is not offered at other military installations in Hawaii, except for the U.S. Coast Guard station in Honolulu
The new education center also offers face-to-face contact with academic advisors. Even with the new service, however, UMGC military education coordinators continue to visit all the military bases around the island to meet with students and provide on-site academic advisory services.
Renetta Watts, Stateside Military Operations' assistant director for the Western Region, is assigned to the San Diego facility. She said the new centers are designed to address the difficulties in completing a degree in one duty station. "We want to help students continue on their whole path—and this is one way," she said.
Watts explained that military members often have start-and-stop academic careers. UMCG's expansion helps them stick to their educational aspirations. She pointed to a woman who had enlisted in the military, become an officer and retired after 20 years of service. "She wanted to finish the bachelor's degree she started 20 years earlier. She did it through UMGC. She had grandchildren—and she walked at commencement," Watts said.
"Our military students work hard," Watts added. "They may be full-time military, full-time student and with a full-time family. Yet they'll get A's and B's and graduate."
UMGC's expansion into San Diego was sparked, in part, by the Navy's decision to remove Navy colleges from stateside locations. Watts said San Diego is home to the nation's largest concentration of military personnel. She noted that some servicemembers interested in continuing their education were not aware that the Navy college offices had closed.
"We have four Navy bases in the San Diego area, as well as three Marine Corps bases. When students transfer between divisions, they are referred to the UMGC San Diego location but they cannot find the Navy College Office," Watts said. "We are concerned about our students' access to educational advising and want to be available."
The San Diego center teaches the face-to-face component of four hybrid undergraduate courses each term in 16-student classrooms. It is currently looking for additional classroom space. Instructors are recruited from among UMGC adjunct faculty based in San Diego. Many are former military members themselves.
Courses offered have run the range from writing, telecommunications and business administration to biology, ethics and information technology. A project management course for an undergraduate certificate program is currently under discussion.
Although the programs are focused on veterans, servicemembers and their families, Wilmeth said "anybody who walks in our doors can take a class. They don't have to be affiliated with the military." She said the facilities can also accommodate corporate trainings.
Hauk acknowledged that servicemembers and veterans can enroll in online classes through UMGC. Still, he said, some students want the flexibility to take hybrid or face-to-face courses. Many feel more comfortable with that option because it replicates the education experience they had when serving at military bases.  
"Everybody's got different learning styles but, for example, basic-requirement classes—math, science, writing—are sometimes more appealing face to face," Hauk said. He added that brick-and-mortar classroom settings also make group projects more manageable, magnify the impact of professional networking and deepen interactions with instructors.
Hauk cautioned that the new strategy does not mean UMGC education centers will spring up everywhere.
"We can't go to every single place there is a military base across the continental United States. We need places where there are large concentrations of military and veteran students and their families," he said.
Watts said UMGC is also looking at collaborations with community colleges and veterans' organizations.
"Military members and their families learn about UMGC when they are assigned overseas. They like our programs and want to stay with us to complete their educational goals," Wilmeth said. "They're used to face-to-face instruction in Europe and Asia under our contracts with the military. But for many years when they returned to the U.S., they found we only offered hybrid classes in the D.C. metro area.
"These new locations accommodate them if they don't land in Maryland and don't want to do everything online. These classes are also for veterans who may not have base access anymore," she added. "This is an investment to provide our students with the services they've been accustomed to and to help them stay to complete their degree."