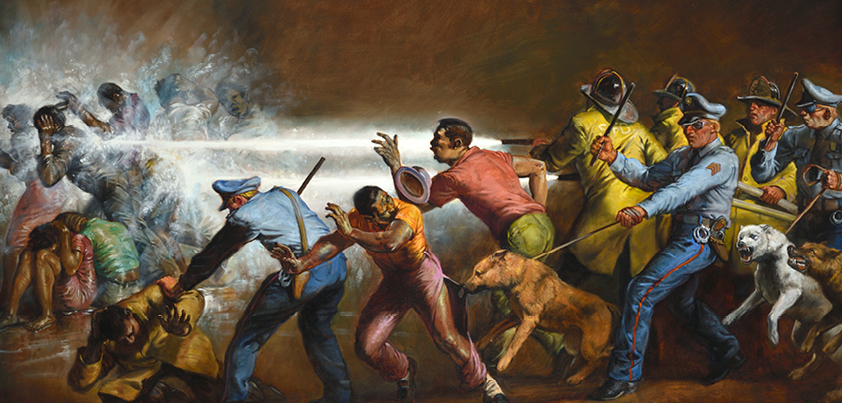 Galleries and Exhibitions Temporarily Closed
To protect the health of the University of Maryland Global Campus community and visitors, the Arts Program galleries and exhibitions are temporarily closed to support the university's efforts to contain the spread of coronavirus disease. Updates will be posted on the UMGC Arts Program webpage as they become available.
The University of Maryland Global Campus Arts Program celebrates the extraordinary work of renowned artist Joseph Sheppard and his efforts to capture scenes of everyday life and culture with its latest exhibition, "Joseph Sheppard: An African American Experience."
The solo show showcases paintings, sculptures and drawings documenting aspects of 20th-century African American life through wide-ranging subject matter that includes sports figures, such as Baltimore, Maryland, legend Mack Lewis who ran a boxing gym there for many years, global scenes of daily life, and the assassination of Martin Luther King Jr.
The opening reception for the exhibition was on Sunday, Feb. 23, in the Dorothy L. and Henry A. Rosenberg Jr. Painting Gallery at The Leroy Merritt Center for the Art of Joseph Sheppard at UMGC.
Funding for the project was provided by the Friends of the Arts Program, Maryland State Arts Council, and Wolpoff Family Foundation.
About the Artist
Joseph Sheppard is no stranger to the Maryland community or to UMGC. For more than 55 years, Sheppard has paid homage to the past with paintings, drawings, sculptures, and other artworks that honor the present. Throughout his career, he has held fast to his belief in realism—the sanctity of real formations and his commitment to their expert execution.
Born in Owings Mills, Maryland, in 1930, Sheppard attended what is now known as the Maryland Institute College of Art (MICA) on a four-year scholarship from 1948 to 1952. He studied with Jacques Maroger, former technical director of the Louvre, who is credited with the rediscovery of the mediums used in old master paintings. Sheppard was artist in residence at Dickinson College from 1955 to 1957 and taught drawing, anatomy and painting at MICA from 1960 until 1975. He traveled to Europe on a Guggenheim Fellowship in 1957 and has received numerous other prizes and awards in both painting and sculpture.
Sheppard divides his time between Pietrasanta, Italy, and Baltimore. He is represented in major collections and museums throughout the world, including the Butler Institute of American Art and the Columbus Museum of Art (Ohio), the Figge Art Museum (Iowa), the University of Arizona Museum of Art (Tucson), the Carnegie Museum of Art and the Westmoreland Museum of American Art (Pennsylvania), the Chrysler Museum of Art (Virginia), the Baltimore Museum of Art (Maryland), Brookgreen Gardens (South Carolina), the Mobile Museum of Art (Alabama), the New Britain Museum of American Art (Connecticut), and the Museo dei Bozzetti (Italy). In addition, the Arts Program at UMGC includes a large collection of his works in its growing Maryland Artist Collection.
Joseph Sheppard: An African American Experience:
Exhibition Dates:
Temporarily closed
Location:
Dorothy L. and Henry A. Rosenberg Jr. Painting Gallery, The Leroy Merritt Center for the Art of Joseph Sheppard. University of Maryland Global Campus, College Park Marriott Hotel & Conference Center, 3501 University Boulevard East Adelphi, MD 20783 | Directions