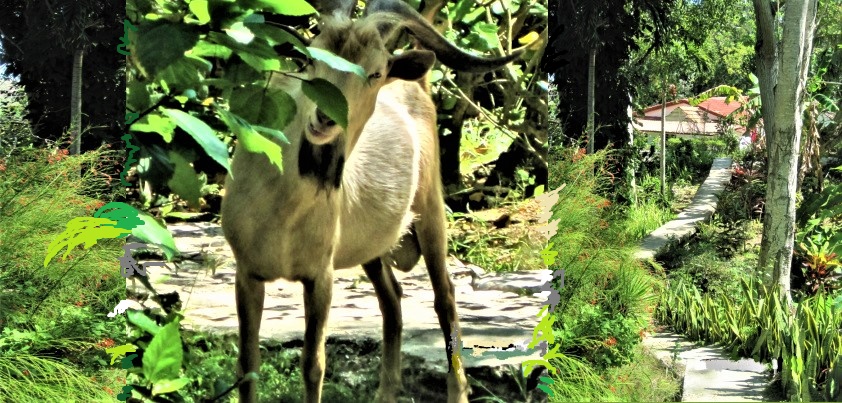 Last April, the University of Maryland Global Campus Arts Program organized a trip to Havana, Cuba, for that country's 13th art biennial—the XIII Bienal de La Habana. This, the second of three stories that reflect on that experience, is a companion piece to the in-depth feature article and photo spread, "Art. Freedom. Cuba," in the just-published Winter 2020 issue of Achiever Magazine.
The Chinese-made tour bus cruised along Cuba's A-1 motorway, the Autopista Nacional, a toll-free multi-lane divided national highway. The road, built in sections during the 1980s, is supposed to traverse the distance between Havana and Guantanamo, about 570 miles to the southeast.
"But it goes to the middle of the country and just stops," said Eric Garcia, the Havanatur guide, interpreter and all-around Cuba travel go-to guy whose recitations and color commentary kept the 17-member University of Maryland Global Campus Art Program tour group informed and entertained during their weeklong exploration of Cuban art. "If you come back to Cuba to start one, a good business to have would be selling cars . . . also toilet seats."
As Garcia explained it, construction on the roadway came to an abrupt halt in 1990 during Cuba's "special period" when the collapsing Soviet Union withdrew manpower, supplies, and financial support, driving the island nation into ever-deepening economic crisis. Now, as the landscape rolled by the bus windows, an occasional vintage tractor or remnant of long-since abandoned industrial machinery, rusted in place like Dorothy's Tin Man, stood like steampunk memorials to Cuba's past—and present.
Roughly an hour south of Havana and well away from the Autopista, the bus lumbered up a heavily rutted dirt and gravel single-lane road to Manto Blanco, the farm and studio where internationally acclaimed artist Manuel Mendive lives and works. Here, under the watchful eyes pf vigilant goats, visitors step into a mystical space where sculptural creatures emerge from the rocks and grasses, and the natural and spiritual worlds unite.
And here, through his art, Mendive explores Afro-Cuban cultural traditions and Yoruba mythology with a distinctly personal vision.  His creative universe is "a world of total equity [where] clouds are birds are people . . .  [where] trees are people that are birds," said Christine Licata, former curator at the Bronx Museum of the Arts, in her 2018 commentary on Mendive's solo exhibition "Nature, Spirit, and Body" that was appearing at the museum at the time.
Mendive makes plentiful use of cowrie shells in this trio of sculptures where birds keep watch over a human-spirit-fish and illustrate the artist's notion that "we are all swimmers" and one in nature
Symbols of the sea figure prominently in Mendive's work. And a common motif that runs throughout is his liberal incorporation of cowrie shells into his sculptures and paintings—and on the bodies of dancers in his performance art pieces. Licata said that for many cultures in Africa, cowrie shells represent the "mouth of the divine." In part, their use signifies the connection between all living things and the spirit, which is the energy that Mendive has said gives life to all.
Detail from a tapestry that appeared in the 2013 solo show, "Things that Cannot Be Seen Any Other Way," at Florida International University, represents Mendive's thoughts about ancestry in the Bantu oral tradition—all who have come before are here with us
Though he received rigorous classical training at the National Academy of Fine Arts in San Alejandro, Cuba, some observers mistake Mendive's work for folk art because "he keeps everything on a single perspective and plane," Licata said. "But that's all part of his conceptual work—that it's an equitable universe."
The artist talks about his connection with nature and his artistic process in the Kennedy Center Digital Stage Original, "Manuel Mendive: Nature, Spirit, and Man," a five-minute video produced in 2018 and posted on the Kennedy Center YouTube page.
Mendive, who was born in Havana in 1944, takes solace and draws inspiration for his art from the Cuban countryside. His contemporary, artist Eduardo Roca Salazar—commonly known as "Choco" because it is said he resembles Kid Chocolate, the famous Cuban boxer of the 1930s, was born near Santiago de Cuba in 1949 and is similarly inspired by his agricultural roots.
But instead of working in a pastoral setting, for the past 25 years he has plied his craft in the bustling center of Old Havana in the space he calls el Taller del Sol, the Workshop of the Sun.  He has said that though the themes in his work have shifted from the literal "village, from men cutting sugarcane, from fieldwork," they still always arise from Cuba and the Cuban people.
"Mendive and Choco both have the connection to African Culture in their work," said UMGC Art Program Director Eric Key. "Except they use different approaches and techniques to incorporate this idea."
Some of Choco's tools of the trade at his Old Havana workshop, el Taller del Sol
Choco creates sculptures in bronze and wood and has "done some ceramics." But he is mostly known for his work in collagrophy—a form of printmaking in which prints are created by building up the printing surface with inks and other materials, rather than cutting into it, and transferring the shapes created onto another piece of paper in a process similar to collage-making.
Where there is a mystical quality to Mendive's work, Choco's is bold and heavily textured. Some of his sculptural pieces are thick with paint.
"[Choco] took his work a step farther. He really moved into a very contemporary approach with geometric patterns," Key said. "And then some of those geometric designs became almost pure abstractions."
It's with Choco's representations of human figures that you see most distinctly the relationship with his contemporary approach and cultural references of Africa, Key added. In each discrete work, he uses line, texture, shape and color to capture the depth and breadth of Cuban ethnic diversity—a rainbow of skin tones and blended facial characteristics that span the globe  . . . a mouth from one continent, eyes from another, the nose or brow from a third.
"I believe that I am reflecting man universally in each of those faces," Choco has said of his work.
A former professor, Choco told the UMGC group that he taught for 12 years at Cuba's National School of Art, where he was once a student, and that he recently took an art course at the University of North Carolina at Chapel Hill.
"I loved teaching, but all the different commitments I had in the international arena, the exhibits I had . . . I was required to travel. And I was more devoted to my personal work and that is what I had to do."
Choco was one of 30 Cuban artists included in the 2016 exhibit "PRESENTE! Contemporary Art from Cuba," in London.  The artist discusses his work in a three-minute video posted on the "PRESENTE!" exhibition YouTube page.
Read more about Cuban art in the Winter 2020 issue of the UMGC Achiever Magazine feature article, "Art. Freedom. Cuba."