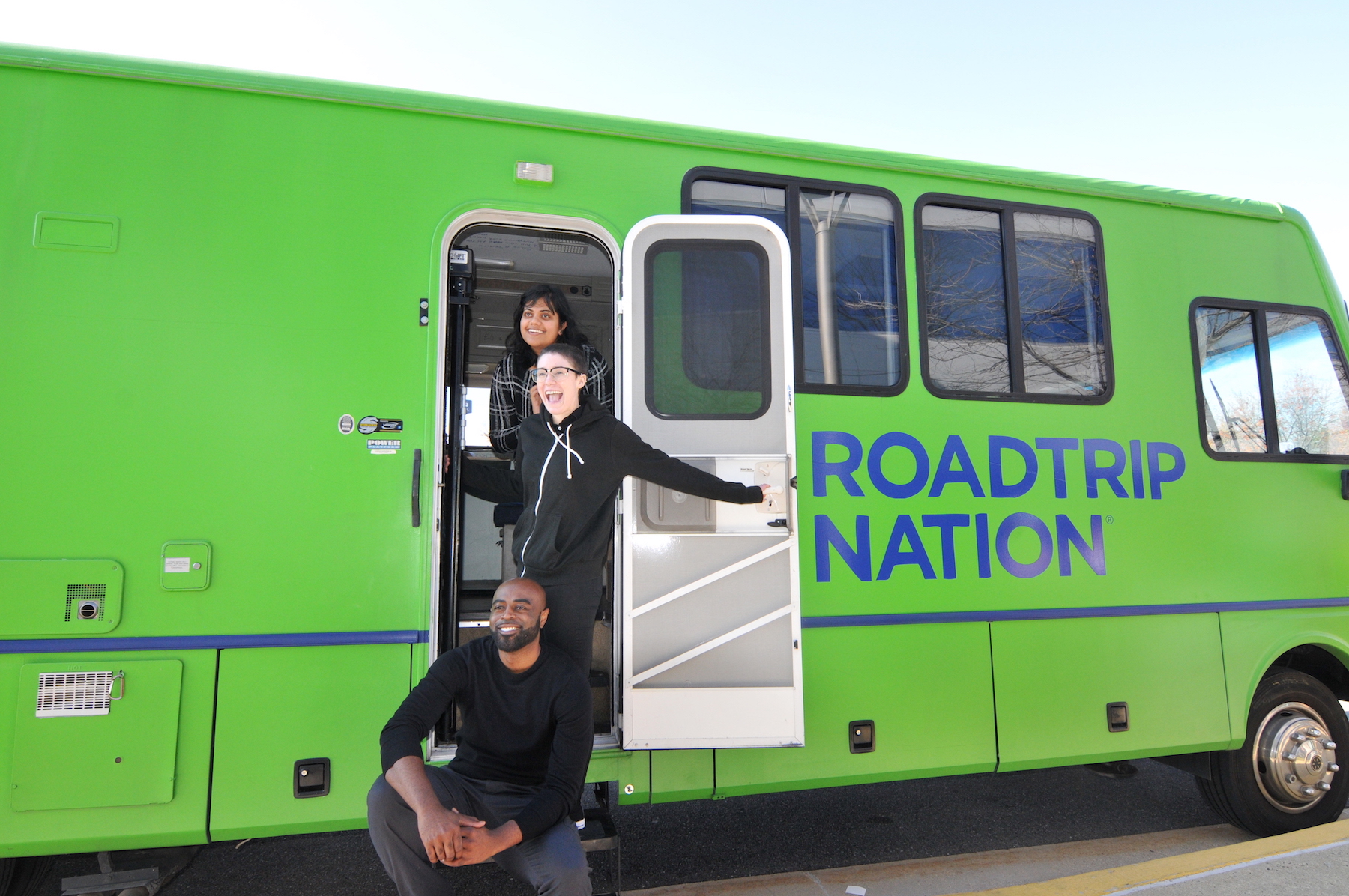 Fellow Roadtripper and current UMGC graduate student Antwan King meets his "cyber" superhero as the group made its way to the Washington, DC area before heading west.
On Friday, December 2, the three participants in Roadtrip Nation's "Cybersecurity" trip, which kicked off on November 27 in New York City, made their way down to the Washington, D.C. region. During their stop in the D.C. area, a visit that included interviews with cyber leaders and a tour of the National Cryptologic Museum, roadtrippers Mansi Thakar, Emily Cox and UMGC's own Antwan King rolled into the UMGC Academic Center at Largo to share with family members, supporters, and UMGC faculty and staff their first impressions of the trip, their career aspirations, some life lessons, and what it's like traveling together in an RV with the cameras rolling. (Roadtrip Nation will produce a documentary about the cross-country journey that will air on public television in spring 2017.)
UMGC's Antwan King kicks off his
For UMGC's King, the visit to DC was especially meaningful because he was able to meet his "cyber superhero," Michael Echols, CEO of the International Association of Certified ISAOs and former director of the Cyber Joint Programs Management Office at the Department of Homeland Security.
When asked about what this opportunity meant to him, King said, "You wake up every day, you try so hard, and sometimes people tell you "no," but now I get to talk to the people who can help me define a path and discover what works."
For the three participants, the trip thus far has been chock full of many unique experiences. However, they all agree that driving the RV stands out as one of the most thrilling. Said Cox, "I've never been to any of the cities on the trip, and I've never even been in an RV. Now I get to drive it across the country!"
Learn more about Roadtrip Nation at roadtripnation.com and roadtripnation.org. To stay up to date on the journey, follow @RoadtripNation, @UMGC, and #CybersecurityRoadtrip on Twitter.