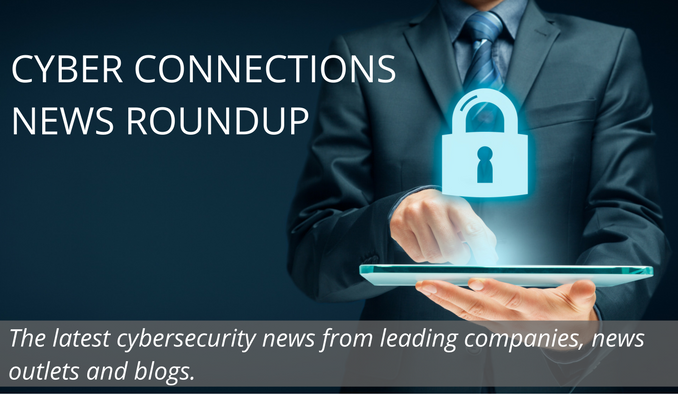 Get the latest cybersecurity news from leading companies, news outlets and blogs.
Cyber Connections News Roundup is a bi-weekly brief of online links to news stories and commentary of interest to the cybersecurity community, delivered on the second and fourth Tuesday of each month. Articles are selected for their newsworthiness, timeliness, potential impact, and reach.
June 4, 2019
Startup BlueVoyant Raises $82.5 Million at a Valuation in Excess of $400 Million
According to a recent article on www.techcrunch.com, New York based cybersecurity startup BlueVoyant, a provider of managed security, professional services and, threat intelligence, has raised $82.5 million in a Series B round of funding at a valuation in excess of $430 million. The funding is coming from a range of new and existing investors that includes fintech giant Fiserv. Read more.
Cybersecurity Stands to Benefit from Advancements in AI
An article on www.globalsign.com reports that cybersecurity may be one of the key beneficiaries of advancements in artificial intelligence (AI). AI, for example, can be used to detect imminent threats by collecting data from different logs and records and identifying new threats that are being spread by hackers. AI can also identify malware and spyware trends by analyzing data across multiple channels. AI lets users detect malware systems faster and before they can do damage on a large scale. Read more.
Middle East and Africa Cybersecurity Market Expect to Take Off
A new report featured on www.researchandmarkets.com predicts that the Middle East and Africa cybersecurity markets will expand at a CAGR of 11.9 percent and is expected to be valued at USD 23.4 billion by 2023. Contributing to this rise is the digitization in verticals such as banking, financial services, government, and the oil and gas industries, which has triggered the risk of cyber attacks. The main reason for the cybersecurity market's exponential growth rate is improved awareness, and the adoption of various cybersecurity services that are needed to safeguard smart grid devices, digitized businesses, and IoT-based smart cities. Read more.
New Cybersecurity Legislation Aims to Secure Nation's Election
Sens. Amy Klobuchar, D-Minn., and Susan Collins, R-Maine, introduced legislation to secure the nation's elections by providing training to state and local election officials, according to a report on www.brainerddispatch.com. The "Invest in Our Democracy Act of 2019" would direct the Election Assistance Commission to provide grants in support of continuing education in election administration or cybersecurity for election officials and employees. The Act would establish a grant program administered by the Election Assistance Commission to cover up to 75 percent of the cost of the yearly tuition of election officials and employees who are enrolled in an accredited certificate program for election administration or cybersecurity. The Act would also provide $1 million for fiscal year 2021 and such sums necessary for each fiscal year between 2022 and 2028. Read more.
Poor Cybersecurity Can Do Damage Beyond Your Bottom Line
A recent article on www.securityboulevard.com enumerates the ways poor cybersecurity measures could harm your business. For example, your initial impression may be that weak cybersecurity only affects your organization, but a lack in cybersecurity can also be problematic for an organization's customers and wider markets. Companies can steer clear of this fault by taking a top-down approach to cybersecurity. Read more.