Women hold 56 percent of all professional jobs in the U.S. workforce, but only 25 percent of IT jobs, according to the National Center for Women and Information Technology. And among women in IT, only 11 percent work in information security, reports the Women's Society of Cyberjutsu (WSC).
Earlier this month, on March 8, we celebrated International Women's Day, so there is no better time to explore why this deficit exists and, perhaps, offer some solutions to help expand the pipeline of women in the cybersecurity field.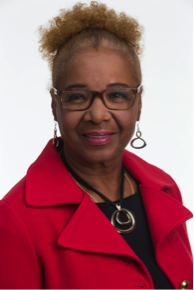 UMGC's Cyber Connections caught up with Dr. Loyce Pailen, director of the Center for Security Studies and a cybersecurity pioneer with more than 35 years of wide-ranging experience in software development, project management, telecommunications, risk management, and network and systems security and administration. She shares her thoughts on the future of women in cybersecurity.
CC: For starters, what keeps you up at night in the cybersecurity space? What should we be focusing on?
LP: During the 2016 presidential election, there was considerable discussion regarding cybersecurity issues that related to email servers, election hacking and nation-state cyber intrusions. As a cyber-professional, I was concerned that the media and politicians tossed around cybersecurity-related stories, terminologies and notions to a general populace that did not understand cybersecurity concepts well enough to make sense of what they were hearing and make intelligent decisions.
For those girls and women inclined toward technology, do not let any imaginary barrier stop you from entering the field. For those women in non-technical fields, embrace cybersecurity and make your positions more valuable to your organization or agency.
Nonetheless, this dilemma was a call-to-action for my second issue of concern, the dearth of skilled individuals to fill current and future cybersecurity workforce needs. Experts say that more than 300,000 jobs exist today—jobs that are vacant because, nationwide, we do not have people with the cybersecurity skills to fill them.
For the future, that number of openings will increase exponentially. For example, results of the eighth Global Information Security Workforce Study (GISWS) indicated that the projected workforce shortage would reach 1.8 million professionals by 2022 (ISC2). And forget about minimum wage jobs. Even at entry level, these are high-paying cybersecurity positions in the public and private sectors.
My concern is that we are not raising our children with the cybersecurity awareness and education required for the digital age in which we live. My call to action was to author a series of fun, illustrated children's books on cybersecurity so that youngsters—and those who like to read to them—can grow familiar with cyber terms, technologies and careers. Just think where we would be today with cybersecurity workforce needs if Harry Potter were a cybersecurity person!
CC: Tell us a little bit about your career path, as a woman in the field, and the hurdles you've overcome?
LP: I've been out of the public and private sector for several years now, so some of the hurdles that I experienced in my career path to information technology and cybersecurity have faded. Only recently, I did reflect on the obstacles as I watched the movie "Hidden Figures" about African-American women at NASA entering the field of data processing.
It recalled the days of punched cards, Fortran programming, large mainframes, and the discrimination in the male-dominated field of information technology, and once again it became familiar. But the issues were never insurmountable. Dwelling on those problems tends to stifle one's growth and productivity.
CC: What do you think can—and should—be done to expand the cybersecurity pipeline for women and minorities?
LP: My entire career, both in information technology and in software development for a large media company's circulation systems, has been male-dominated. My current concern after more than 30 years in the cybersecurity industry, it's disheartening to see, is that the field's male domination is still the same, and many of the issues that existed early on still occur.
The gender and racial imbalance was evident to me in workshop sessions I attended at a recent 2017 Black Women in Computing (BWIC) Conference at Howard University, where continuing racial concerns in the technology and cybersecurity fields dominated the conversations of up-and-coming female computer scientists.
I recently witnessed an amusing incident at the 2017 RSA Conference in San Francisco that underscored the male domination of cybersecurity. Possibly the largest conference in the cybersecurity arena with 40,000 attendees, the male domination was so overwhelming that the lines to the men's restroom stretched down long hallways and, for once, women experienced no lines at all. I found this a refreshing turnaround from the traditional.
In its own way, the lines illustrated the male domination of the cyber field. More realistically though, I believe a quick analysis of each conference-speaker's gender would also accentuate the imbalance.
CC: So, why do you think we are we still at this juncture?
LP: Unfortunately, outside of the fact that we have not done well educating our youth, I am not sure why, because it seems that when society wants to instill something in children's minds and produce positive habits, we find a way.
Likewise, in the 1980s my daughter was influenced by the major campaigns directed at schoolchildren to "never smoke" or to "stop smoking." She became part of a generation that never adopted the cigarette habit and that convinced their parents to stop smoking. I was a target of her campaign and it worked.
Connected with this behavior modification concept, the "CSI Effect" from the popular television show "CSI: Crime Scene Investigation" proved to have a profound impact on careers related to forensics science. So, why can't we lobby for and create TV shows and campaigns that would be just as effective to support existing STEM, WIT, WIC, BWIC and other such efforts?
Rather than merely being consumers of tech products, we need to instill interest in their underlying technologies. And we need to fire-up the interest in cybersecurity for girls and other minorities.
CC: What advice and encouragement would you offer women entering the cybersecurity field?
LP: My advice for anyone entering the cybersecurity field is simply to embrace the multi-disciplinary and global nature of the careers in this arena. Of course, there is a need for highly technical workers who understand concepts like secure software development, secure systems, networking and cloud computing, access control, incident handling and cyber defense.
However, cybersecurity is part of everyone's job nowadays. Individuals in the fields of human resources, accounting and finance, law, health care, marketing, management and the like all have an obligation to understand the impact of cybersecurity on their careers.
For those girls and women inclined toward technology, do not let any imaginary barrier stop you from entering the field. For those women in non-technical fields, embrace cybersecurity and make your positions more valuable to your organization or agency. I encourage them to seek education, training and certification opportunities to "bolt-on" cybersecurity knowledge and learning that will enhance their current careers.