Chair, Board of Directors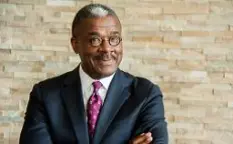 Background
With a unique appreciation for the business needs and leadership qualities required to grow and advance an organization, William R. Roberts began his career at an organization he would later lead. With more than 35 years of experience in business, operations and strategy, Roberts today shares his knowledge and expertise as senior vice president and chief administrative officer of KCI Technologies, an engineering, consulting and construction firm serving clients throughout the U.S. and beyond.
Roberts began his extensive career with the Chesapeake and Potomac Telephone Company, which later became Verizon, Washington, D.C., as a business office manager. He held positions of increasing responsibility in Operations, Human Resources, Marketing, Public Affairs, and Government Relations, before assuming responsibility in 2000 for Verizon's public policy initiatives in Maryland, as president. Subsequently in 2007, he was named region president of Verizon Maryland and the District of Columbia, overseeing all of the company's operations in those areas. He retired in 2011, following 32 years of service.
As a Maryland native, Roberts' diverse board involvement reflects his passion for leading institutions and organizations that benefit the community. He currently serves as a board member of Greenspring Financial Group, Ltd. He has also served as chairman of the Board of Directors for MedStar Health, the largest not-for-profit healthcare system in Maryland and the Washington, D.C., region. Additionally, he has served as board chairman for the Maryland Chamber of Commerce, National Aquarium in Baltimore, and the Baltimore branch of the Federal Reserve Bank of Richmond; as well as serving as a board member for the Greater Baltimore Committee, Greater Washington Board of Trade, Kennedy Krieger Institute, Partners in Education, Morgan State University Board of Regents, and Federal City Council.
Roberts holds numerous honors and distinctive recognitions, including two honorary doctorate degrees. He also was named the Loyola University Sellinger School of Business 2004 Business Leader of the Year. In 2012, he was inducted into the Maryland Chamber of Commerce Business Hall of Fame, recognizing the accomplishments of Maryland entrepreneurs and business executives whose contributions, in business and the community, have helped advance the quality of life for Marylanders and the state's business climate.
As an advocate for continuous learning, Roberts has completed executive and leadership development programs at the University of Richmond-Robbins School of Business, Institute for Public Service in Washington, D.C., and Center for Creative Leadership in Greensboro, N.C.  He is a member of Beta Gamma Sigma International Honor Society, Omega Psi Phi Fraternity, Inc., and Sigma Pi Phi Beta Mu Boule. Roberts resides in Montgomery County in Chevy Chase, Md.