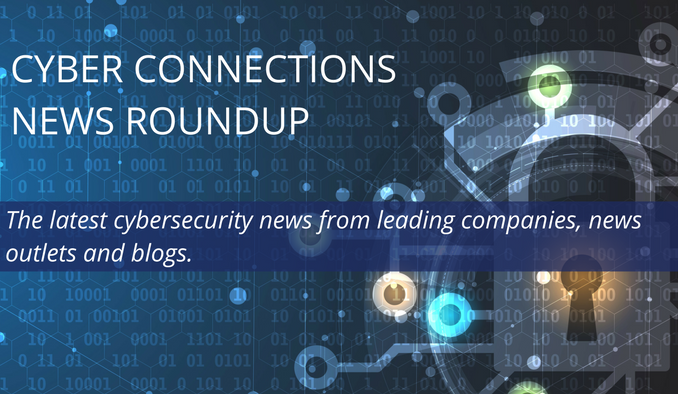 Get the latest cybersecurity news from leading companies, news outlets and blogs.
Cyber Connections News Roundup is a bi-weekly brief of online links to news stories and commentary of interest to the cybersecurity community, delivered on the second and fourth Tuesday of each month. Articles are selected for their newsworthiness, timeliness, potential impact, and reach.
June 30, 2020
New Bipartisan Bill Aims to Establish Nation Cybersecurity Czar
According to a recent report on www.securitymagazine.com, a bipartisan group of six House members introduced a bill to establish a National Cyber Director in the Executive Office of the President. Three Democrats and three Republicans are sponsoring the National Cyber Director Act, which would create a Senate-confirmed director, and two deputy directors appointed by the president. The National Cyber Director would be appointed by the President subject to Senate confirmation and would head an office within the Executive Office of the President to oversee and coordinate federal government incident response activities, collaborate with private sector entities, and attend and participate in meetings of the National Security Council and Homeland Security Council. Read more.
Zoom Appoints New Cybersecurity Lead
Zoom Video Communications, Inc. has announced the addition of a new cybersecurity team leader. Jason Lee will join the company as its Chief Information Security Officer, effective June 29, 2020. Lee, most recently the Senior Vice President of Security Operations at Salesforce, will oversee the final stages of a 90-day sprint to deal with a wide range of cybersecurity and privacy issues that emerged during the national shift to work-from-home practices. Read more.
UCSF Pays $1 Million Ransom Following Cyber Attack
The University of California, San Francisco (UCSF) has confirmed it paid a ransom totaling $1.14 million to the criminals behind a cyber attack on its School of Medicine, according to a recent report on www.forbes.com. On June 1, hackers behind the Netwalker ransomware campaign attacked UCSF networks within the School of Medicine IT environment. While the attack did not impact patient care delivery operations or research work on a cure for COVID-19, the University did make the decision to pay some portion of the ransom, approximately $1.14 million. Read more.
Senators Demand Cybersecurity Standards for Self-Driving Vehicles
Senator Edward J. Markey (D-Mass.) and Richard Blumenthal (D-Conn.), members of the Commerce, Science and Transportation Committee, recently reintroduced two pieces of legislation to address cybersecurity in self-driving cars. The bill, Security and Privacy in Your Car (SPY Car) Act, directs the National Highway Traffic Safety Administration (NHTSA) and the Federal Trade Commission (FTC) to establish federal standards to ensure cybersecurity in increasingly computerized vehicles and to protect drivers' privacy. The bill also establishes a rating system that informs consumers about how well the vehicle protects drivers' security and privacy beyond those minimum standards. Read more.
Microsoft Doubles Down on IoT Security with Acquisition of CyberX
According to a recent article on www.techcrunch.com, Microsoft announced the acquisition of CyberX, a security startup that focuses specifically on detecting, stopping, and predicting security breaches on internet of things networks and the networks of large industrial organizations. It is expected that CyberX will complement Microsoft's Azure IoT security capabilities, which extend to existing devices including those used in industrial IoT, Operational Technology and infrastructure scenarios. According to the article, Microsoft's interest in the company touches on two key areas: IT services for large enterprises, and cybersecurity — specifically cybersecurity that leverages AI to identify and combat threats. Read more.