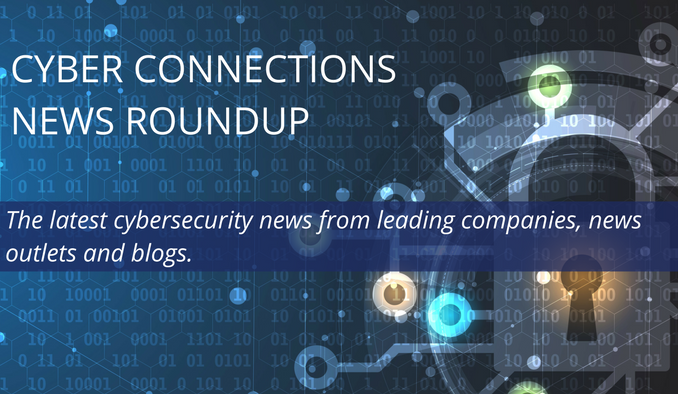 Get the latest cybersecurity news from leading companies, news outlets and blogs.
Cyber Connections News Roundup is a bi-weekly brief of online links to news stories and commentary of interest to the cybersecurity community, delivered on the second and fourth Tuesday of each month. Articles are selected for their newsworthiness, timeliness, potential impact, and reach.
September 10, 2019
U.S. CISO Schneider: Federal Government Must Lead on Cybersecurity
U.S. Chief Information Security Officer (CISO) Grant Schneider, speaking at the recent Billington Cybersecurity Summit (Sept. 4-5 in Washington, D.C.), said that the federal government must lead by example for the private sector and American citizens in how to properly manage cybersecurity. In a recent conference summary on www.fedscoop.com, Schneider's argument for a U.S. leadership role stems from the federal government's efforts to set cybersecurity policies and requirements and develop tools that bring agencies together in a unified posture against threats. "Private entities look at the requirements that we put upon federal agencies," Schneider said. "Government agencies can also serve as an example for how you can best protect your information as a citizen or as a corporation," he added. Read more.
Flagstaff Schools Close Due to Ransomware Attack
Flagstaff Unified School District officials worked over the weekend of Sept. 7-8 to resolve a cybersecurity issue that forced closures of all schools on September 5-6. According to a report on www.usnews.com, officials from the school district said they were working to secure critical internet-based systems while investigating the origin and possible damage resulting from the ransomware in the district's computer system discovered on Sept. 4. Officials cut off access to the internet and hundreds of teachers and other district employees on Friday turned in their Windows devices at a nearby middle school so they could be scanned for contamination and have new malware protection installed. Read more.
New Online Training Game Brings Cybersecurity to Life
According to a report on www.khq.com, ​ThreatGEN, a cybersecurity training and services company based in Houston, Texas, released what it claims to be the world's first online multiplayer computer game designed to teach cybersecurity. Titled ThreatGEN®: Red vs. Blue, the game aims to create an immersive cybersecurity experience that teaches practical applications of cybersecurity concepts that have traditionally been more strategic or abstract, such as building a cybersecurity program and managing a budget. Read more.
Proliferation of Augmented Reality Applications Exposes Security Risks
A recent article on www.forbes.com examines the cybersecurity implications of augmented reality (AR), a technology that enhances objects that reside in the real world through computer-generated information. AR technology is advancing rapidly as commercial applications are being implemented in manufacturing, industry, shipping and logistics. But the growth of AR applications brings with it an expanding landscape of new cybersecurity vulnerabilities as adoption often outpaces a thorough vetting of any associated security risks, particularly as it involves wearable or tablet-based AR applications that require Wi-Fi. Read more.
Nearly 40% of Enterprises Lose Business Due to Cybersecurity Performance
According to a new commissioned study conducted by Forrester Consulting on behalf of BitSight, titled "Better Security And Business Outcomes With Security Performance Management," nearly two in five enterprises admit that they have lost business due to either a real or perceived lack of security performance within their organization. The study, based on a survey of 207 security decision makers, evaluates how executives understand and effectively measure their cybersecurity performance and adequately communicate it to the board, senior executives, customers, and critical stakeholders. Read more.