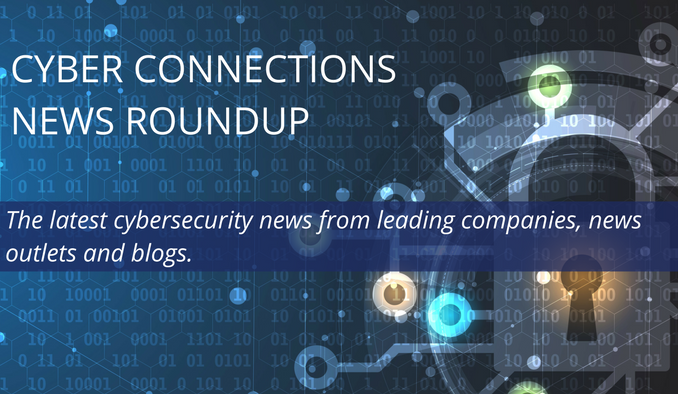 Get the latest cybersecurity news from leading companies, news outlets and blogs.
Cyber Connections News Roundup is a bi-weekly brief of online links to news stories and commentary of interest to the cybersecurity community, delivered on the second and fourth Tuesday of each month. Articles are selected for their newsworthiness, timeliness, potential impact, and reach.
May 21, 2019
States Make Strides In Cybersecurity But Is it Enough?
On https://www.govtech.com, blogger Dan Lohrmann offered a report from the National Governors Association Center for Best Practices' third National Summit on State Cybersecurity (May 14-15, 2019 at the Shreveport Convention Center). The event convened state homeland security advisors, chief information officers, chief information security officers, governors' policy advisors, National Guard leaders and others to explore cybersecurity challenges and promising practices. Overall, Lohrmann observed "a sense of how far the nation has come regarding cybersecurity, tempered by a recognition of how much more needs to be done." He also highlighted comments from keynote speaker Chris Krebs, director, Cybersecurity & Infrastructure Security Agency, U.S. Department of Homeland Security, who discussed the actions of Russia during the 2016 election and reminded the audience that ransomware and a host of other cyber trends are also top priorities of the administration. Read more.
IoT Is Major Driver in Growth of Artificial Intelligence Market
According to a new report from B2B research provider MarketsandMarkets, the artificial intelligence in cybersecurity market is projected to reach USD 38.2 billion by 2026 from USD 8.8 billion in 2019. Major drivers for the market's growth include the adoption of IoT. Other factors are the increasing number of connected devices, rising instances of cyber threats, and increasing vulnerability of Wi-Fi networks to security threats. According to the report, titled "The Artificial Intelligence in Cybersecurity Market," opportunities include the growing need for cloud-based security solutions and the increased use of social media for business functions. Read more.
The Intersection of Trade Wars and Cybersecurity
A recent article on www.forbes.com highlights the potential for foreign adversaries to create and exploit vulnerabilities in information and communications technology and services. In light of the current trade war with China, the administration has banned two Chinese technology companies from entering U.S. markets. The Commerce Department added Huawei, the telecom equipment giant, to the Bureau of Industry and Security's "Entity List," a designation that bars firms from doing business with U.S. companies without a special license from the bureau. Prior to that move, the FCC voted unanimously to deny China Mobile's application to provide telecommunications services in the United States. Read more.
The Evolution of the Utilities Industry Could Mean a Rise in Cyber Threats
The evolution of the utilities industry to a "smart infrastructure" that relies on digitized equipment and connectivity across devices, plants, and systems will most likely result in a growing number of cybersecurity threats, according to a recent article on www.helpnetsecurity.com. Current security policies of many utilities have not evolved in step with this evolution and could leave companies vulnerable. Of the six risks enumerated in this article, boundary protection tops the list. Read more.
Defining and Deploying a Cybersecurity Culture Is an Ever-Evolving Challenge
A recent article on https://cybersecurity.isaca.org/ by Luis Emilio Alvarez-Dionisi, Ph.D. and Nelly Urrego-Baquero offers a path forward, but the authors concede: "Having a cybersecurity culture is a dynamic process that demands continuous attention." The main objective of cybersecurity culture is to develop and implement a cybersecurity culture ecosystem to support cybersecurity. Sharing the experience of establishing an advanced social and psychological groundwork may help support cybersecurity. Deploying a cybersecurity culture requires senior leadership buy in. The board of directors and senior management must decide to support and enable a cybersecurity shield to mitigate the risk associated with cyber attacks. Read more.